Galápagos: Celebrating 50 Years
Life Aboard
Amenities, great food, camaraderie, comfort & wellness
Henry David Thoreau called it the "tonic of wildness." It's what visiting Galápagos, with its beauty and wildness gives you—a spirit lift. To compound this healthful effect, we provide a quality of shipboard life and a philosophy of wellness to relax and rejuvenate body, mind, and spirit.
Completely casual
There's no need to dress up ever when you cruise Galápagos with us; life aboard our two ships is casual all the way. There's no assigned seating in the dining room; in fact many tables accommodate uneven numbers. This makes for easy mingling and the fun of sharing breakfast, lunch, or dinner with different new friends, staff, or guest speakers. And independent travelers can count on a welcome everywhere they turn.
Excellent food

Our chefs use fresh, local ingredients whenever possible, including locally grown produce, sustainably caught fish, and other local and indigenous products. By adding Ecuadorian ingredients and flavors to a menu that also includes traditional favorites, we aim to give you a greater sense of the cuisine and culture in the region we're exploring. There are fish or meat choices at every meal, and our chef will happily accommodate vegetarian or other special diet requests.
24/7 hospitality
The ship's hotel staff maintains stations for coffee, tea, soda, and water. Cookies are put out in the afternoon at teatime. And predinner hors d'oeuvres are served in the lounge at daily Recap. There are reuseable water bottles in every cabin and chilled fresh water stations aboard to make staying hydrated convenient and refreshing.
The personal ahhhhh factor
You'll find much more information in the Our Fleet section, but suffice it to say that your cabin will be an inviting place to end your active day. You'll find botanical products in the bathroom; and our signature feather duvet and cotton sheeting on your bed.
Sociable spaces, quiet corners
The lounge is the center of the expedition community; where we gather for talks and daily Recap. The bow is another place where guests mingle with staff to scan the sea for marine mammals. But the ship offers any number of places to pass time enjoyably alone, or with a small group—from the library with its lode of books and panoramic windows, to the furnished outdoor decks.
Rise, shine, and connect with wildness
Greet the equatorial morning with a prebreakfast stretching session led by your wellness specialist. Or sleep in and take advantage of the ship's exercise bikes, treadmills, stretch bands, and yoga mats at your convenience. Swimming, snorkeling, and trail walking offer an even deeper connection with the wild world.
Onboard spa treatments
Massage therapy and body treatments, plus face, hand, foot treatments, inspired by the natural elements of Galápagos, will relax and rejuvenate you. Choose to have a treatment instead of an activity, or to end an active day of exploring.
Galápagos Itineraries
Special Offers
Bring A Special
Place Closer
CELEBRATE OUR 50TH YEAR
WITH FREE ROUND-TRIP AIR
from Miami on all departures Aug. 25-Nov. 17, 2017 on National Geographic Endeavour II and Sep. 16-Dec. 16, 2017 on National Geographic Islander, plus select departures on both ships throughout 2017. Upgrade to Business Class for $500 on select departures, limited availability. Call for details.
BRINGING THE KIDS
We believe sharing an expedition with your kids or grandkids is a life-enhancing experience. So take $500 off for each child under the age of 18.
Galápagos Weather
JAN-MAY
JUN-DEC
LOW TEMP
65-70°F
65-70°F
HIGH TEMP
85-90°F
75-90°F
WATER TEMP
75-82°F
62-68°F
Guest comments
"Outstanding! The food was like a four-star restaurant. Service was excellent too! "
-Barbara S.
READ MORE
Galapagos 2017-18 Brochure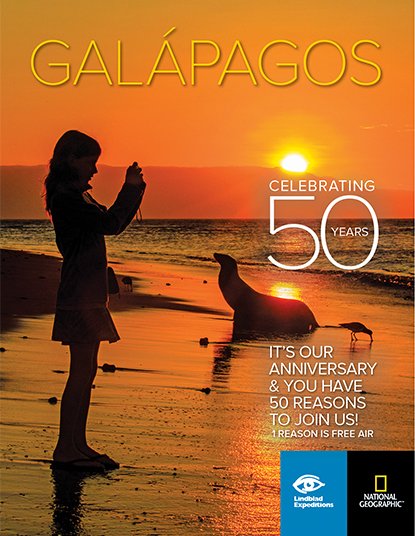 View online or have one mailed to you. It's free!
Brochures & DVDs