Galápagos: Celebrating 50 Years
Pack Your Camera
Capture Galápagos and take the best photos of your life

Galápagos will spoil you. The legendary animals described by Charles Darwin show no fear, making it possible to make intimate portraits of giant tortoises, marine iguanas, and a host of seabirds, including the comical blue-footed boobies. I guarantee you will shoot more images than ever before, and make your best pictures ever!
Ralph Lee Hopkins, Director of Expedition Photography
With wildlife that has no instinctive fear of humans, Galápagos is a photographer's paradise. You're able to get closer than you've ever imagined to wild animals, making for magical photos. And you'll have the benefit of a trained Galápagos photography professional as a traveling companion.
More specialties and personalities
You'll have the opportunity to shoot amazing wildlife and scenic photos, and you'll have the services of a Lindblad-National Geographic certified photo instructor on every Galápagos departure. This veteran naturalist is specially trained to assist you with your camera and the basic elements of composition––and to use his/her knowledge of the wildlife to make sure you capture great moments.
Our Expedition Photography program is designed to help you take the best shots of your life. Whether you think of yourself as a photographer, or just someone with a point-and-shoot, you'll go home a better, more confident, image-maker.
Top 5 Reasons to Photograph in Galápagos
1. The Galápagos Islands abounds with close encounters of the legendary animals described by Charles Darwin, many of which are endemic and found no place else on earth.
2. Galápagos National Park protects 97% of the land in the islands and our landings on shore and Zodiac cruises will explore a different island each day.
3. The Galápagos Marine Reserve protects the pristine ecosystem surrounding the islands, so bring your underwater camera to snorkel with Galápagos sea lions, sea turtles, and colorful tropical fish.
4. Search for giant Galápagos tortoises in the highlands on Santa Cruz Island and photograph them in the cloud rainforest.
5. Visit the Darwin Research Station for up-close photo opportunities of tortoises and iguanas, while learning about efforts to conserve endanger species and island habitats.
What to Pack for Galápagos
Bring your camera of choice, from DSLR, Mirrorless system, to compact super zoom
Even though you can get very close to the wildlife, it's still important to have a longer zoom lens (up to 400mm) zoom lenses for making case portraits
Wide-angle (16-35) lenses are also important for making compositions of the animals in their environment.
Camera backpack with rain cover, and also a rain cover for your camera
Kneepads (the inexpensive Home Depot kind) are essential for getting down to eye level
Tripod or monopod is helpful for stabilizing your camera and experimenting with slow shutter speeds to show movement of the swirling surf around the wildlife on rocky shores
Get even more on a special photo expedition

Galápagos Photo Expeditions are specially designated departures, custom-tailored for immersion in photography—whether you're a beginner, advanced hobbyist, or serious shooter. The photo team you'll travel with includes a top National Geographic photographer and certified photo instructors—at your side and at your service to inspire and assist you. Galápagos Photo Expeditions feature outings timed to take advantage of the best light—aboard Zodiacs for up close encounters with marine mammals, or on trail hikes. Plus, unique "share and learn" opportunities like onboard photo clinics, one-to-one critiques and inclusive "laptop gallery" events to see each other's shots.
Find Photo Expeditions
Please select a destination, date or photographer from the drop-down menus above to search for Photo Expeditions.
Galápagos Itineraries
Special Offers
Bring A Special
Place Closer
CELEBRATE OUR 50TH YEAR
WITH FREE ROUND-TRIP AIR
from Miami on all departures Aug. 25-Nov. 17, 2017 on National Geographic Endeavour II and Sep. 16-Dec. 16, 2017 on National Geographic Islander, plus select departures on both ships throughout 2017. Upgrade to Business Class for $500 on select departures, limited availability. Call for details.
BRINGING THE KIDS
We believe sharing an expedition with your kids or grandkids is a life-enhancing experience. So take $500 off for each child under the age of 18.
Galápagos Weather
| | JAN-MAY | JUN-DEC |
| --- | --- | --- |
| LOW TEMP | 65-70°F | 65-70°F |
| HIGH TEMP | 85-90°F | 75-90°F |
| WATER TEMP | 75-82°F | 62-68°F |
Galapagos 2017-18 Brochure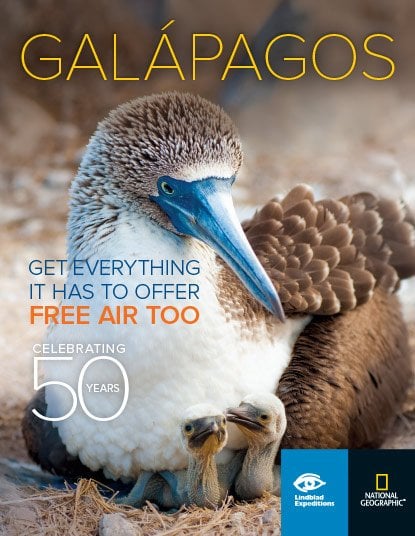 View online or have one mailed to you. It's free!
Brochures & DVDs