Galápagos: Celebrating 50 Years
Read Up, Gear Up
Books to read, before or during, plus gear & packing recommendations
What You'll Need for Galápagos
Galápagos Itineraries
Special Offers
Bring A Special
Place Closer
CELEBRATE OUR 50TH YEAR
WITH FREE ROUND-TRIP AIR
from Miami on all departures Aug. 25-Nov. 17, 2017 on National Geographic Endeavour II and Sep. 16-Dec. 16, 2017 on National Geographic Islander, plus select departures on both ships throughout 2017. Upgrade to Business Class for $500 on select departures, limited availability. Call for details.
BRINGING THE KIDS
We believe sharing an expedition with your kids or grandkids is a life-enhancing experience. So take $500 off for each child under the age of 18.
Galápagos Weather
JAN-MAY
JUN-DEC
LOW TEMP
65-70°F
65-70°F
HIGH TEMP
85-90°F
75-90°F
WATER TEMP
75-82°F
62-68°F
Galapagos 2017-18 Brochure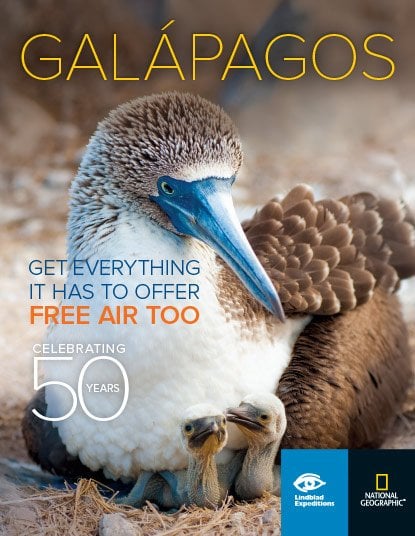 View online or have one mailed to you. It's free!
Brochures & DVDs