Galápagos: Celebrating 50 Years
What It's Like/What You'll Do
How you'll spend your time and reward your curiosity
Like a floating safari camp, the ship will be your base for an unforgettable 10-day Galápagos expedition—immersing you in a movable feast, a panoramic experience of the Galápagos Islands. The ship will feel like home in no time, as you discover all the nooks and crannies—and very welcoming, as the community camaraderie kindles. Crossing between islands most often takes place overnight to maximize time exploring. So you'll wake to fresh vistas outside your cabin window, and daily discoveries.
Choice of daily activities
Walk, kayak, snorkel, and beginning in 2017––stand-up paddleboard. Head off on a scenic cruise aboard our Zodiac landing craft, or in the glass bottom boat (aboard National Geographic Endeavour II). Take a long hike or choose a short slower walk, with time for your naturalist to share the unique wonders of a particular island.
Stay aboard and read if you prefer. Or enjoy a wellness treatment on board from our talented wellness specialist. There's no one-size-fits-all scheduling here: you can choose your activities, activity levels and staff members to join every day.
See the islands' diverse habitats & wildlife
Our ship-based Galápagos wildlife travel lets you experience all the endless magic of Galápagos' diverse habitats: from lush green highlands to stark volcanic landscapes; pristine beaches to mangrove thickets; from arid terrain to black lava beaches adorned with emerald seagrasses.
Explore the undersea, too
You'll have the chance to snorkel almost every day and sometimes twice a day. Our ships carry complete snorkel gear, including wetsuits in every size––yours for the duration, so no need to tote gear from home. Upwelling currents in the Galápagos archipelago bathe the region in nutrient-rich waters making it incredibly rich in marine life. And everyone can visit the undersea, via video shot by our undersea specialist, on the lounge's plasma screens during the evening cocktail hour.
Kayak, stand-up paddleboard & Zodiac cruise scenic shorelines
Our ships are outfitted with tandem and single kayaks that allow for personal, water-level exploration of the scenic coastlines. And beginning in 2017, a fleet of stand-up paddleboards will offer a new, fun way to explore quiet bays and paddle along idyllic beaches. Shoreline cruises aboard Zodiacs are perfect for relaxed exploration with a naturalist's narration, and the ideal platform for Galápagos photography.
Enjoy the daily ritual
Each evening at cocktail hour the entire expedition community gathers in the lounge for an expedition ritual we call "Recap." As you enjoy cocktails and hors d'oeuvres, various naturalists give talks, the undersea specialist may show video, and your expedition leader will outline the following day's schedule. Guests often tell us in comment cards that Recap remains one of the fondest memories of their expedition experience.
Savor time aboard ship
Talks by our naturalists will be offered on some afternoons as well. And when the ship is underway, it's a wonderful time to stand on the bow with a naturalist or photo instructor and scan the horizon for whale spouts, visit the bridge, or go to the upper deck at night for a bit of stargazing.
Add an exploration of Machu Picchu & the Land of the Inca
Take advantage of your proximity and extend your adventure from the pure wildness of the Galápagos Islands to contemporary Lima, majestic Machu Picchu, and historic Cusco. Peru's capital city of Lima is less than two hours away by air from Guayaquil. You'll explore it among a small, exclusive group.
Galápagos Itineraries
Special Offers
Bring A Special
Place Closer
NAT. GEO. ENDEAVOUR II
INAUGURAL SEASON
FREE AIRFARE
From Miami to Galápagos all departures Jan. 6-Mar. 31, and Aug. 25 – Nov. 17, 2017 with select additional dates on both ships.*
*New bookings only. Subject to availability.
Galapagos 2017 Brochure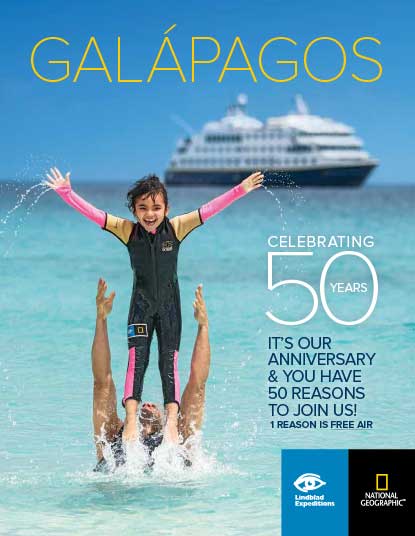 View online or have one mailed to you. It's free!
Brochures & DVDs
BBC In The News
Galápagos Weather
| | JAN-MAY | JUN-DEC |
| --- | --- | --- |
| LOW TEMP | 65-70°F | 65-70°F |
| HIGH TEMP | 85-90°F | 75-90°F |
| WATER TEMP | 75-82°F | 62-68°F |