Peru
The Expedition Experience
See daybreak over Machu Picchu on a Peru cruise. Explore 3,000-year-old cities built by the Inca. See stunning archaeological sites from a privileged perspective, as you gain insight into an empire that thrived long ago. And discover the contemporary living component to the rich cultural heritage that is Inca.
Evergreen Offers
ADD GALÁPAGOS AND/OR THE UPPER AMAZON FOR MORE SAVINGS
Combine your Peru trip with a Galápagos voyage and fly free round-trip from Miami throughout the inaugural season of National Geographic Endeavour II, Jan. 6-Mar. 31, 2017. Save 10% when you combine your Peru trip with an expedition to the Upper Amazon.*
*New bookings only. Subject to availability.
Machu Picchu and Peru 2017-2018 Brochure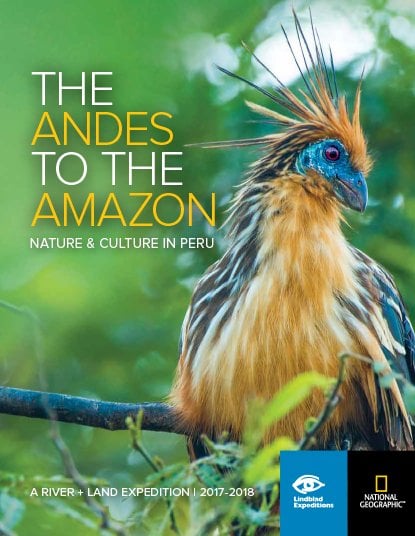 View online or have one mailed to you. It's free!
Brochures & DVDs
Peru Weather
| | JAN-MAY | JUN-DEC |
| --- | --- | --- |
| LOW TEMP | 65-70°F | 65-70°F |
| HIGH TEMP | 85-90°F | 75-82°F |
| WATER TEMP | 75-82°F | 62-68°F |