Peru
Top 10 Reasons
See why traveling to Peru with us should be on your must-do list
1. Experience matters. We have been exploring Machu Picchu and Peru's Land of the Inca for 30 years; this in-depth expedition has been developed with the insight we've obtained from decades in the region.
2. Access to National Geographic grantees enhances learning. Our partnership with National Geographic means access to National Geographic grantees along the way, enhancing our guests' experience of the cultural sites of the Sacred Valley.
3. The most knowledgeable team in Peru. Our local Peruvian guides are adept at revealing Peru's treasures to our guests. Born and raised in the region, many speak Quechua and have worked with us for 15 years.
4. Exploration of both ancient and modern Peru. Our team in Peru is proud of their Peruvian cultural heritage, and our expedition reveals both the ancient traditions of the Inca as well as the contemporary pleasures of sophisticated Lima– to provide the most complete exploration of the region.
5. Finest accommodations. We've selected the best hotels in the region for their ambience and convenient locations, including the Belmond Monasterio Hotel at Machu Picchu (formerly the Orient-Express Monasterio Hotel), just steps to the ruins to enable easy access to the site. Guests never want to leave the Sol y Luna Hotel, a Relais & Chateaux lodge and spa where we stay in the Valley of the Inca.
6. Specially-arranged visits. Our expedition in Peru includes special elements of surprise along the way, including visits with local artisans and musicians to further expand our understanding of the Inca cultural heritage.
7. Cuisine. Spending a week in Peru invariably means a culinary exploration as well—enjoy numerous opportunities to try local Peruvian delicacies and traditional Latin American style meals throughout the program.
8. In-depth, well paced expedition. Our experience here guarantees that guests will acclimatize comfortably and uncover all that Machu Picchu and the Sacred Valley has to offer over the course of the expedition.
9. Option to extend. Make the most of your time in the region by seamlessly combining your exploration of Peru with our Galápagos or Upper Amazon expeditions.
10. Flexibility. Core to all of our Lindblad-National Geographic programs, guests are never 'herded' and there is no one-size-fits-all scheduling. This expedition allows time for individual exploration: spa treatments and time in Cusco for visits to museums and art galleries.
Evergreen Offers
ADD GALÁPAGOS AND/OR THE UPPER AMAZON FOR MORE SAVINGS
Combine your Amazon trip with Galápagos voyage and FLY FREE on select 2017-18 dates on all flights from Miami, including flights to Guayaquil or Quito, Galápagos, Lima and Iquitos (up to $2,100 value); ask about other U.S. gateways.
Upgrade to business class to Guayaquil for $500 on select dates. Book by July 31, 2017.
SAVE 10%
Combine Upper Amazon + Galápagos or Upper Amazon + Machu Picchu & Peru's Land of the Inca and save 10%.
*New bookings only. Subject to availability.
Machu Picchu and Peru 2017-2018 Brochure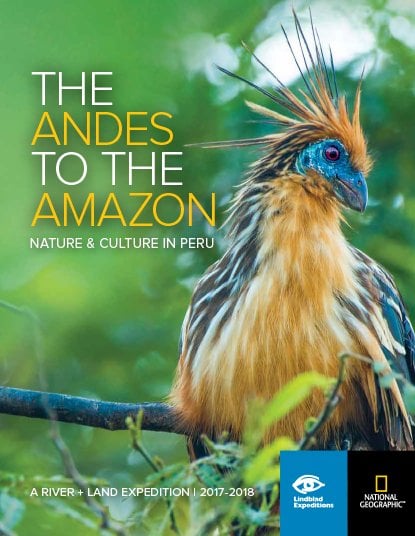 View online or have one mailed to you. It's free!
Brochures & DVDs