Peru
Cultural Experiences
Machu Picchu & the Sacred Valley of the Inca
On our exploration of the Sacred Valley of the Inca, a National Geographic expert accompanies us to Ollantaytambo, the impressive Inca stone fortress. From the Sacred Valley, we journey to Machu Picchu, the Lost City of the Inca and one of the most famous architectural examples from this great civilization. Surrounded by lush jungles, the ruins are thought to have been built in the mid-15th century. But it wasn't until 1911 that American explorer Hiram Bingham discovered the ruins on an expedition sponsored by Yale University and the National Geographic Society. The April 1913 issue of National Geographic magazine was dedicated to his remarkable findings.
We'll hike to the Sun Gate, the ancient final checkpoint to Machu Picchu, to see dawn break over the magnificent ruins—a peak experience on your Peru travel adventures.
We'll also enjoy a traditional weaving demonstration by a National Geographic grantee, museum visits, a folkloric dance performance. And choose to go horseback riding or indulge in a selection of spa treatments.
Experience Cusco: The Incan Capital
After Machu Picchu we visit Cusco, the oldest inhabited city in the Americas, to discover its rich heritage of Pre-Inca, Inca, Colonial, and Republican cultures. See the vast Sacsayhuamán Fortress, a UNESCO World Heritage site, and marvel at how this massive city has withstood earthquakes and the ebb and flow of colonialism across Peru. Explore the Inca empire's capital city with knowledgeable local guides who share the cuisine, culture, and Inca heritage of Cusco.
Explore historic & contemporary Peru
On occasion we're asked, "Why spend a week in Peru when Machu Picchu is the highlight?" The answer: there is so much more to see and do that it well warrants a week. And you will have more time to acclimate to the altitude.
Evergreen Offers
ADD GALÁPAGOS AND/OR THE UPPER AMAZON FOR MORE SAVINGS
Combine your Amazon trip with Galápagos voyage and FLY FREE on select 2017-18 dates on all flights from Miami, including flights to Guayaquil or Quito, Galápagos, Lima and Iquitos (up to $2,100 value); ask about other U.S. gateways.
Upgrade to business class to Guayaquil for $500 on select dates. Book by July 31, 2017.
SAVE 10%
Combine Upper Amazon + Galápagos or Upper Amazon + Machu Picchu & Peru's Land of the Inca and save 10%.
*New bookings only. Subject to availability.
Machu Picchu and Peru 2017-2018 Brochure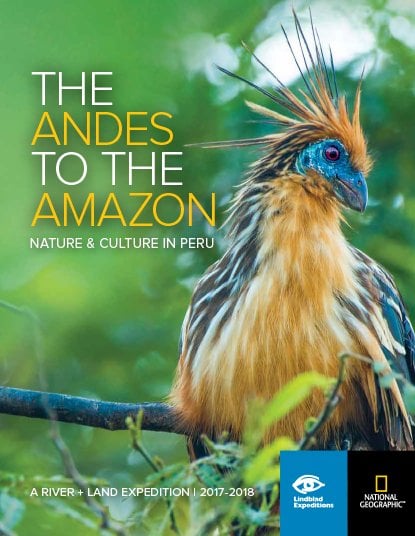 View online or have one mailed to you. It's free!
Brochures & DVDs