Peru
Pack Your Camera
Capture the moments, preserve them forever
Joining an expedition, for many, is a once-in-a-lifetime experience. Add to that the points of scenic and historic interest, the moments of beauty and humanity that will occur during the journey, and you will want to document it all. So whether you use a smartphone, a point-and-shoot or more sophisticated gear, we encourage you to bring your camera.
Evergreen Offers
ADD GALÁPAGOS AND/OR THE UPPER AMAZON FOR MORE SAVINGS
Combine your Amazon trip with Galápagos voyage and FLY FREE on select 2017-18 dates on all flights from Miami, including flights to Guayaquil or Quito, Galápagos, Lima and Iquitos (up to $2,100 value); ask about other U.S. gateways.
Upgrade to business class to Guayaquil for $500 on select dates. Book by July 31, 2017.
SAVE 10%
Combine Upper Amazon + Galápagos or Upper Amazon + Machu Picchu & Peru's Land of the Inca and save 10%.
*New bookings only. Subject to availability.
Machu Picchu and Peru 2017-2018 Brochure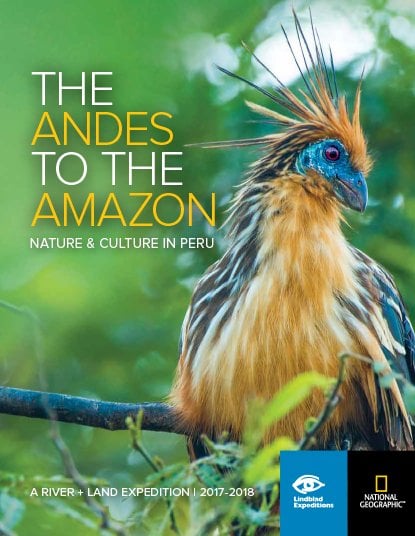 View online or have one mailed to you. It's free!
Brochures & DVDs