Peru
What It's Like/What You'll Do
Experiences that will reward your curiosity & interest
For one perfectly paced week, you will explore an extraordinary melting pot of Peruvian history and culture, firmly rooted in Amerindian and Spanish traditions, with influences from Africa, Asia, and Europe as well. On a Peru expedition you will see the architectural achievements of the Incan empire including Machu Picchu, Ollantaytambo, and the vast Sacsayhuamán Fortress. And you'll experience the decorative arts: pottery, textiles, jewelry, and sculpture that reveal the sophistication of their artisans. You'll discover firsthand how the past echoes through contemporary life. Our expert guides are personable, engaging travel companions. They introduce you to the art, music, and cuisine of this remarkable country. And each night your active days end at a succession of gracious and elegant hotels.
Variety will characterize your days
You will experience a variety of sites and activities on this expedition. There are opportunities for walks in the Sacred Valley of the Inca and leisurely jaunts through local food markets. We'll see the legendary sites, enjoy the vibrant local life, absorb the arts and music of the culture. And experience the daily pleasure of savoring the unique flavors of the region with its diverse spices and produce. Our guides will gladly cater to your interests, ensuring you make the most of your journey.
Enjoy the daily ritual
On most evenings before dinner, staff and guests gather in our hotels for a tradition called Recap. Relax with a cocktail while members of the expedition team give engaging, informative talks about the events of the day, review tomorrow's options. Recap furthers the bond between you and your fellow travelers, often becoming a fondly remembered part of the journey.
Savor time at handpicked lodges
Every effort has been made to select hotels that will ensure your comfort and immerse you in these beautiful, historic surroundings. Our expedition team will handle the transitions to make them effortless for you.
Sol y Luna Lodge & Spa
During our first stay in the Sacred Valley, spend two nights at the charming Sol y Luna Lodge & Spa. Backed by the peaks of the Andes and surrounded by exotic flowers, you will immediately feel time slow down as the dramatic surroundings weave their spell. Choose to go horseback riding, or enjoy a selection of restorative spa treatments. Attend a folkloric dance performance, or wander the lovely grounds. And as everywhere we go in Peru, you'll have the opportunity to savor internationally and regionally inspired dishes.
Orient Express Sanctuary Lodge
While in Machu Picchu, our home for one night is the luxurious 31-room Orient Express Sanctuary Lodge, the only hotel adjacent to this ancient citadel. Not only is it sumptuous and profoundly welcoming, the Lodge also offers exceptional access to the ruins. Unwind in the shadow of the Lost City, or relax in the hotel's airy, sunlit restaurant with its floor-to-ceiling windows. Much of the produce served is sustainably grown on-site. The chef prepares fresh international cuisine, with a choice of Andean specialties. The modern bar, adorned with stone and wood, offers a natural, harmonious ambiance.
Orient Express Monasterio Hotel
For two nights in Cusco, we stay at the Orient Express Monasterio Hotel, a charming property set high in the Andes with breathtaking rooftop vistas and beautiful inner courtyards. This former monastery and national monument dates from 1592. It's a great base to discover the Spanish and Inca treasures of Cusco. And the perfect setting for the Andean cuisine you'll enjoy during your stay.
Encounter a rich local community

There's no denying the appeal of simply "people watching" during your journey—getting a sense of the local customs and dress. Narrow cobbled streets, charming courtyards, and ancient stone walls are the backdrop for scenes of local life. Market sellers offer vibrant textiles, fresh regional produce, and traditional wares. Contemporary artists reflect their rich heritage. Musicians play indigenous instruments to keep the sounds of the past alive. Outside influences from foreign settlers are evident, broadening the scope of the cultural landscape. Needless to say, this is a paradise for photographers. Maybe it's the expression on a storied face at the market or sunset on a flower-lined footpath, the photo ops are nonstop.
Evergreen Offers
ADD GALÁPAGOS AND/OR THE UPPER AMAZON FOR MORE SAVINGS
Combine your Amazon trip with Galápagos voyage and FLY FREE on select 2017-18 dates on all flights from Miami, including flights to Guayaquil or Quito, Galápagos, Lima and Iquitos (up to $2,100 value); ask about other U.S. gateways.
Upgrade to business class to Guayaquil for $500 on select dates. Book by July 31, 2017.
SAVE 10%
Combine Upper Amazon + Galápagos or Upper Amazon + Machu Picchu & Peru's Land of the Inca and save 10%.
*New bookings only. Subject to availability.
Machu Picchu and Peru 2017-2018 Brochure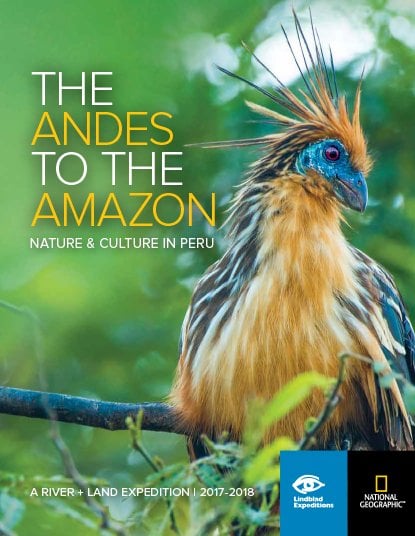 View online or have one mailed to you. It's free!
Brochures & DVDs