South American West Coast
Best of Chilean Patagonia: From Torres del Paine to Cape Horn
15 Days
NG Orion
102 Guests
Expeditions in: Mar / Oct / Nov
From $13,940 to $22,620
Itinerary Overview
Discover the breadth of Patagonia's wildness on a land-and-sea expedition
Optimize your Chilean Patagonia experience with a land and sea expedition. Spend three days at the superb Tierra Patagonia Hotel or Explora Patagonia to savor the grandeur of Torres del Paine's sunrises and sunsets, its iconic landscapes, and profusion of wildlife. Then explore the fjords, glaciers, and panoramic vistas of Patagonia's coast and waterways that are only accessible by expedition ship. Venturing out on Zodiac forays, kayaking pristine fjords, or hiking virgin trails, you'll breathe the rarified air of a near-mythic region. Enjoy special access to Argentina's Isla de Los Estados (Staten Island)—a seldom-seen island covered in wind-sculpted flora, with wildlife that includes South American fur seals and Magellanic penguins. Discover the vast parklands of Karukinka. And check viewing legendary Cape Horn on your life list as well.
Discover over several days the wildlife-rich, iconic landscapes of Torres del Paine, Patagonia's jewel, with the superb Tierra Patagonia Hotel (October 2017 and October 2018) or Explora Patagonia (March 2018) as your base camp
Explore wild, windswept Isla de los Estados (Staten Island), located at the extreme end of South America and largely off limits to travelers since 1923
Transit the legendary Beagle Channel and see storied Cape Horn
Venture through wildlife reserves not easily accessible to the public, including Karukinka Natural Park in Tierra del Fuego
Zodiac cruise and kayak through the breathtaking Chilean fjords
Explore inland Patagonia
Nestled between Torres del Paine National Park and a high altitude lake, our beautiful hotel is an ideal base camp to discover inland Patagonia. Horseback ride, if you wish, in the shadows of great mountains, hike in some of the most inspiring landscapes anywhere, and at the end of each day dine with views of Patagonia's legendary snow-capped peaks.
Discover Argentina's seldom-visited Isla de los Estados
By special permission, National Geographic Orion will call at Isla de los Estados, a wild island largely untouched by humans in decades. Its only human residents are the four guardians at a small naval outpost. Walk its wild beech forests, look for penguins, see the replica of the 1884 San Juan de Salvamento "lighthouse at the end of the world," which inspired Jules Verne's novel by the same name, plus explore the ruins of a penal colony.
Experience iconic landscapes & see rare wildlife
From saw-toothed peaks to bright blue glaciers you'll discover a near-mythic wildness that is inaccessible without an expedition ship. This vast area of snowcapped mountains, gigantic glaciers, thousands of islands covered with vegetation, lakes, soaring granite walls, and waterfalls provides days of spectacular adventure. See the wildlife of the Patagonian steppes, including Andean condors soaring overhead. Look for Magellanic penguins, Austral parakeets, albatrosses, grebes, woodpeckers, fulmars, shearwaters, and more.
Take advantage of superb photo ops

You'll have a National Geographic photographer as your traveling companion, to inspire you and provide tips in the field. And the services of a Lindblad Expeditions-National Geographic certified photo instructor, as well—to help you turn your point-and-shoot camera into an aim & create. You'll find no end of subjects, and the help you need to return home with your best photos ever.
Travel in excellent company
Explore Torres del Paine under the expert guidance of veteran Lindblad naturalists relying on their expertise to maximize wildlife sightings. And aboard National Geographic Orion, go with expedition leader, an assistant expedition leader, veteran naturalists, a National Geographic photographer plus a Lindblad-National Geographic certified photo instructor, an undersea specialist, a wellness specialist and a video chronicler. Their knowledge and passion for Patagonia are key to your once-in-a-lifetime experience.
NOTE: This itinerary runs in "
reverse
" on some departures.
Ready To Book?
US: 1.800.397.3348
Int'l: 1.212.261.9000
Weekdays 9a - 10p (ET)
Weekends 10a - 5p (ET)
Or call your travel agent
Our online reservation system is always available.
Important Flight Information
Please talk to an Expedition Specialist before booking your airfare.
Special Offers
free bar tab and crew tips included, starting april 2017
Beginning in Apr. 2017, we will cover your bar tab and all tips for the crew on all National Geographic Explorer and National Geographic Orion voyages.
---
early bookings savings
2017 prices are guaranteed for all 2018 departures if booked by June 1, 2017. After June 1, 2017, call or visit expeditions.com for new 2018 prices.
Patagonia 2017-18 Brochure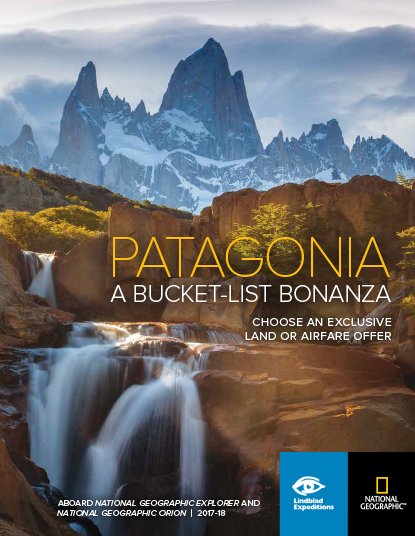 View online or have one mailed to you. It's free!
Brochures & DVDs