South American West Coast
Rounding the Cape: Chilean Patagonia & Argentina's Staten Island
20 Days
NG Explorer
148 Guests
Expeditions in: Oct
From $18,990 to $35,500
Itinerary Overview
Legendary wildness and special access to seldom-visited regions
Remote and largely inaccessible, Patagonia is the essence of wildness—a maze of channels and islands. Venture deep into Chile's glorious fjords past incandescent icebergs and massive glaciers such as the massive Pio XI Glacier, which is still advancing. From Chiloé Island, with its unique cultures and glorious islandscapes, to Pumalín Park, with its imposing forests and waterfalls, to a visit to a valley in the heart of the Andes, you'll experience the grand sweep of Patagonia.
You'll explore the "land of fire," Tierra del Fuego, see the jagged spires of Torres del Paine National Park, and experience Patagonia at close range aboard National Geographic Explorer. And thanks to our special access, we'll enjoy the privilege of visiting the far-off, stunningly beautiful natural parklands of Karukinka. We'll also visit the 'brand-name' adventurous destinations of Torres del Paine and Cape Horn. And we'll be privileged to be one of the only expedition ships ever allowed to visit Argentina's remote, wild Isla de los Estados. On this expedition you'll:
Explore the cultures and World Heritage sites of Chiloé Island, a place beloved by Chileans.
Hike through forests of alerce trees, comparable to giant sequoias, at Pumalín Park, and learn about the conservation efforts that created this giant sanctuary.
See the Pio XI Glacier, the longest in South America.
See Patagonia's signature Torres del Paine National Park with naturalists, and explore the Chilean fjords by Zodiac, kayak and on foot.
Venture through wildlife reserves not easily accessible to the public, including Karukinka Natural Park in Tierra del Fuego.
By special permission, be one of the few people ever to explore Isla de los Estados (Staten Island), located at the extreme end of South America.
Transit the legendary Beagle Channel and take in the view of Cape Horn.
Explore Patagonia's wildest regions
The wilderness of Patagonia is near mythic. You'll see the full sweep of Patagonia, and see its landscapes change from massive and more temperate forests in the north to fjords and icescapes further south. You'll visit one of Patagonia's newest and largest protected areas: Karukinka Natural Park. We're thrilled to have special permission to visit this reserve, which spans 1,160 square miles and harbors endangered culpeo fox and Andean condors.
Discover Argentina's seldom-visited Isla de los Estados
By special permission, National Geographic Explorer will call at Isla de los Estados, a wild island largely untouched by humans in decades, with only a naval outpost with four guardians. Walk its wild beech forests, look for penguins, and see the re-creation of the 1884 San Juan de Salvamento "lighthouse at the end of the world" which inspired Jules Verne's novel by the same name. And conditions permitting, explore a very rarely seen archeological site where native people lived 1,500 years ago.
Incredible mountainscapes, fjords, glaciers, and islands
From the razor-backed ridges of the sprawling Torres del Paine National Park to Pio XI, the longest glacier in the southern hemisphere outside of Antarctica, Patagonia is a land of superlatives. This vast area of snowcapped mountains, gigantic glaciers, thousands of islands covered with vegetation, lakes, soaring granite walls, and waterfalls, and archipelago provides days of spectacular adventure. Explore the towering fjords by Zodiac and kayak; hike to the terminus of massive glaciers; walk the spongy, vegetation-covered ground surrounded by the immensity of a wild pristine landscape.
Rare wildlife and the undersea, too
At Pumalín, hike through the unusual, ancient alerce forest of massive trees, some 2,000 years old, similar in dimension to California redwoods. Search for the endangered culpeo fox and Andean condors. See albatrosses, grebes, petrels, fulmars, shearwaters, and more. And atIsla de Los Estados, see colonies of southern rockhopper and Magellanic penguins, plus large groups of fur seals and sea lions. And in the Chilean fjords, Explorer's on-board undersea specialist will deploy an ROV to shoot video of an undersea few humans have ever seen.
Each day is active and engaging
You'll get out on adventures often in Patagonia—to walk or hike, kayak, or Zodiac cruise through the fjords and alongside towering glaciers. Because Explorer has a fleet of both Zodiacs and kayaks, the entire expedition community can embark at once on forays, no waiting around for returning parties. You'll have a choice of activities each day, and the option to join any naturalist whose interests mirror yours. Choice also includes opting to enjoy the view from the all-glass observation lounge, the library, or the chart room. To visit the fitness center with its panoramic windows, or ease into the sauna, or have a massage in the wellness center.
Take advantage of superb photo ops
You'll have a National Geographic photographer as your traveling companion, to inspire you and provide tips in the field. And the services of a Lindblad Expeditions-National Geographic certified photo instructor, as well—to help you turn your point-and-shoot camera into an aim & create. You'll find no end of subjects, and the help you need to return home with your best photos ever.
Travel in excellent company
Explore under the sure guidance of an expedition leader, an assistant expedition leader, eight veteran naturalists, a National Geographic photographer plus a Lindblad-National Geographic certified photo instructor, an undersea specialist, a Global Perspectives guest speaker, a wellness specialist and a video chronicler. Their knowledge and passion for Patagonia is the key to your once-in-a-lifetime experience. Meet the team.
Ready To Book?
US: 1.800.397.3348
Int'l: 1.212.261.9000
Weekdays 9a - 10p (ET)
Weekends 10a - 5p (ET)
Or call your travel agent
Our online reservation system is always available.
Important Flight Information
Please talk to an Expedition Specialist before booking your airfare.
Special Offers
free bar tab and crew tips included, starting april 2017
Beginning in Apr. 2017, we will cover your bar tab and all tips for the crew on all National Geographic Explorer and National Geographic Orion voyages.
---
exclusive land or airfare offer
CHOOSE ONE when you book by Jul. 31, 2017 on our 2017 Rounding the Cape: Chilean Patagonia & Argentina's Staten Island:
♦ FREE Easter Island extension* OR
♦ FREE Iguazú Falls extension* OR
♦ FREE Airfare (Round-trip from Miami*)
*NOTE: 1) Flights to Easter Island not included. 2) Flights to Iguazú are included. 3) Airfare from Miami based on RT economy group flights Miami/Santiago, Buenos Aires/Miami and Santiago/Puerto Montt, Ushuaia/Buenos Aires; subject to availability & must be ticketed by Lindblad. New bookings only. Call for details.
---
early bookings savings
2017 prices are guaranteed for all 2018 departures if booked by June 1, 2017. After June 1, 2017, call or visit expeditions.com for new 2018 prices.
Patagonia 2017-18 Brochure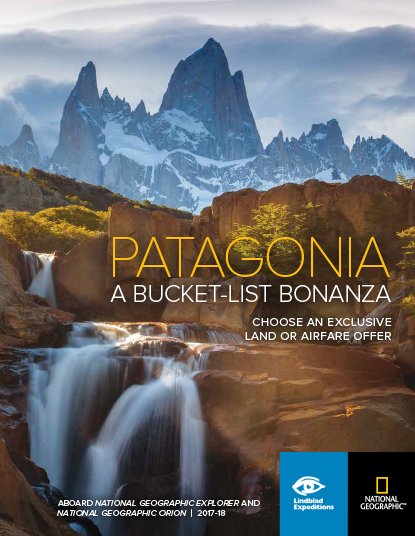 View online or have one mailed to you. It's free!
Brochures & DVDs