South American West Coast
Top 10 Reasons
See why exploring Patagonia with us should be on your must-do list
1. Go aboard National Geographic Explorer or Orion. Via our state-of-the-art ships and using our go-anywhere Zodiacs, you'll explore rugged scenery, deep fjords, towering glaciers, and cliffs carved into shape by Patagonia's powerful environment. Aboard Explorer or Orion, you'll have the privilege of safely exploring these remote fjords and islands in the luxury of comfort.
2. Pioneering firsts. Lars-Eric Lindblad led the first travelers to South America's West Coast in 1967, and we've been pioneering expedition-style travel in the region since.
3. Discover a wildlife haven. In 2015 we were the first expedition travel company to call at Argentina's Staten Island in decades. Closed to travelers for ages, we explore this virtually untouched island teeming with wildness on every Patagonia expedition.
4. Unique national park access. Through our worldwide network of friends we've arranged to explore at privately held parklands and national parks—discover protected pampas, fjords, glaciers, forests, rivers, lakes, and valleys—inhabited by exceptionally interesting wildlife.
5. Special perks. We'll cover your airfare on every Patagonia expedition in 2016. And in 2017, we'll make your journey seamless with a free bar tab and tips to the crew.
6. National Geographic photographer. A National Geographic photographer is on every departure aboard National Geographic Explorer and National Geographic Orion. These tops pros are at your side and at your service—providing advice and timely tips. Access to photographers of this caliber will help you improve your skills and ensure you'll go home with incredible photos.
7. Interesting travel companions. Global Perspectives guest speakers join select expeditions to provide layers of insight in the region. In 2016, travel with former U.S. Ambassador to Chile Alejandro Wolff or NPR's Lourdes Garcia Navarro, an NPR international correspondent covering South America.
8. Tools for exploration. Our fleet of 13 Zodiacs and 36 double kayaks allow us to land in remote locations, and have up-close personal discoveries. The ship is also equipped with a remote-controlled crow's nest camera with real-time footage broadcast on video screens within each cabin; a video microscope to view the invisible facets of the rich undersea, and a hydrophone.
9. Experience matters. We know this place intimately and have forged relationships with locals that will make all the difference. This is a level of "institutional" experience that ensures peak experiences.
10. An open bridge. You're welcome to visit the bridge of National Geographic Explorer and National Geographic Orion to chat with the captain and crew and take in the unique views as we cruise through the Chilean fjords. You may consider the bridge another public area of the ship, where you can join our naturalists to search for wildlife and learn from the officers about navigation.
South American West Coast Itineraries
Patagonia 2017-18 Brochure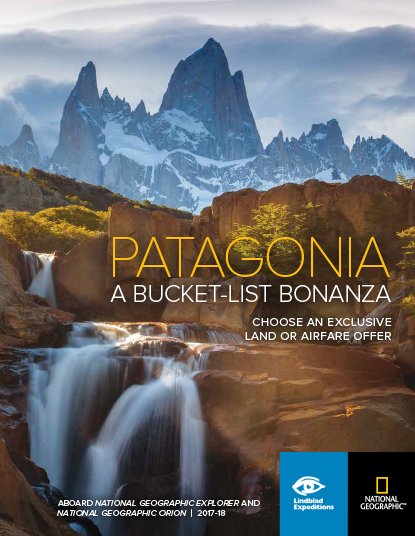 View online or have one mailed to you. It's free!
Brochures & DVDs