South American West Coast
Pack Your Camera
Capture South America and take the best photos of your life
With its mélange of welcoming people, historic and idiomatic architecture, scenic splendors and tropical wildlife, this coastal sector of South America is a photographer's paradise. You're able to get close, have the unique perspectives supplied by the ship's deck rail, a Zodiac or kayak; and take the time you need to get your shots whether on walks or on deck. And you'll have the benefit of top professionals as traveling companions, inspirers and mentors.
National Geographic photographer at your service
You'll find amazing photo ops, and discover the unique challenges of shooting in all kinds of different field conditions. Luckily, you'll have the services of a National Geographic photographer and Lindblad-National Geographic certified photo instructor.
Thanks to our Expedition Photography program you'll have the assistance you need to take the best shots of your life. And you'll get to participate in unique share and learn opportunities too, including one-to-one critiques, onboard presentations and slideshows, plus laptop gallery events. Whether you think of yourself as a photographer, or just someone with a point-and-shoot, you'll go home a better more confident image-maker.
South American West Coast Itineraries
Patagonia 2017-18 Brochure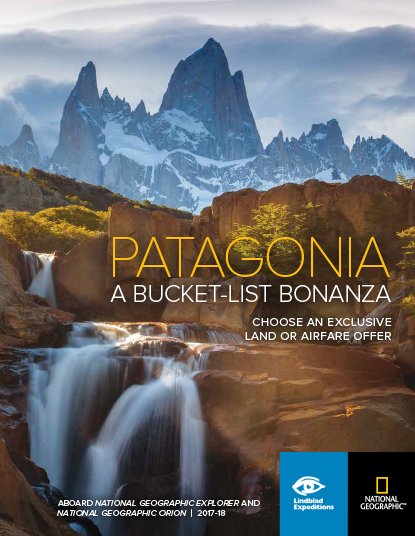 View online or have one mailed to you. It's free!
Brochures & DVDs