South American West Coast
What It's Like/What You'll Do
How you'll you spend your time and reward your curiosity
Step aboard the National Geographic Explorer or Orion and embark on an active, immersive, South America west coast travel experience in the iconic wildness of Patagonia. This region, isolated by jagged peaks, vast steppes, and carved with fjords and channels was once only the domain of hearty backpackers. Today, aboard our specially equipped expedition ships, we are able to explore its wildest places with the luxury of comfort.
Actively discover sublime national parks and private parklands
Zodiac cruise, kayak, hike, and walk wherever we anchor: there's nothing passive about our expedition style. Our captain's dexterity and the logistical savvy of our expedition leader allow us to get you out on frequent forays for up-close encounters with this region and its wonders. Head off in a Zodiac to spot rockhopper penguins along the coast, or hike across a nearly flooded plain to the face of a retreating glacier. Take long hikes or short walks in national parks and private parklands we access through our worldwide network of friends. Snap photos of the large colonies of fur seals. Or linger with your National Geographic photographer or your Lindblad Expeditions-National Geographic certified photo instructor to cover the landscapes, wildlife, and telling details as if you were on assignment for National Geographic magazine.
Be among the few to have explored Staten Island
Closed to the world for decades, save for a few soldiers at a military station, Staten Island has abundant wildlife. See its hardy trees twisted by fierce winds—and the lighthouse anchored to the ground with sturdy cables, which was the setting and inspiration for Jules Verne's adventure novel Lighthouse at the End of the World. Join us and you'll be among the very few to not only take in the view from the lighthouse, but to hike the island's paths, Zodiac cruise among vast kelp beds teeming with sea life, and experience a region that holds a mythic place in the collective consciousness of Argentinians.
Window on the wildness
Our ships are designed to preserve your connection to the region you're exploring even when you're indoors. Features like expansive deck space for viewing, and glass-walled lounges and workout centers bring the landscapes indoors as we sail. And when you're back aboard after the day's activities you'll find that catching the day's Recap, reading, writing, organizing photos on your laptop, hanging out, or socializing over drinks and dinner are highly gratifying activities, too.
The undersea is integral to your voyage
We are the only expedition company that travels with an undersea specialist as part of the expedition team. The undersea specialist suits up and dives, or operates an ROV able to descend to 1,000 feet—and brings back footage of the life beneath the ship for you to enjoy on high-def screens in the lounge. We guarantee you will be astonished by the fascinating life forms below the surface of the water, and that seeing them will add rich dimensions to your experience of the diverse habitats we'll encounter.
Share the adventure
Whether they're fellow guests, members of the expedition team, a National Geographic photographer, or a Global Perspectives guest speaker aboard National Geographic Explorer, you're sure to find the company of like-minded others on board interesting. Our alliance with National Geographic creates unparalleled opportunities. And you'll benefit from those who know: the onboard presentations will take you ever deeper into the richness and wonder of Patagonia.
Enjoy the daily ritual
Each evening at cocktail hour the entire expedition community gathers in the lounge for a ritual we call Recap. As you enjoy cocktails and hors d'oeuvres, various naturalists and our guest speakers give talks, the undersea specialist may show video, and your expedition leader will outline the following day's schedule. Guests often tell us in comment cards that Recap remains one of the fondest memories of their expedition experience.
South American West Coast Itineraries
Patagonia 2017-18 Brochure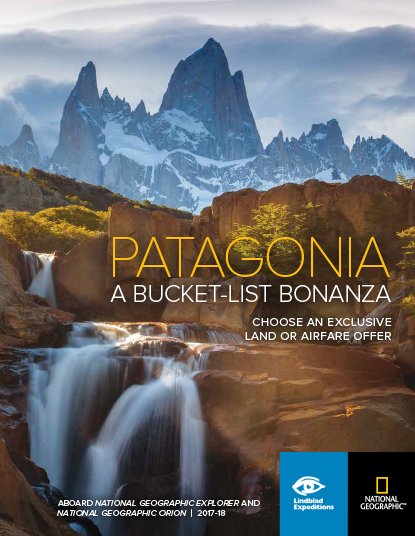 View online or have one mailed to you. It's free!
Brochures & DVDs