South American West Coast
Patagonia Wildlife
Rare and wonderful wildlife on land and in the sea
The jagged peaks and wild lands of Patagonia have made access and inroads difficult for almost all, but the hardiest backpackers. Its remoteness means pockets of South American wildlife have gone undisturbed for ages. In recent years, forward-thinking conservationists and investors have worked to turn the region into parklands, ensuring some measure of prosperity for the guanacos, Andean condors, and Magellanic penguins. Thanks to our worldwide web of friends, we've gained access to these magnificent reserves––the term seldom-seen has seldom been more appropriate.
We "brake" for whales
Flexibility to take advantage of spontaneous events is a hallmark of our expedition style, so when a pod of whales appears, our captain will halt the ship to create front-row seat viewing and unique Patagonia photography opportunities. National Geographic Explorer's bridge, bow and deck rails are perfect perches for observing the action: we're likely to see humpback whales and rare black-and-white Commerson's dolphins.
Quirky penguins, seals & sea lions galore

See Magellanic penguins, birds known as jackasses for their braying call and remarkable changing of the guard parenting. Watch for massive elephant seals, which can reach up to 20 feet in length and weigh up to nearly 9,000 pounds. Make landfall in our Zodiacs on beaches with southern sea lions.
Patagonia birds
The birdlife of Patagonia is startling in its richness and diversity. See black-browed albatross, the brilliantly colored Magellanic woodpecker, southern caracaras, Andean condors, and rheas—large, flightless birds similar to ostriches.
Argentina's Staten Island
On our 2015 visit, National Geographic Explorer became the first foreign-flagged expedition ship since 1923 to be allowed permission to visit the seldom-seen Isla de los Estados (Staten Island). On our 2016 visit we were also able to explore extraordinary places where few have ventured. On this newly established nature reserve, we will explore the colonies of southern rockhopper and Magellanic penguins, large groups of fur seals and sea lions and myriad birdlife. To preview what's in store, click here to read photographer Eric Guth's wonderful posts.
On every South America expedition, explore the undersea, too

National Geographic Explorer sails with an ROV and an undersea specialist, too. From the comfort of the lounge, we'll watch video shot during the day's adventures—a privileged glimpse into the planet's benthic regions few, if any, have seen. We'll explore where ocean currents converge producing nutrient-rich seas where life thrives, and send our ROV into the depths of Patagonian fjords where light has never reached to see things never seen by humans.
South American West Coast Itineraries
Patagonia 2017-18 Brochure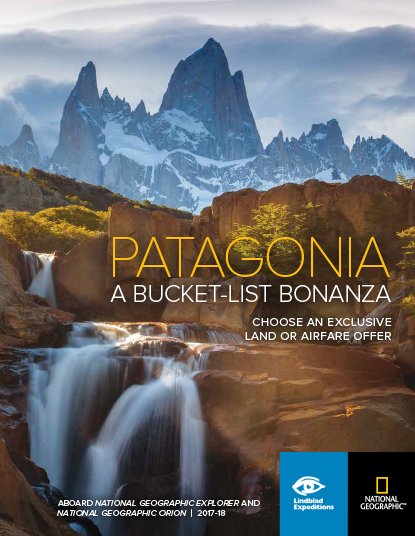 View online or have one mailed to you. It's free!
Brochures & DVDs