Vietnam & Cambodia
Jahan
Share the adventure with a like-minded, intimate community
Jahan is a new 48-guest riverboat that offers a level of luxury not previously found on the Mekong River. Accommodations are in 22 spacious outside-facing staterooms and two suites, each with a private balcony. Jahan is the ideal platform for sailing along the Mekong River and allows effortless access to the villages and communities built along the riverbanks. Large, beautifully appointed gathering spaces accommodate the entire expedition community for lectures and Recap, and there are many private places you
can tuck away to read a book or enjoy evening cocktails with new friends. There is a spa offering a choice of massage treatments and a fitness room with a steam bath. Morning Tai Chi classes are held in the open air of the terrace deck.
Life aboard—comfortable, relaxing, & social
All the spacious, airy staterooms offer gracious views of the riverbanks. Balconies off each stateroom give a private place to relax with a glass of wine or take in the river breeze. Her inviting observatory and open terrace deck are social gathering places, and the lounge is the hub of expedition community life—for presentations, films, and photo slideshows. Meals are served in a single seating, with unassigned tables for casual and easy mingling.
Vietnam & Cambodia 2018 Brochure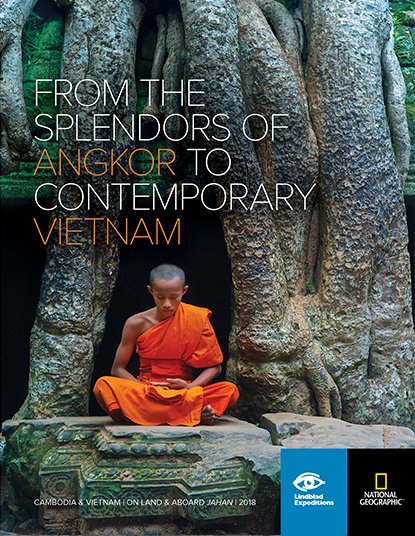 View online or have one mailed to you. It's free!
Brochures & DVDs
Vietnam & Cambodia Itineraries Aboard Jahan