Vietnam & Cambodia
Top 10 Reasons
See why traveling to the Vietnam & Cambodia with us should be on your must-do list
1. A trip of discovery. Explore soul-stirring sites of antiquity and the vibrant contemporary life of these countries.
2. The Mekong. See life along the Mekong River through Cambodia and Vietnam, visiting small communities along with grand sites.
3. The people. Meet the proud, welcoming people in lands whose history has touched us all.
4. Cambodia. Discover centuries-old temples, well-preserved ruins and the arc of Cambodian culture.
5. Vietnam. Experience the charm of Vietnam's village life, friendly markets, and the bustle and color of Saigon.
6. Our ship. Sail along the Mekong aboard the 48-guest Jahan, which is newly built, elegant, and has a standard of accommodation previously unknown on the Mekong. You'll have access to places that would otherwise be difficult to reach.
7. Carefully crafted itineraries. Explore cultures, history, archeology, art and modern life throughout your expedition. And your visits are at the best times, without massive crowds.
8. The most knowledgeable and experienced staff. Our seasoned expedition leader and experts bring you the essence of Vietnam and Cambodia.
9. Excellent guest-to-guide ratio. One Lindblad or National Geographic expert per 15 guests. You'll have lots of interaction and plenty of time for questions and discussion. On board the Jahan, a 1:1 crew to guest ratio assures you attentive personal service.
10. Exceptional hotels. Stay in elegant hotels: La Résidence d'Angkor in Siem Reap, Cambodia, and the Park Hyatt, in the heart of Saigon, Vietnam.
Vietnam & Cambodia Itineraries
Vietnam & Cambodia 2018 Brochure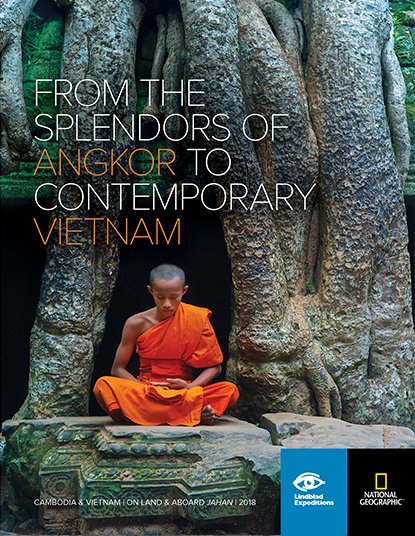 View online or have one mailed to you. It's free!
Brochures & DVDs
Vietnam & Cambodia Weather
JAN-MAY
JUN-DEC
LOW TEMP
65-70°F
65-70°F
HIGH TEMP
85-90°F
75-82°F
WATER TEMP
85-90°F
62-68°F