Vietnam & Cambodia
Cultural Experiences
An intimate perspective on two countries and many ways of life.
Trace history along the river and through the Mekong Delta
Stand among age-old stone monuments and towering religious relics during your Cambodia and Vietnam cultural travel. Visit traditional pagodas. You'll journey along the boundary that defines the limits of Indian and Hindu influence from the west and Chinese influence from the north. Observe the difference between the accepting Theravada Buddhism of Cambodia and the more modern and actualized Mahayana Buddhism of the industrious Vietnamese.
Just Added! Dine by Candlelight at Angkor
Fall under the spell of Angkor by candlelight at an exclusive, private dinner hosted at Prast Dravan Temple. Hear the dulcet tones of Cambodian music and enjoy a special performance of the Apsara, a traditional Khmer dance performed in intricate costumes that relates the region's classical myths in graceful movements. Once offered on select voyages only, this dinner is now a feature on all our departures.
Explore visionary temples and religious relics
See dawn break over Angkor Wat, and enter the enthralling monument for two days of Cambodian cultural experiences with experts who share the temple's secrets and stories. You'll see elaborate bas-reliefs, scores of statues, and you'll also visit nearby Ta Prohm, where the jungle has been allowed to envelop part of the temples.
Visit traditional villages
See pottery made by traditional methods, visit a small village that relies on subsistence fishing and working rice paddies, walk through a tiny, off-the-beaten-path community that makes and sells rattan mats. You'll participate in mutually beneficial encounters with locals of diverse cultures and traditions.
Feel the pulse of history in Phnom Penh and Saigon
Moving memorials and museums look back on the 20th-century histories of each country. Visit them in the company of Cambodian and Vietnamese guides, who add layers of understanding and a personal element. See the headquarters used by the South Vietnamese during the war, and visit the War Remnants Museum, which offers a strong look at the war through local eyes. See the killing fields where thousands were murdered by the Khmer Rouge, and visit the Tuol Sleng Genocide Museum, where exhibits show the determination of Cambodians that this should never happen again.
Navigate cities and villages as local residents do
In cities where motor coaches used by tour groups would never flow through the clogged city centers, we'll travel as local residents do. Go by tuk-tuk (motorized rickshaw) to Angkor Wat, ride through Phnom Penh seating in a cyclo (bicycle taxi). Local boats ferry us along the Tonle Sap River to see the floating houses and visit the shops along the riverbanks.

Just added! Dine at Henry Cabot Lodge Jr.'s former residence
Henry Cabot Lodge Jr. was a distinguished U.S. senator, vice presidential candidate and U.N. ambassador who was asked by both Presidents Kennedy and Johnson to serve as U.S. ambassador to Vietnam during some of the war years. His former home, a lovely French colonial-style house that is a small slice of U.S. and Vietnamese history, has been beautifully restored. We'll enjoy a private dinner here, complete with a performance of traditional Vietnamese music.
Vietnam & Cambodia Itineraries
Vietnam & Cambodia 2018 Brochure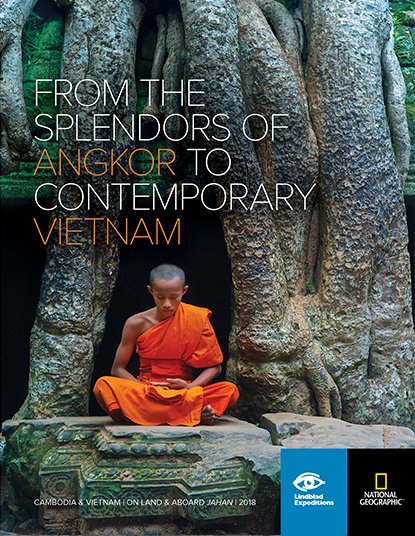 View online or have one mailed to you. It's free!
Brochures & DVDs
Vietnam & Cambodia Weather
JAN-MAY
JUN-DEC
LOW TEMP
65-70°F
65-70°F
HIGH TEMP
85-90°F
75-82°F
WATER TEMP
85-90°F
62-68°F