Vietnam & Cambodia
What It's Like/What You'll Do
How you'll spend your time and reward your curiosity
Embark on a powerful journey along the Mekong River through Cambodia and Vietnam and experience two countries with turbulent 20th-century histories that are rapidly blossoming. You'll stroll sublime temples, shop colorful markets, and, in the cities of Saigon and Phnom Penh, visit
important museums. Learn the way of life in small villages along the river. Explore under the sure guidance of our expedition leader and team, and gain an insider's perspective with help from our erudite local guides. And, at the day's end, relax on your private balcony aboard the luxurious riverboat Jahan and watch life along this great river.
Explore Angkor Wat and other impressive
temples
Watch the sunrise over Angkor Wat, a visionary and beautifully preserved 12th-century temple and the world's largest religious monument. Sure to be a highlight of the expedition, you'll spend two days at Angkor with our expert local guides and a historian. Visit the temple Ta Prohm, where the jungle has been allowed to slowly engulf the site, giving you an idea of what archaeologists encountered when their work began.
Learn the way of life along the river
Discover for yourself the profound differences in the histories, religions, cultures, and social practices of these two countries that coexist in such close proximity. Cambodian and Vietnamese guides travel with us ashore and aboard Jahan, providing fascinating insights into the way of life. Our ship allows for effortless disembarkation at rural villages, where we travel as the local residents do—on foot, and by cyclos and tuk-tuks.
See bustling cities and moving historical sites
See Phnom Penh's Royal Palace and Silver Pagoda, and choose to visit the Choeung Ek "killing fields," where thousands of Cambodians were murdered by the Khmer Rouge and buried in mass graves. Explore bustling Saigon, Vietnam's greatest commercial center and visit important landmarks in the company of skilled local guides. If you choose, visit the War Remnants Museum, which gives a strong view of the war through the eyes of the Vietnamese.
Enjoy the daily ritual
Each evening at cocktail hour aboard ship, the entire expedition community gathers in the lounge for an expedition ritual we call Recap. As you enjoy cocktails and hors d'oeuvres, your naturalist or historian may give a talk, and your expedition leader will outline the following day's schedule. You may find, as have many others, that Recap remains one of the fondest memories of your expedition experience.
Savor time aboard Jahan
Jahan is unquestionably the river's finest ship. Each airy cabin has a private balcony, and wide-open gathering spaces abound. History talks and guest lectures will be offered on some afternoons, as well. And when the ship is underway, it's a wonderful time to enjoy the pace of life along the river, relax with a treatment in the Apsara Spa, or visit the bridge to see the calm ritual of navigation unfold.
Vietnam & Cambodia Itineraries
Vietnam & Cambodia 2018 Brochure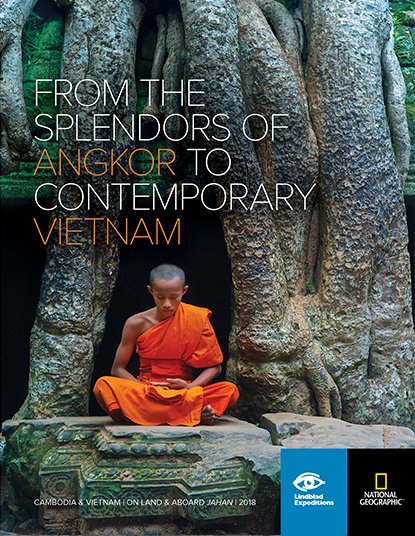 View online or have one mailed to you. It's free!
Brochures & DVDs
Vietnam & Cambodia Weather
JAN-MAY
JUN-DEC
LOW TEMP
65-70°F
65-70°F
HIGH TEMP
85-90°F
75-82°F
WATER TEMP
85-90°F
62-68°F