Exploring Costa Rica: Cloud Forest to the Caribbean
Discover the wild, rugged beauty of Costa Rica's mountains, the Caribbean coast, and more on an inland adventure to a mist-shrouded cloud forest, volcano, and lake and a car-free jungle village. You'll take a walk in the clouds of Monteverde, where consistent canopy-level mist allows jungle vegetation to thrive. Cross Lake Arenal before exploring the volcano, which has been active since 1968. Walk suspension bridges surrounding the smoldering volcano and relax in natural hot springs near its base. Visit a coffee farm to pick coffee cherries and tour the grounds. On the Caribbean coast explore Tortuguero National Park and wander the narrow streets of the car-free village where the rainforest pushes in from all sides. Venture into the jungle-canopied canals that let us navigate deep into the park in search of monkeys, caiman, and tropical birds.
Explore the Pacific and Caribbean sides of Costa Rica, inland rainforests, and mountains and see wonderful wildlife

Walk suspension bridges in the dense forest surrounding Arenal Volcano and relax in nearby hot springs

Hike through the mist-shrouded cloud forest reserve in Monteverde with great bird-watching

Visit the remote, car-less town of Tortuguero and venture into the rainforest via green-canopied canals
Price
From $5,220 per person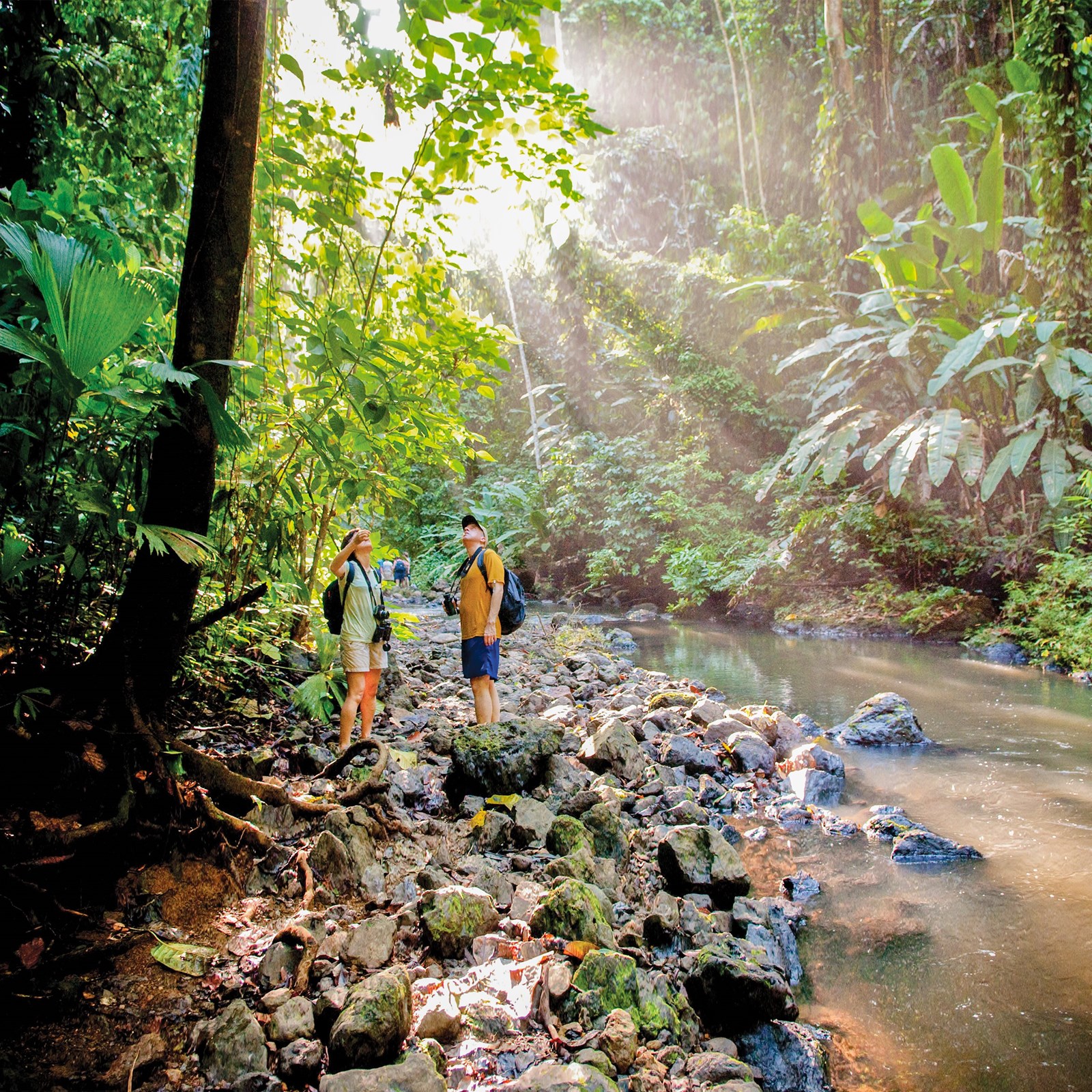 Costa Rica, Panama & Colombia
Day By Day
Experience the incredible biodiversity of Costa Rica's wild, rugged interior on an inland expedition. Hike in the shadows of a smouldering volcano, walk bridges strung through rainforest canopy, and venture into jungle-canopied canals in search of monkeys, caimans, sloths, and myriad birds. Go with a team of top experts, stay at superb lodges with easy access to the region's wildness, and make the expedition as active or relaxing as you choose. While our route is planned, we will always remain flexible in our approach to take advantage of sightings and opportunities for discovery.
Current
Embark
San Jose, Costa Rica
Ready for the adventure of a lifetime?
Cabins, Dates & Rates
Travel on this itinerary from $5,220 per person