Venture to lands seldom seen aboard a fleet outfitted to connect you to wildness.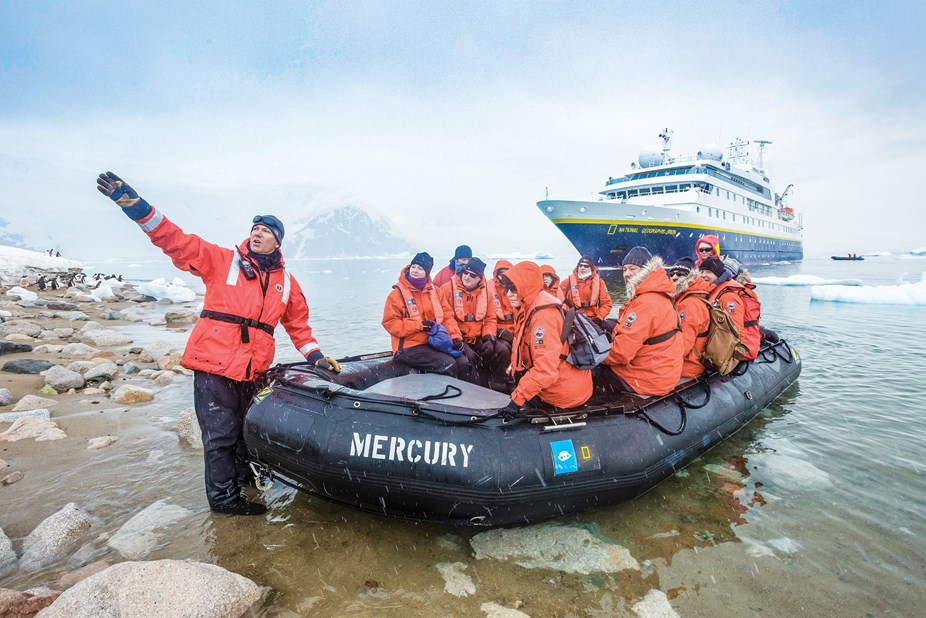 Zodiacs
At the heart of the expedition experience are these sturdy rubber boats that enable us to land on remote shores far from any infrastructure. Quickly deployable, you'll use them to get up close looks at leopard seals lolling on the ice, see playful minke whales from water level, cruise up a jungle river, and so much more.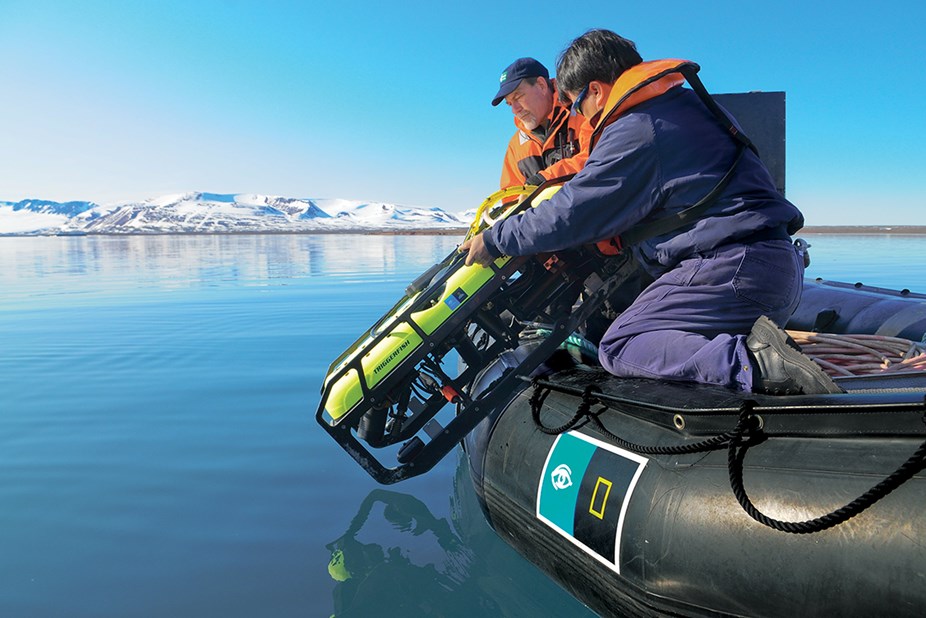 ROV
Deployed from select ships by the undersea specialist, these remotely operative vehicles can dive to depths of up to 1,000 feet—far out of the range of scuba divers—to shoot video of places few have seen. The video is shared at Recap in the ship's lounge with voiceover and question-and-answer provided by the naturalist staff.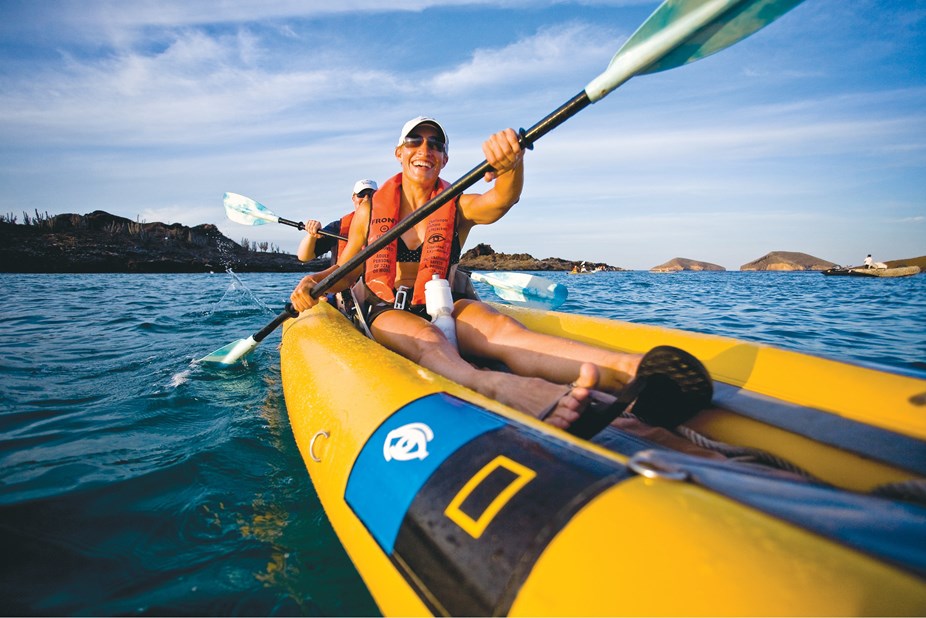 Kayaks
Paddle past penguins in the Antarctic, explore water-level caves in Baja, and kayak among frolicking sea lions in Galápagos. Single and tandem kayaks are versatile tools for up-close encounters with wildness and can be quickly deployed in a number of destinations from tropical to polar.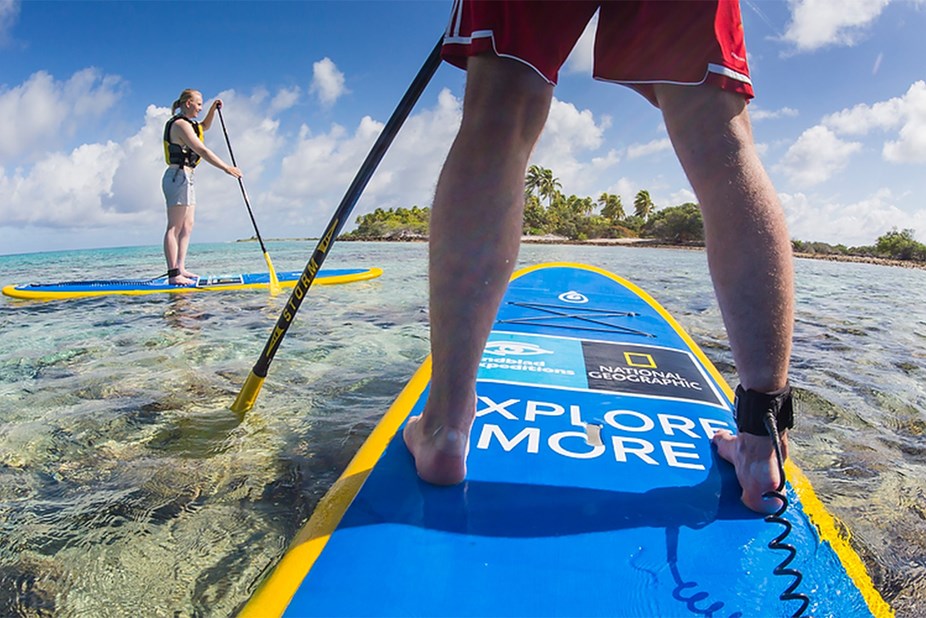 Stand-up paddleboards
Custom-made to be extra stable, our quiver of paddleboards gives you another way to stay active while exploring. User-friendly for a wide range of abilities, they are ideal to circumnavigate a tiny uninhabited island, explore mangroves, or paddle along an idyllic beach.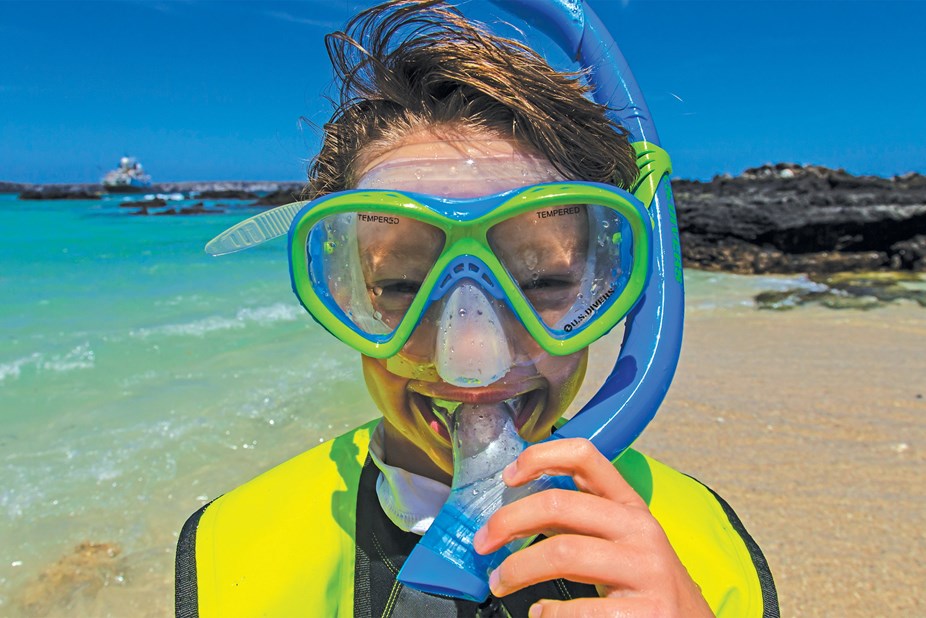 Snorkeling gear
Ships that sail to places suitable for snorkeling are outfitted with complete gear, including shorty wetsuits, that are fitted on day one and yours for the duration of the voyage—no need to pack your own gear. In the shallow waters best suited for snorkeling, see the vivid colors of fish and coral.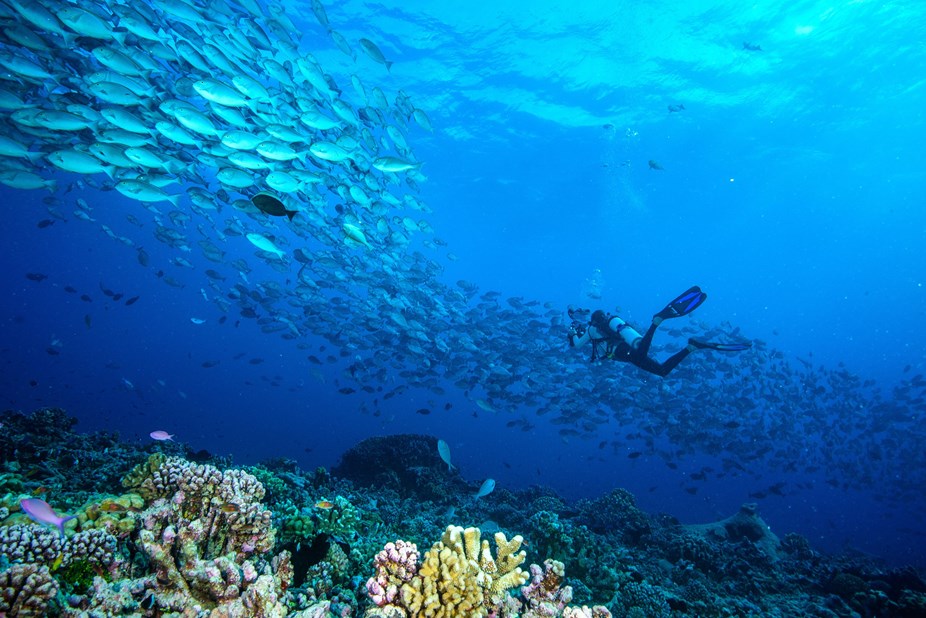 Scuba
Experienced divers may have a chance to explore some of the undersea capitals of wildness including the Galápagos or the Southern Line Islands on select expeditions. National Geographic Orion carries scuba gear for 24, plus two divemasters, in the tropics. And other expeditions offer scuba on select sailings. Call for details.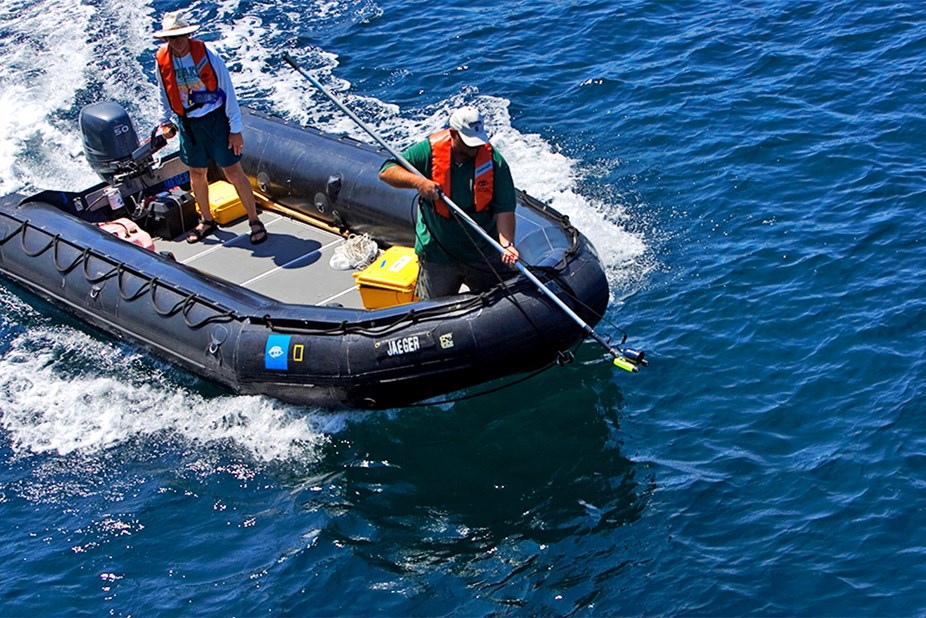 Hydrophones
Hear the vocalizations of whales swimming beneath the bow of your ship. A naturalist may lower a microphone into the sea while whales are feeding in Alaska or swimming near the ship in Baja allowing the rare opportunity to hear them communicating in real time.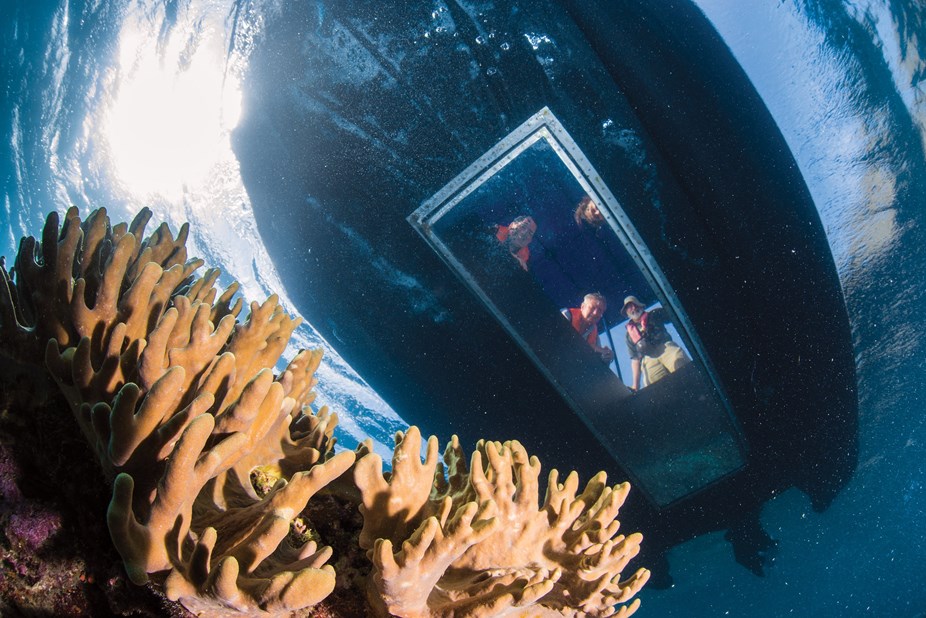 Glass-bottom boats
Select expeditions sail with glass-bottom boats, which allow us to see the undersea while staying dry. They also offer the benefit of seeing the fish, turtles, or corals while sitting next to a naturalist who can identify each species and share their natural history.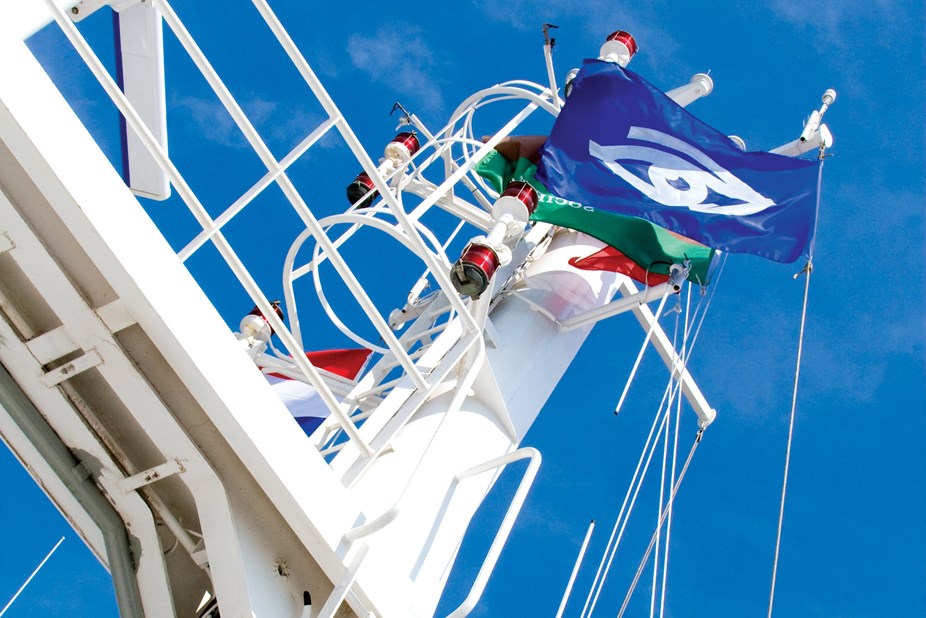 Crows nest camera
Ice-class vessels in the fleet are outfitted with a camera mounted on the very top of the ship's mast that you can view from the comfort of your cabin. The expedition team may use the camera as visual reconnaissance to search for open ice leads ahead of the ship, or to zoom in on distant wildlife.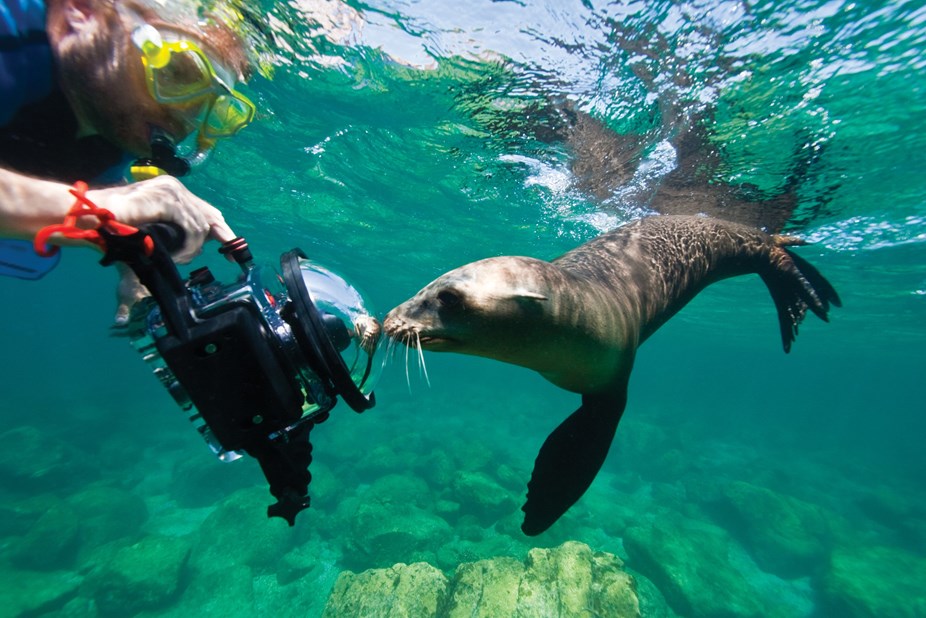 Undersea bow cam
Video cameras mounted just below the waterline on some ships give you a window on the undersea at all times. Naturalists can use the camera as visual reconnaissance, and the live video feed offers those in the ship's lounge a unique vantage point when dolphins come to ride our bow wake or schools of fish swim past.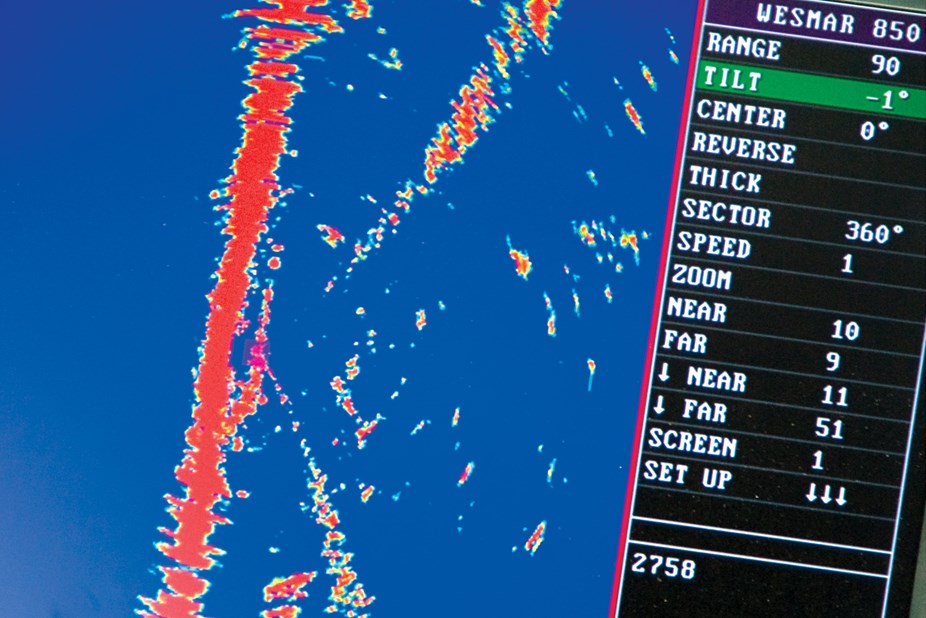 Electronic charts
Follow the ship's progress and keep track of your route via an electronic chart that shows, in real-time, the ship's location, speed, and course. Aboard National Geographic Endurance, National Geographic Resolution, and National Geographic Explorer, this traveler tool is also available on a monitor in each cabin.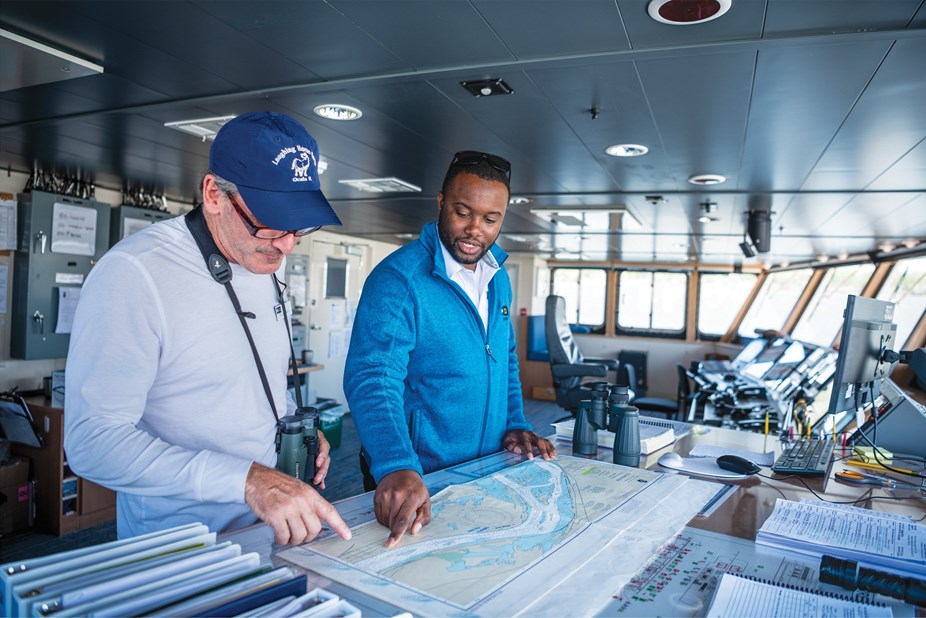 Open bridge
Enter the bridge at any time of day to watch the calm orchestra of navigation unfold and talk to the watch officer while the ship is underway. Help yourself to a pair of binoculars to scan the horizon for wildlife, or learn about the art of navigation and the ship's tools for sailing into the ice or along treacherous coasts.