For the past 12 years, artist Zaria Forman has been documenting climate change with her revelatory pastel drawings of glistening icebergs, turbulent arctic waters, and crashing tropical waves. Her immense, photo-realistic images overflow with detail that draws you in and transports you to distant and hard-to-imagine places. Rather than focusing on the destruction of these vulnerable landscapes, Zaria's work celebrates their indescribable, fragile beauty. "I spent a lot of my childhood visiting far away, undeveloped places, and those experiences instilled in me a love of landscape," she recalls. "When you love something, you want to protect it. By showing viewers the beauty of these remote places, I hope to inspire people to help preserve them." Get Inspired By Photos, Videos, Webinars, Stories, And Exclusive Offers. Sign Up
Now, the Brooklyn-based artist (who traveled aboard National Geographic Explorer to Antarctica as artist-in-residence in 2015 and 2018) has found a unique new platform to share her message. Zaria is assembling Change, the first-ever, polar art exhibition aboard National Geographic Endurance, the world's ultimate polar expedition ship. Change will be installed in February 2020, just a few months before Endurance sets sail on her inaugural voyage into the Arctic. Zaria took time out to chat about her pioneering curatorship.
What was your reaction when Sven Lindblad approached you with this curatorship opportunity?
I was so excited! I have a deep passion and love for the places where the Endurance will sail. I immediately saw this as a unique chance to reach people in a way that extended beyond my own artwork, but also carried with it a similar message and purpose.
What does the title of the exhibition Change mean to you?
Change makes me think of our changing climate. This is arguably the largest crisis we face as a global society, and I think artists play a critical role in communicating the complex issues involved. Psychology has proven that we take action and make decisions based on our emotions, and art has a special ability to tap into our emotions. I am so grateful to Sven and National Geographic for this incredible opportunity to help tell the story of our changing climate, and hopefully inspire people to take action.
You've traveled multiple times to Antarctica including when you've flown with NASA on several Operation IceBridge missions. What do you love most about this remote part of the planet?
I have never experienced a landscape as epic and pristine as Antarctica. I'd have to say that being surrounded by towering ice formations is my favorite part about being there: Witnessing the varying ways in which they are illuminated, the endless and often surprising ways they are sculpted by the wind and water, and breathing in the ancient, clean air bubbles that pop out of them.
Listen to the incredibly hypnotic sound of glacial ice melting >
What was your criteria for finding and selecting artists? Change brings together a diverse group of multimedia artists. The only criteria I had was that the work be inspired by the polar regions, whether the artist had visited them or not. Some commissioned artists are working on their first ever artwork addressing the poles, but all artist's I have chosen are connected to, and their work is inspired by, the natural world.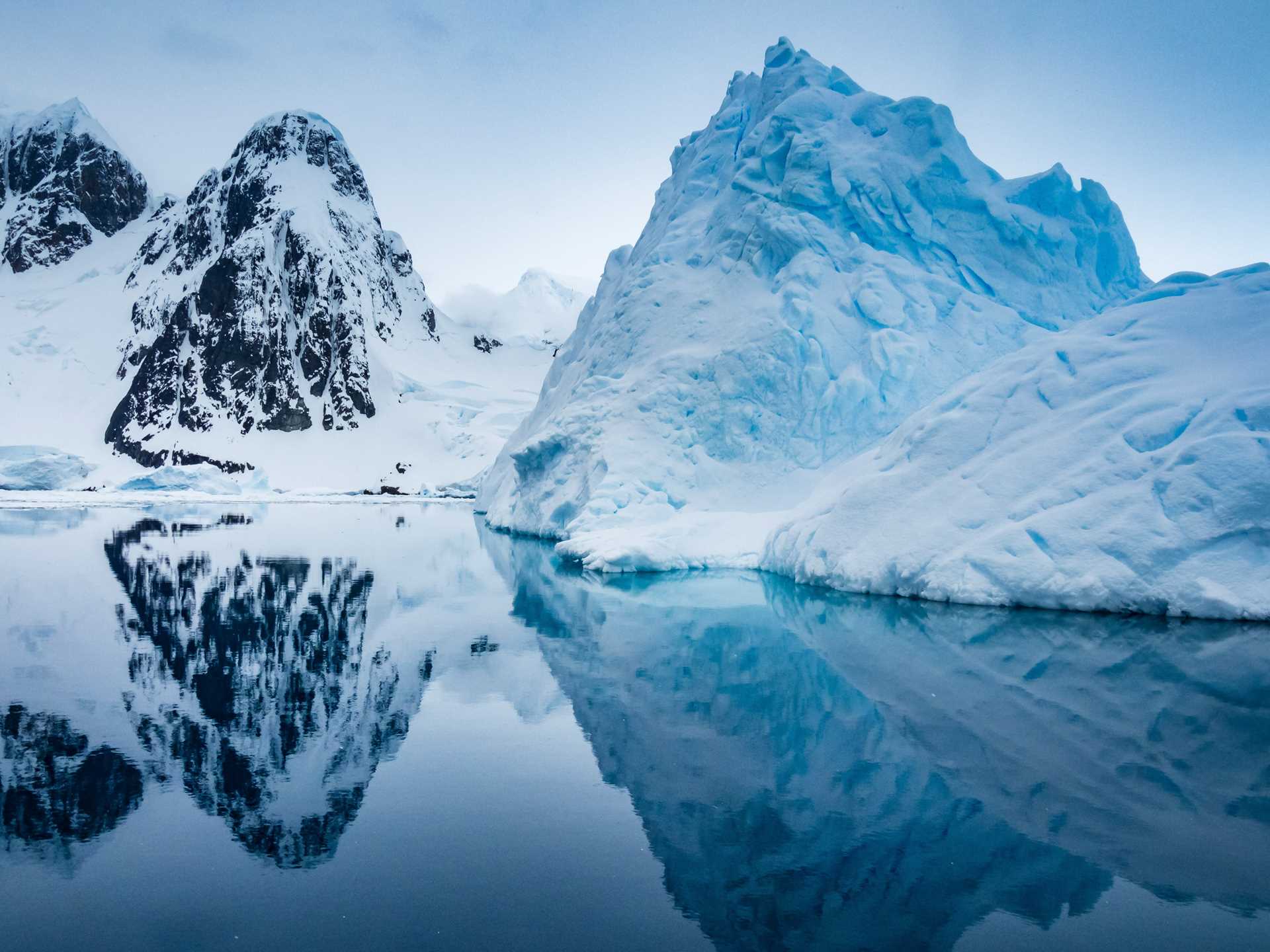 Unlike a traditional exhibition in a gallery space or museum, Change is displayed throughout different spaces on the ship. How did you determine what art was placed where?
With nearly 300 works and 44 artists, determining the location of everything has been both fun, and challenging! It is an ongoing process. I will be hanging work in many unusual places on the Endurance, including a few surprises that I hope will be fun "discovery" moments for the guests. Some areas on the ship require artists to create in dimensions they rarely work in, for example very tall, skinny, vertical works, but artists have been wonderfully accommodating and adaptable!Once I had selected most of the artists, I decided on themes for each deck. I did this by illuminating concepts already imbued in the art. Placement of the work was largely determined by the themes. The art on each deck will tell a story of the polar regions and will give guests multiple perspectives to contemplate.
Preview some of the exhibition's themes and artists >
What do you hope our guests take away from this exhibit? One of my main objectives is to offer guests perspectives of the landscape that they won't see out the windows of the Endurance, or on their excursions. As I mentioned above, each deck will tell a story through the art that will give people a more holistic experience, broadening their orientation in the landscape, and creating a profound understanding of, and connection to these places at the forefront of climate change.