From Māori myths to Moby Dick, the human fascination with whales spans cultures and centuries. Even as wildlife documentaries and up-close encounters help us understand creatures from the farthest reaches of the globe and the most forbidding habitats, these massive mammals retain their air of mystery. Our collective hunger to see whales in the wild has given rise to endless whale-watching operations in every coastal enclave, but as demand for these sightings grows—and marine mammal populations face ongoing threats from humans' impact on nature—it's all the more important to prioritize seeing these creatures ethically and responsibly, the International Whaling Commission reports. Get Inspired By Photos, Videos, Webinars, Stories, And Exclusive Offers. Sign Up
For travelers, that means being choosy about selecting a sighting opportunity. Truly responsible whale watching goes beyond merely keeping with the distance, viewing time, and behavioral awareness guidelines set forth by the National Oceanic and Atmospheric Administration or local governments, says zoologist and Lindblad Expeditions naturalist Conor Ryan.

"You can have a rule that says you can only come within 200 meters of a whale, but if you're not even close to that range and the whale is exhibiting behaviors that indicate distress, or it's reacting to the presence of your ship, you don't keep going," says Ryan.

Having a team of trained experts on board—Ryan, for example, spent his pre-Lindblad years getting a doctorate in marine biology and publishing dozens of research articles on whales—ensures no sign of disturbance goes unnoticed.

"Some of the behaviors are subtle—guests might not even notice a cue that to me would indicate a whale is getting restless with our presence," Ryan explains. "But the great thing about Lindblad is the captain is constantly chatting with us naturalists. They take our observations very seriously, and if we say the whales seem to be reacting to our presence, we'll back off. The whales are in charge of the interaction."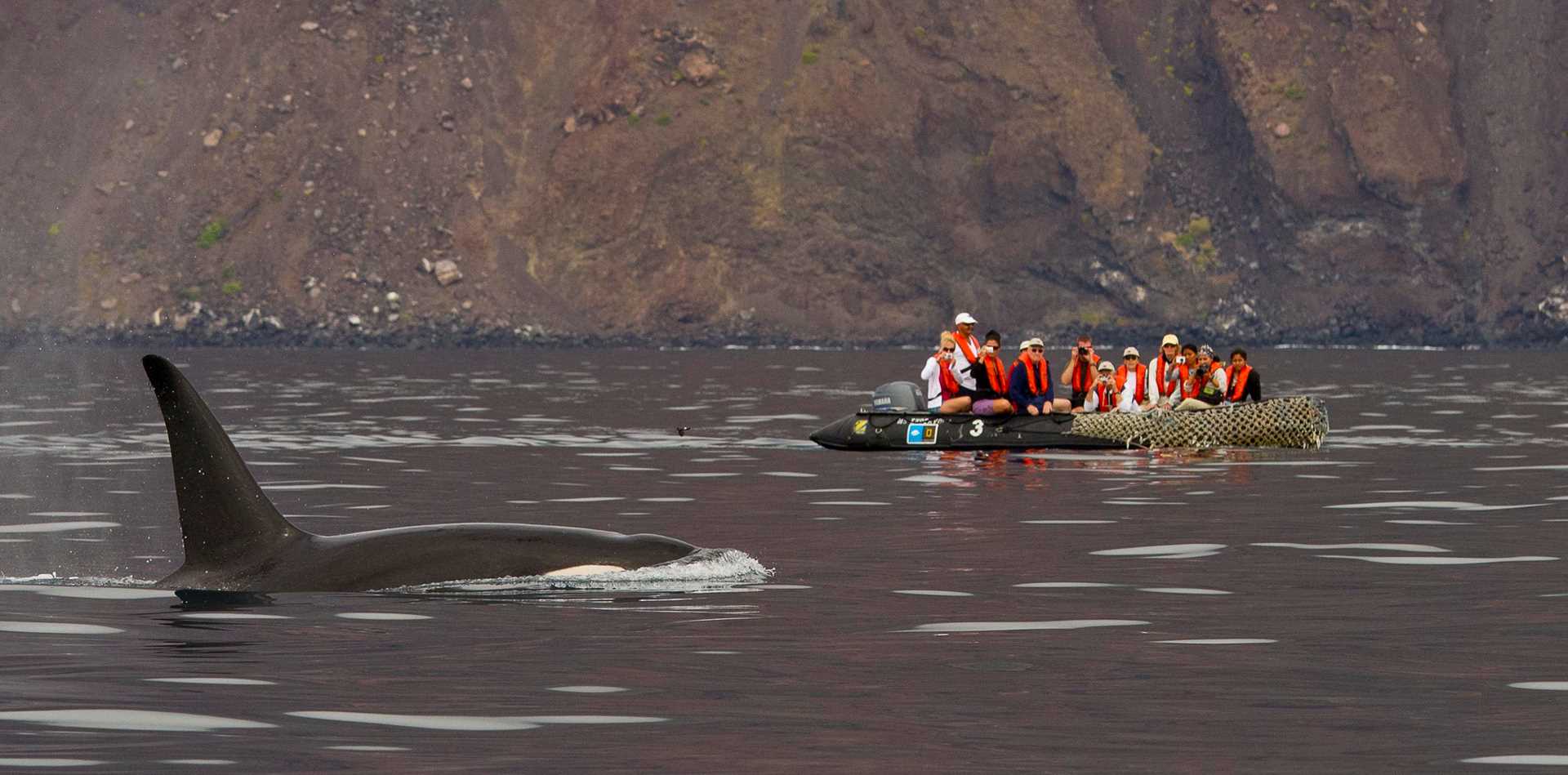 And for Lindblad Expeditions-National Geographic, ensuring animal safety and comfort isn't limited to individual viewing experiences—contributing to the bigger conservation picture is a fundamental part of the company's cause.
Since 2008, Lindblad Expeditions-National Geographic has partnered with the Alaska Whale Foundation to support research, conservation, and marine habitat protection through the Lindblad Expeditions-National Geographic (LEX-NG) Fund—a critical source of program support that has allowed the AWF to massively expand their research programs. And, elsewhere around the world, Lindblad Expeditions-National Geographic funding has been funneled to help endangered whale species in Antarctica through SeaLife Response, Rehabilitation, and Research and support marine ecosystems in Baja through the Gulf of California Conservation Fund.
Spotting whales in the wild from a Lindblad Expeditions-National Geographic ship ensures you're not merely creating a vacation memory, but investing in the long-term future of these creatures and the habitat that sustains them. And when your home base has 360-degree ocean views, you're guaranteed to spot these gentle giants in the wild. Ahead, five places for unbeatable whale watching.
Alaska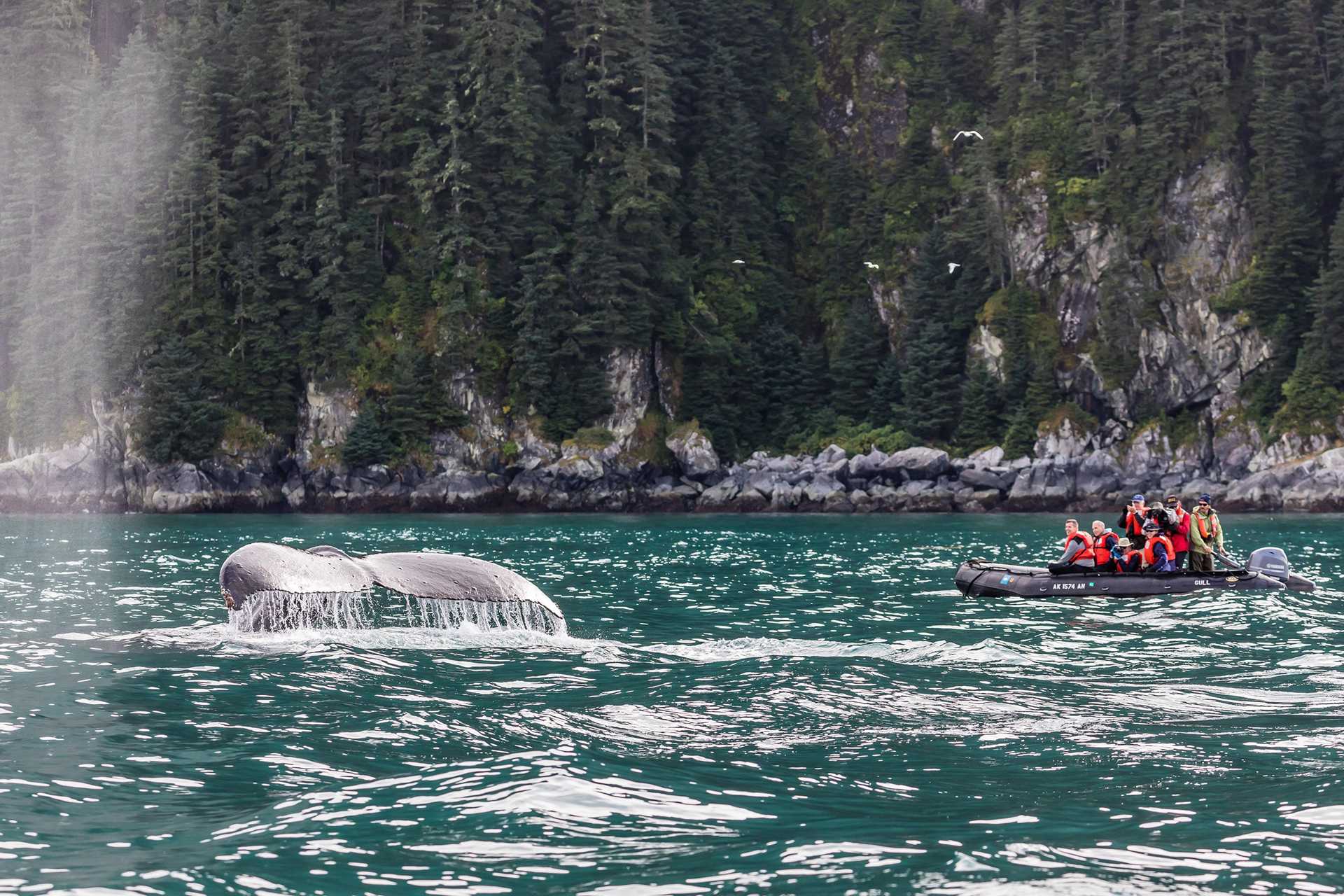 If you're hoping to spot the humpback whales and orcas that make their home in the chilly waters of Alaska, there's no better way to do so than to spend a week or so traversing the fjords and straits of the state's rugged coast. Alaska is home to both year-round and migratory populations of whales, including humpbacks, gray whales, orcas, and even a few small-but-mighty pods of belugas. Most Lindblad itineraries operate May through August, which is prime time for whale spotting. Humpbacks spend all summer feasting on krill around the Inside Passage, Prince William Sound, and Glacier Bay before migrating thousands of miles to the South Pacific to breed and birth their calves in the warm waters of Hawaii; orcas, meanwhile, make their most frequent appearances across the whole of Alaska's continental shelf in May and June, though a number of pods, totaling an estimated 1,200 whales, are more permanent residents in the area. According to cetacean researchers, despite being the same species, year-round and migratory populations of orcas—known as "residents" and "transients"—have little in common, with the two groups diverging wildly in diet, predation behavior, and even communication methods.
Baja California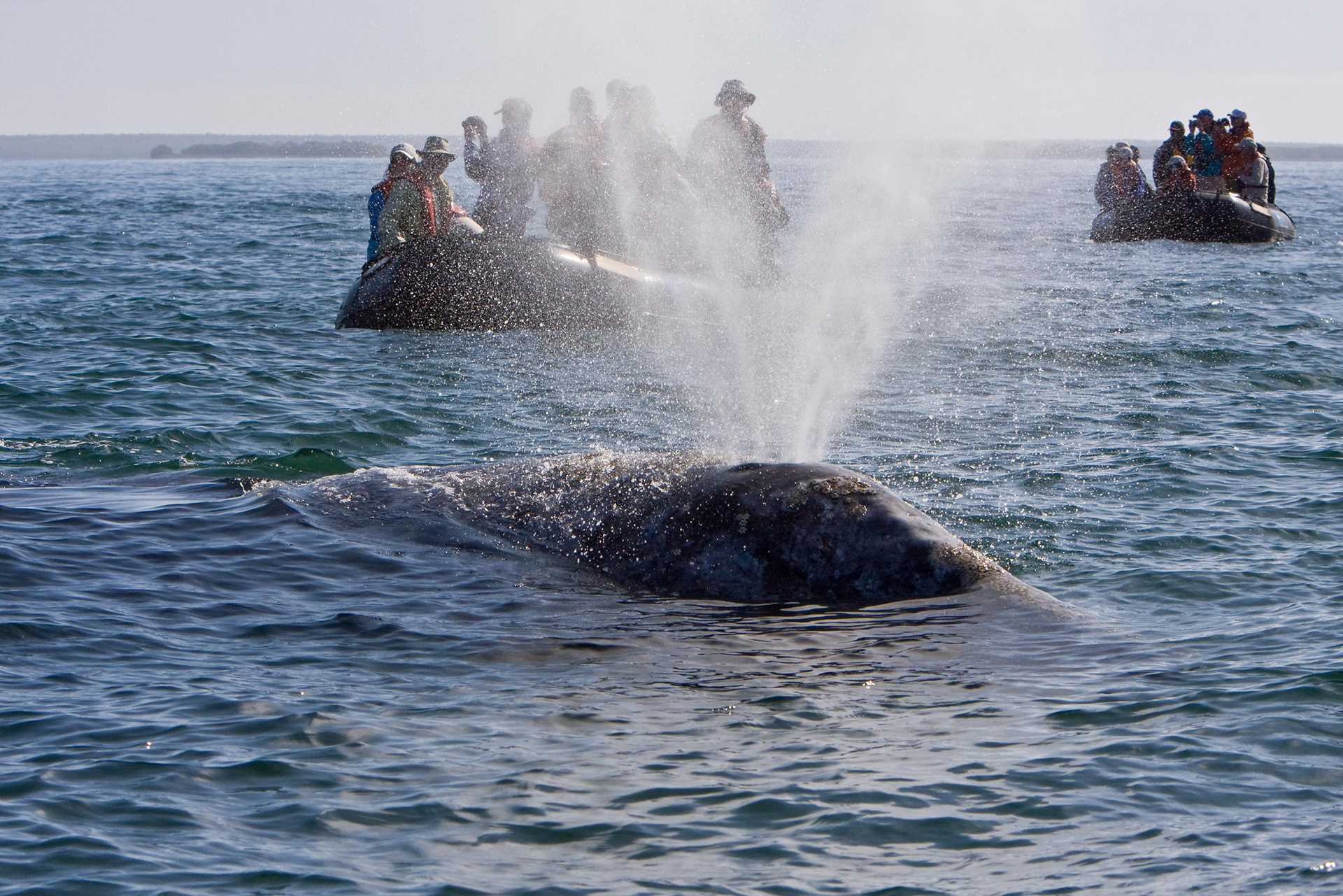 If you have your heart set on whale-watching, you'd be hard-pressed to find a better getaway than Mexico's Baja Peninsula. Each year from January to March, this stretch of ocean heralds the arrival of California gray whales, a notably curious and playful species that spends the winter months birthing in the protected lagoons around Baja. In these calm, shallow waters, you'll see plenty of gray whale mothers and calves, both from aboard your expedition ship and up close from small fishing boats. Once you make your way into the Sea of Cortez—famously called "the aquarium of the world" by Jacques Cousteau—you may even spot dolphins, minke whales, humpbacks, and fin whales.
Antarctica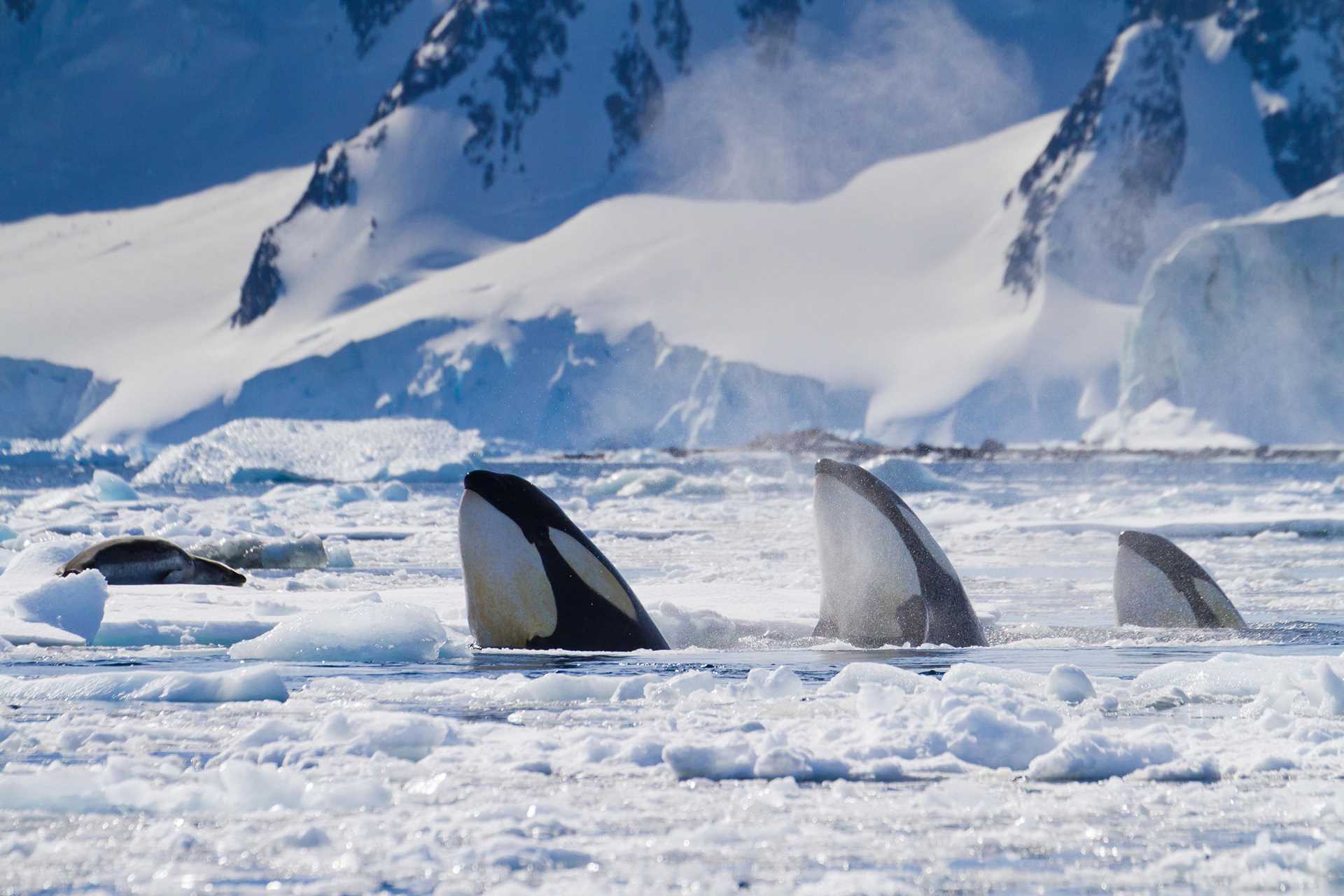 There's no more powerful a place to see how humans' relationship with whales has evolved than Antarctica—once dotted with whaling outposts, it's now an icon of wilderness conservation and marine habitat protection. Here in the formidable Southern Ocean, orca and humpback whale sightings are a regular occurrence—so much so that one frequent Antarctic stop, Wilhelmina Bay, has gained the nickname "Whale-mania Bay." Sail through fin and blue whale habitats to South Georgia Island, whose waters are home to a thriving population of southern right whales. And regardless of where you go around Antarctica, there are plenty of opportunities to help with cetacean research—Lindblad Expeditions-National Geographic guests are often enlisted to send photos of humpback flukes to HappyWhale.com, where the movements of individuals are cataloged and tracked over time.
Arctic


The Arctic Sea isn't just about puffins and polar bears. These forbiddingly bracing waters are home to a hodgepodge of marine residents, and travelers are often lucky enough to see multiple species in a single day. Lindblad Expeditions-National Geographic ships have spotted humpbacks, orcas, minke, and sperm whales near Iceland; bowhead, blue, beluga, and fin whales off Svalbard; and gray whales in the waters surrounding Russia's Kolyuchin Island, among others. Lucky Greenland-bound visitors may even catch a glimpse of the quirkiest polar creature: the elusive narwhal, a marine oddball and surprisingly fearsome predator found in just a few places around the globe.
Patagonia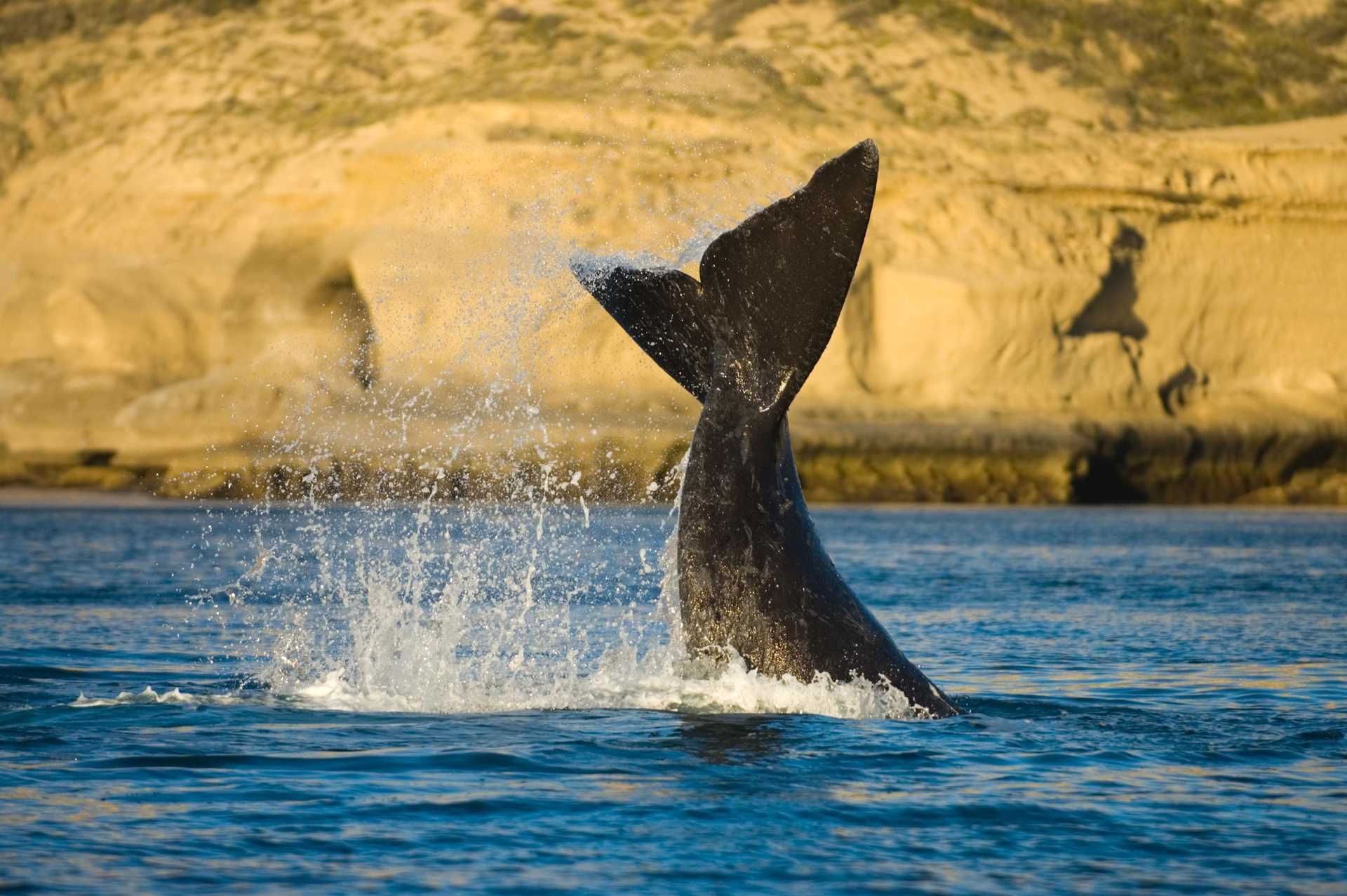 The spires and crenellations of Torres del Paine may get all the attention, but Patagonia has a wealth of marine riches to discover, too. Francisco Coloane Marine Park is an extensive protected area where humpback whale sightings are an everyday occurrence all summer long. There, you're also likely to catch a glimpse of the striking Peale's dolphin, a pint-size black and-white species native to the region, and if you're lucky, the rare Chilean dolphin, an elusive creature found only in these waters. Or perhaps you're headed further south, to the Beagle Channel, where it's rare but possible to spot the endangered sei whale, one of the speediest marine mammals, often seen swimming solo or in small groups.