The Baltics region is dotted with an array of picturesque medieval towns that sprang up along Old World trade routes. On our Circumnavigating the Baltic Sea itinerary, explore all of the following historic places, plus much more as you sail through nine countries over 16 days. Get Inspired By Photos, Videos, Webinars, Stories, And Exclusive Offers. Sign Up
Gdansk, Poland
Walking along the narrow streets of Old Town Gdansk, it is hard to believe the city was almost entirely destroyed in World War II. Merchants' houses were reconstructed brick by brick from the piles of rubble. Today, the city's main artery, the Royal Way is lined with recreated homes including 18th-century Uphagen's House. You'll also find three of Gdansk's many gates on Royal Way. Polish kings crossed through them in a processional on their annual visits to the city. Other distinctive landmarks to add to your list include: Neptune's Fountain, a Mannerist-Rococo masterpiece; Gothic St. Mary's Basilica, the largest brick church in the world; and The Crane, a truly unique structure built in 1444 which is now the location of the Maritime Museum.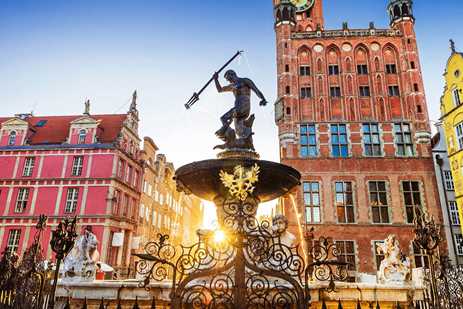 Lübeck, Germany
Referred to as the Queen of the Hansa and the City of Seven Spires, Lübeck was once a capital of the influential Hanseatic League thanks to its central location among a network of mercantile cities. Today, more than 1,000 historic buildings remain throughout the fortified city which sits on an island. This intact ensemble of step-gabled merchants' houses, red-bricked warehouses and churches, narrow alleys, and maritime history earned Lübeck a well-deserved UNESCO World Heritage designation. All of the architecture here is impressive, but the most famous structure is the 15th-century Holsten Gate, now a museum dedicated to the Hanseatic League.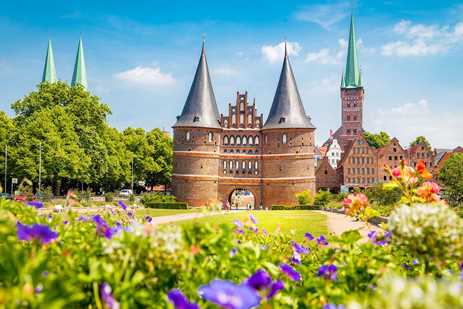 Visby, Sweden
Sixty two miles from mainland Sweden, picturesque Visby was a repository for Viking gold and grew richer still as a center for the Hanseatic League. Today, the prosperous merchants' architectural legacy has brought the town its UNESCO World Heritage status. Of note are its medieval gabled homes, warehouses, church ruins, and its remarkably intact city wall featuring original towers and gates. Within the wall, which began in the 13th century to protect Visby's goods and wealth, you'll find "the best-preserved fortified commercial city in northern Europe," according to UNESCO, plus more churches than any other town in Sweden.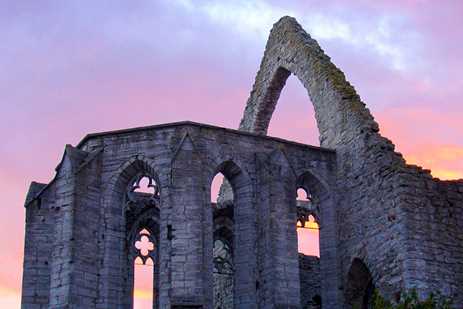 Riga, Latvia
The historic center of Riga is a gold mine for architecture aficionados. Three distinct building styles—medieval, neoclassical, and Art Nouveau—reflect change over time in this UNESCO site that dates back to 1201. Beginning in 1282, Riga played an important role in the Hanseatic League. Its once bustling Old Town is a maze of street markets and cafes, and wooden, stone, and brick shops, houses, and churches set within the city's ramparts. In the early years of the 13th century, Riga became a fortified enclave with walls, gates, and tower; unfortunately, only one of the gates and one of the towers have survived. Imposing neoclassical wooden buildings were the result of city expansion in the 19th century. But what Riga is best known for is having the most extensive and intact example of Art Nouveau (known locally as Jugendstil) architecture in the world: 350 buildings in all.
Photo: Bob Krist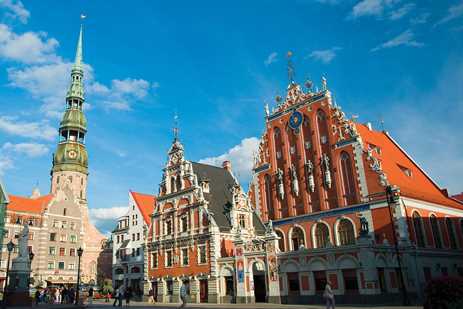 Bornholm, Denmark
Now a popular summer destination for its sun and beaches, the island of Bornholm retains remnants of its medieval past. To begin, there are seven castle ruins. The largest and most famous, Hammershus Castle was built over a relatively short period in the 12th century and likely financed by booty from the Crusades. You'll also find four of Denmark's seven round churches on Bornholm. Round churches, with their completely circular plan, were a unique and popular style in Scandinavia in the 11th and early 12th century. Erected to withstand attacks, these buildings have stone walls that are six feet thick and windows just wide enough to fit an arrow. The largest of the four, Østerlars Church is noteworthy for frescoes dating to 1350 that depict biblical scenes.
Photo: Bob Krist
Talinn, Estonia
Town Hall Square has been the gathering place for Tallinn's extremely well-preserved Old Town for eight centuries. A UNESCO World Heritage Site, Old Town has everything you would imagine: a castle on a hill, colorful gabled homes, cobblestone streets, a medieval wall with turrets, a lavish tsar's palace, and the spires of 20 churches. The city is split into two sections. The apex of Tallinn's upper town is the hill that's topped by Toompea Castle (the Estonian Parliament meets here now). In the lower town, the city's gates used to close at 9 p.m. during medieval times but there's no need to worry about being locked out now. In fact, Tallinn is known for its vibrant nightlife and cafe culture.
Photo: Michael S. Nolan