Sharing the same bay and similar architecture to Mont-Saint-Michel, the medieval walled city of Saint-Malo has birthed explorers and privateers, and risen like a phoenix from the rubble of World War II to become a stunningly picturesque small city known for its authentic character. After getting acquainted with Saint-Malo it will make perfect sense that the Romantic writer, explorer, and politician Châteaubriand hailed from here.

Get Inspired By Photos, Videos, Webinars, Stories, And Exclusive Offers. Sign Up
Dramatically situated on a rocky promontory surrounded by the English Channel, Saint-Malo's current location (an earlier nearby settlement dates to the 1st century BCE) was chosen by monks fleeing Wales in the 6th century. One of those monks, named Maclou, was later canonized as Saint Malo.


NEW ITINERARY! NAVIGATING THE ATLANTIC COAST: BRITTANY, WALES & ENGLAND'S CHANNEL ISLANDS >



The Rise of the Privateers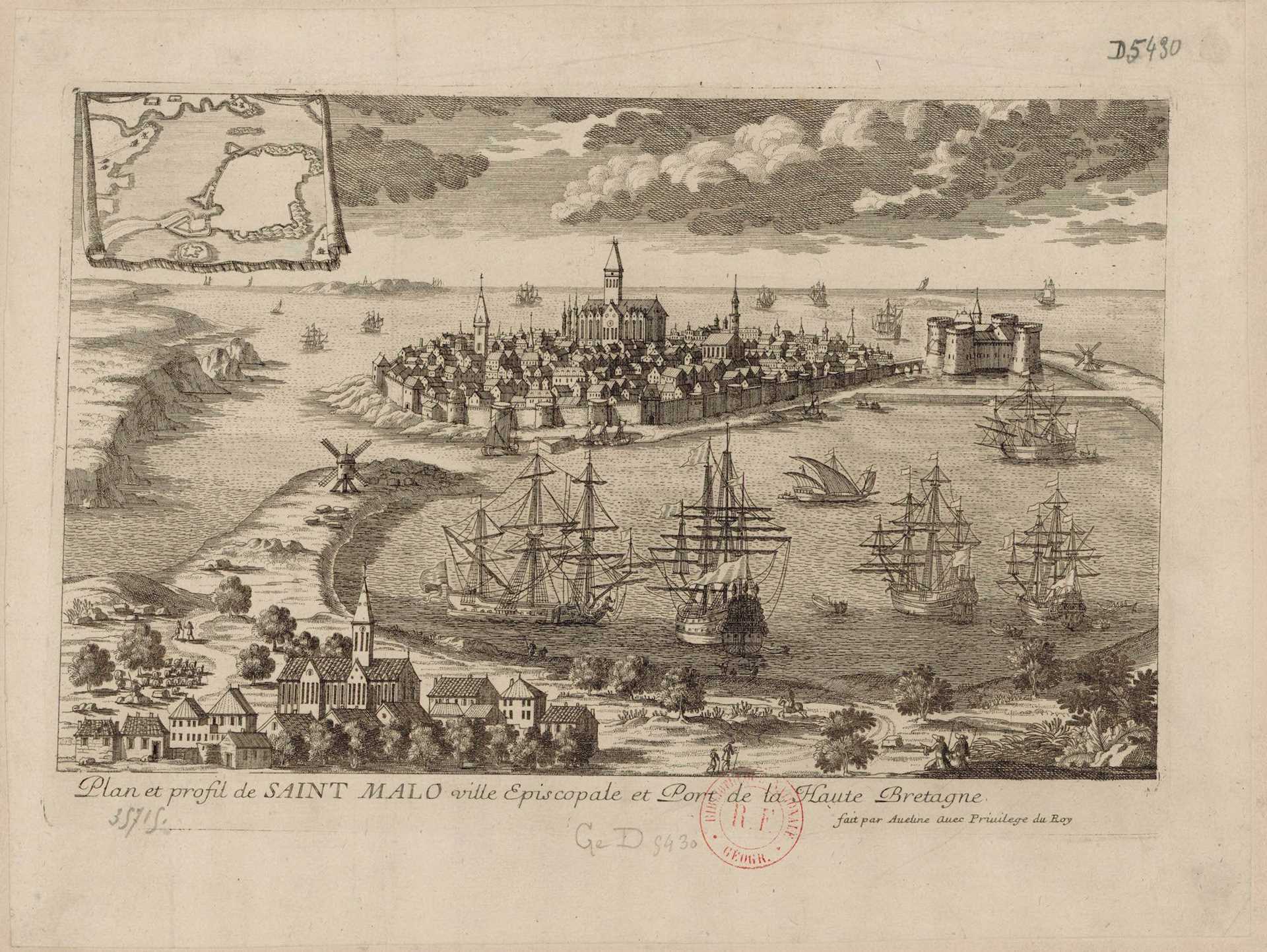 The monks lived in relative isolation until Norman invasions drove surrounding villagers to the protected site in the 8th century; however, it wasn't until the rise of the privateers in the 17th century, as well as the success of international merchants trading with Newfoundland and India, that Saint-Malo became a wealthy port.

These privateers (also known as corsairs) were essentially state-sponsored pirates engaged by the king to attack English (and other foreign-flagged) ships and steal their cargo or force them to pay tribute. As a reward for their efforts, privateers received a percentage of the plunder. When visiting Saint-Malo look out for two statues of one notable privateer—native son René Dugyay-Trouin captured more than 300 ships, endearing him so much to Louis XV that he received the rank of lieutenant general in the Navy.

Big Discoveries from a Small Seaport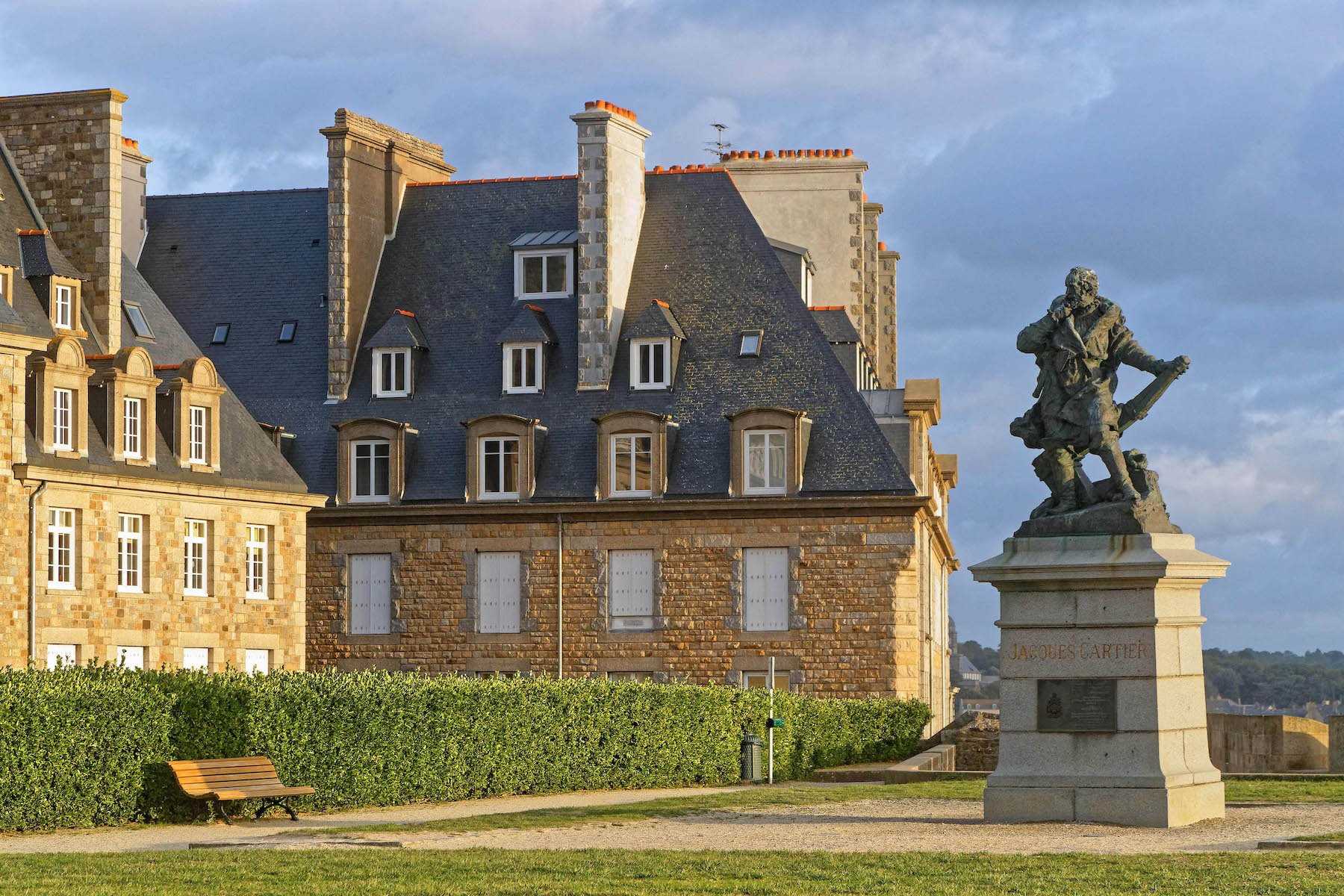 Explorers were also drawn to this busy seafaring port, which was the departure point for Louis-Antoine de Bougainville who started the first settlement on what we now call the Falkland Islands. In 1764, Bougainville originally named the archipelago Îles Malouines, meaning islands of the people from Saint-Malo, as the first inhabitants were from this port. In Spanish, the archipelago is still known today as Islas Malvinas.

It was, however, an earlier explorer who achieved much greater and lasting acclaim. In 1534, Jacques Cartier set sail from his home town of Saint-Malo to the New World. With two ships holding 61 men he was on a mission to find a passage to Asia and return with gold and spices. On three expeditions, Cartier explored Newfoundland, Prince Edward Island, and the St. Lawrence River to what became known as Montreal and Quebec City. Cartier used the Iroquois word "Kanata," meaning group of houses, to describe the Quebec City settlement and he is therefore credited with naming the country.

Rising from the Ashes

Saint-Malo's good fortunes came to an end during World War II when the Germans, recognizing its strategic location and the strength of its fortifications, invaded the city in 1940 as part of their Atlantic Wall strategy. In order to destroy this Axis stronghold, the Allies repeatedly attacked Saint-Malo for two weeks in 1944 until the Germans surrendered. When it was all over, nearly 80 percent of the city was leveled by bombs and fire.

With determination and dedication, Malouins began rebuilding in 1948, painstakingly following original city plans and using original construction materials so that today, there is no sign that most of this medieval city was constructed in the mid-20th century.

Today, Saint-Malo is again a thriving port city drawing day trippers from the nearby Channel Islands of Jersey and Guernsey and others who come to soak in the historic charm; take in glorious views of sailboats and water as far as the eye can see; and enjoy the temperate ocean climate and local specialties like crêpes, galettes, oysters, and cider.

On a guided visit, we will walk the ramparts, stroll the winding cobblestone streets lively with cafes and shops, and with locations like the castle and cathedral in sight, learn the accomplishments of those integral to putting this beautiful little city on the world map.

Explore Saint-Malo, Mont-Saint-Michel and more of coastal Europe on our newest itinerary, Navigating the Atlantic Coast: Brittany, Wales & England's Channel Islands