If setting out solo to a place like Alaska or the Galápagos seems intimidating, an expedition cruise could be your answer. Step aboard the Lindblad Expeditions-National Geographic fleet and you are no longer alone: you become part of a welcoming family of like-minded travelers and engaging experts driven by a passion for exploration. You'll also discover that being solo doesn't preclude you from taking part in any activity, and you can strike your own balance between participating and enjoying your solitude. Get Inspired By Photos, Videos, Webinars, Stories, And Exclusive Offers. Sign Up

If you're considering joining a Lindblad expedition, you may be wondering what the experience is like for single travelers. Here, we address some top questions with help from our Director of Field Staff Annie Fiske. A veteran solo traveler herself, Fiske spent years as an expedition leader aboard our ships and has seen firsthand why expeditions are ideal for adventurous solo travelers.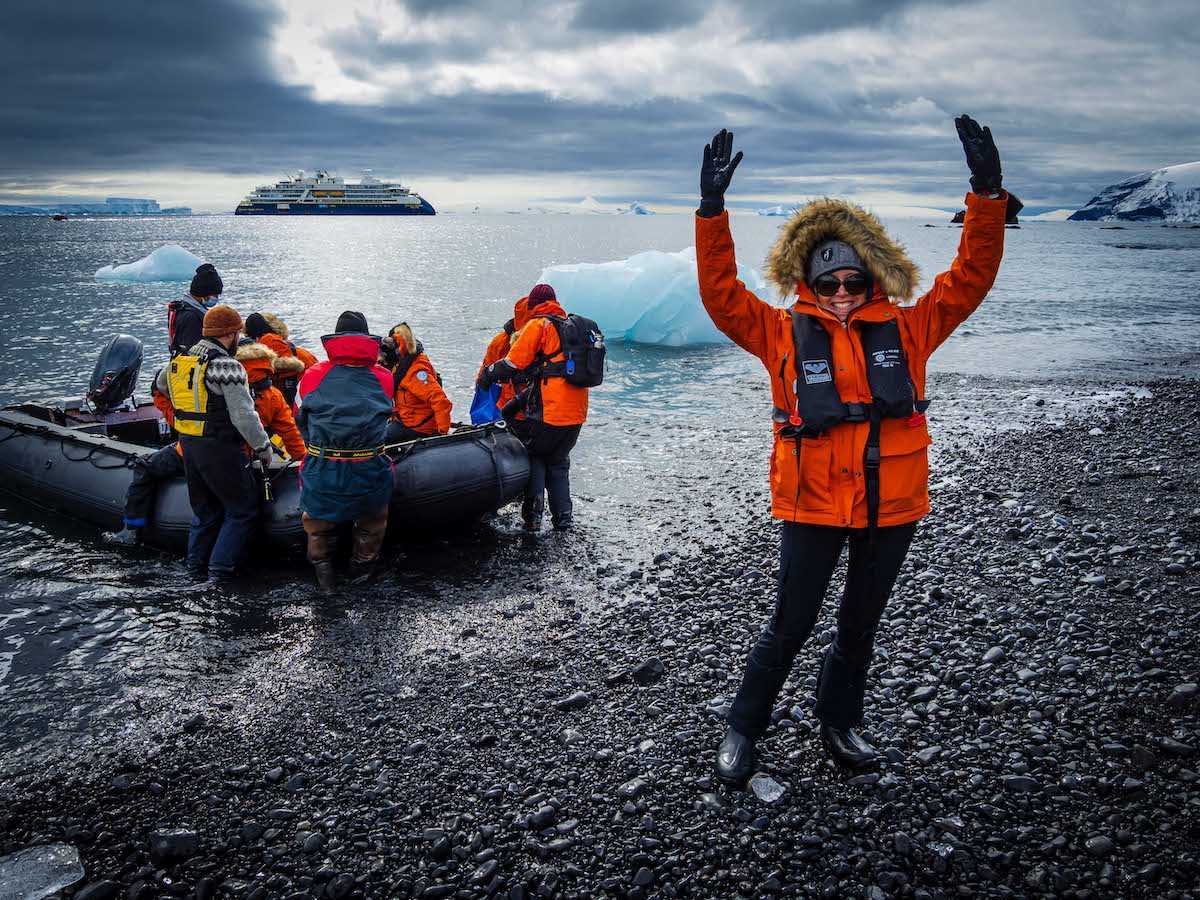 Is an expedition cruise a good type of trip for a solo traveler?

Absolutely. You'll explore alongside people who share your curiosity about the world as you discover fascinating places together. Having served as an expedition leader on dozens of trips, Fiske says that bonding among guests happens naturally on board. "That's one of the coolest things about traveling with Lindblad: you're in a group of people who are there for a very specific reason. Guests already have common goals and intentions which allows for more ease in connecting with new people." Travelers are excited get to know each other—it's all part of the instinct for discovery that brought everyone on board in the first place.


And yet there is enough flexibility and space to allow you to do your own thing. You can choose which activity to join or which new friends to sit with at dinner. Treat yourself to a massage if you wish, or find a quiet nook in the observatory to read or watch the landscape roll by. It's all up to you how you spend your days.

What happens when travelers arrive in the departure city?

Some people may be worried about arriving solo to an unfamiliar city, but never fear: you won't be alone for long. When you travel with Lindblad Expeditions-National Geographic, you'll be taken care of from the time you touch down in the embarkation city to the moment you disembark and are returned back to the airport. All you need to do is get yourself to and from your house to your local airport. Our knowledgeable travel department can work with you to book the most direct flights, and once you arrive in your destination, a Lindblad representative will be waiting to escort you to the next leg of your journey. Once on board, you can count on the ship's skilled crew members and expedition team to take care of all your needs and provide an exceptional experience both on and off the ship.
On some itineraries, you can also opt for a pre- or post-voyage extension, which is a great opportunity for solo travelers to explore a place that's hard to access on your own, like the Scottish Highlands, Alaska's Denali National Park, or the ancient city of Petra in Jordan. Much like excursions on the main itinerary, these extensions allow you to enjoy the company and security of exploring in a small group with a knowledgeable guide.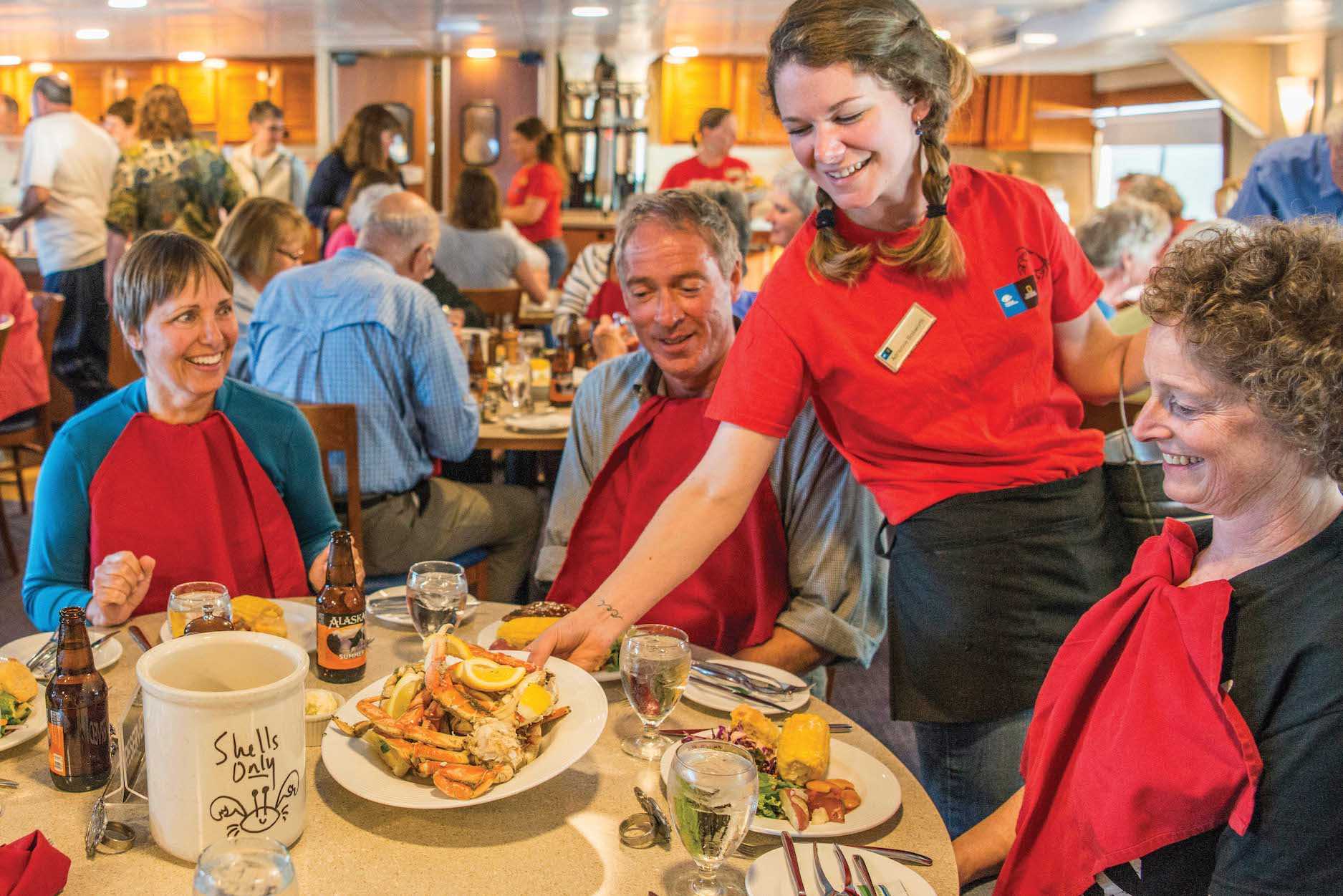 How does the dining experience work?

Aboard every ship in our fleet, there is an open seating policy in the dining room, which means you'll never have to eat alone—unless, of course, you choose to. Simply pick a table you'd like to join (maybe find a familiar face from the day's Zodiac outing or sit with your favorite naturalist, the expedition staff often joins guests for meals). "There is an atmosphere of enthusiasm and camaraderie on our expeditions that make mealtime often feel like a lively dinner party," says Fiske. Conversation comes easy when there is so much to discuss, from rare wildlife sightings to a rewarding hike or a meaningful encounter with people in a remote community. That shared sense of adventure is a part of what makes these trips so memorable—and it often leads to lifelong friendships.
However, there's nothing that says you can't eat alone if and when you wish. You can always take a meal in the observation room or the library and enjoy the quiet to read a book or take in the views.


Are solo travelers common on a Lindblad Expedition-National Geographic voyage?

No matter what time of year, what ship, or what destination, there are almost always solo travelers aboard our expeditions. According to Fiske's experience, there are usually from two to six, but sometimes more. She has traveled with one particular solo guest on multiple voyages. "He has found a community within Lindblad that he is comfortable with," Fiske says, "so he has traveled the world with us." She has also known quite a few guests who returned to take another trip with a friend they had met on a previous Lindblad voyage. "Solos end up becoming travel buddies," she says. "That speaks to the connection that guests can make with one another throughout a voyage."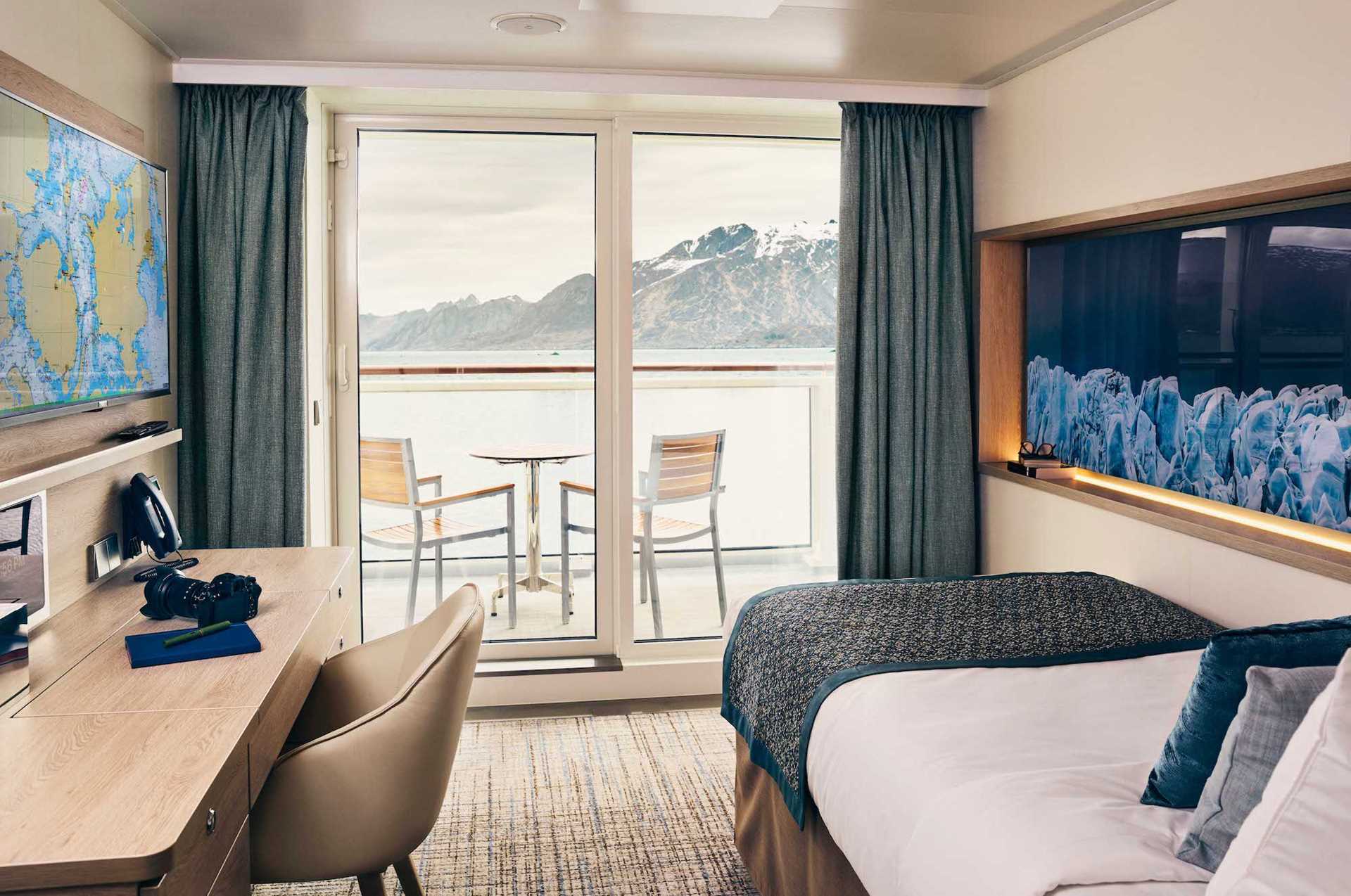 Do solo travelers stay in single cabins or can they share with other guests?

All of the ships in the Lindblad Expedition-National Geographic fleet, as well as our bespoke charter ships, have options for solo travelers—from the new National Geographic Resolution to the historic tall ship Sea Cloud. Some ships feature dedicated solo cabins, while on others you might stay alone in a double cabin. Numbers are limited, so we recommend reserving your single cabin early.
If you are looking to share accommodations, let our Expedition Specialists know when you call to make your reservation, and we will try to match you with another solo guest of the same gender. You'll pay the per person double occupancy rate whether or not we find you a roommate. Keep in mind, this program is only available on select ships and cabin categories, and is subject to availability, so make sure to inquire if it is possible on your voyage.

What is the solo premium?

In the expedition cruising industry, pricing is based on double occupancy and solo travelers pay a single supplement. "Solo premium" is our pricing category for single travelers, and it incorporates that supplement. However, we do waive the premium, as well as offer other solo savings, on select departures throughout the year.
Visit the Solo Traveler page and you'll find a list of all the expedition cruises with current solo traveler savings. At last count, there were more than 40—from Antarctica to Baja California to the South Pacific.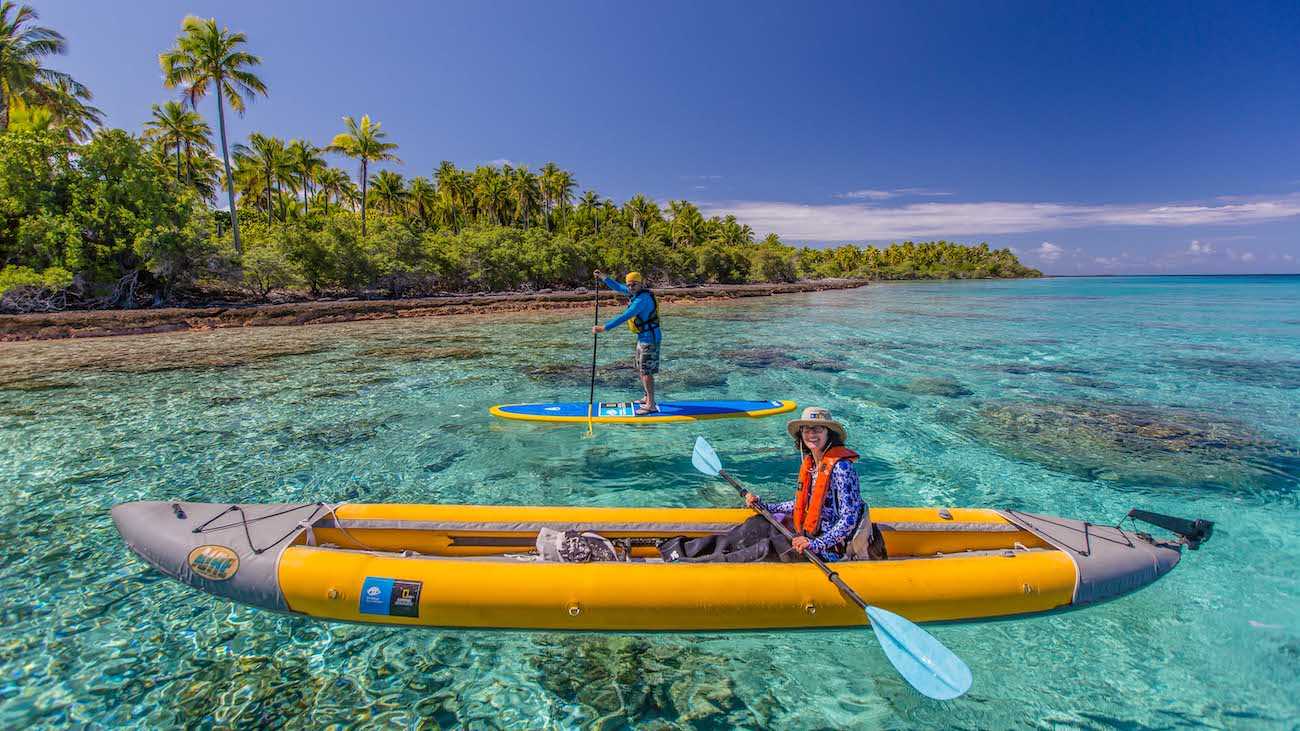 Can you participate in all activities if you're a solo traveler?

Daily adventures and activities are designed to be flexible and inclusive for every guest. In fact, couples or families sometimes split up to pursue their individual interests, so you may not be the only one going solo. If you like kayaking, you can set out in a single or pair up to paddle a double. Sign-up sheets placed at the reception desk or in the lounge during evening Recap make it easy to find a kayak partner or a snorkeling buddy. And remember, if at any time you don't feel like joining an excursion, you are more than welcome to skip that hike and stay on board to relax in a deck chair or sort through your photos.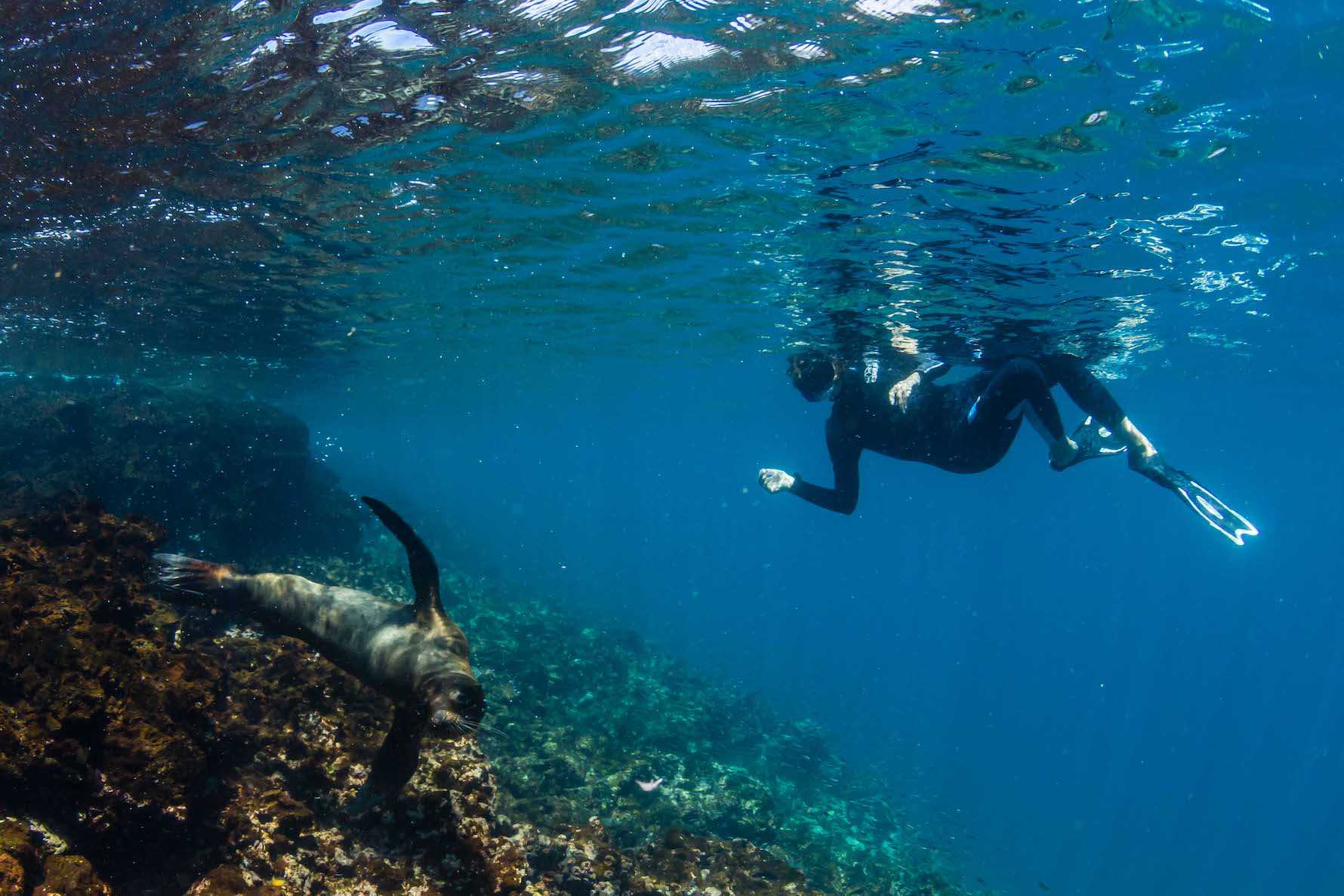 What are some of the best trips for solo travelers?

When asked which trips she recommends for solo travelers, Fiske hesitates. "It's so dependent on the guest." The fact is, any one of our expeditions provides a wonderful and rewarding experience for solos. If you are nervous about traveling alone, she suggests, "dipping your toes into the experience by starting somewhere a litle closer to home where you feel more comfortable." Consider a voyage to California's Channel Islands for instance, or an Alaska solo trip.
Otherwise, choose the trip based on the destination that fascinates you, knowing that the rest will fall into place. A Galápagos cruise for solo travelers means setting out in a small group led by a naturalist to swim with sea lions and observe blue-footed boobies. An Arctic or Antarctica solo expedition will bring you to spectacular icy realms where wildlife reigns—in the company of friendly people who are just as thrilled as you are to be there. "This is an opportunity to experience something outside your comfort zone," says Fiske, "but you're still in a safe, community environment."