On a mission to save cetaceans, one drone flight at a time
As apex predators, killer whales rule the waves in regions all over the globe—from the historic coast of the Pacific Northwest to the ocean around Iceland and all the way to the frigid waters of Antarctica. But our changing world and its evolving ecosystems are a challenge to even those at the top of the food chain. Enter Dr. Holly Fearnbach, one of the world's foremost killer whale researchers, who's worked to support the conservation of cetaceans—humpbacks, minke whales, dolphins, and more—in U.S. and international waters for more than 20 years. Get Inspired By Photos, Videos, Webinars, Stories, And Exclusive Offers. Sign Up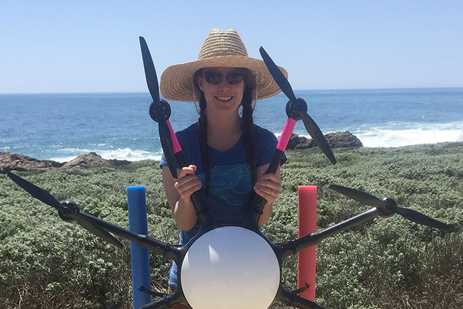 "I've always been drawn to the ocean and fascinated by marine wildlife," she says, recalling that her mother couldn't get her out of the water when she was young. Right out of high school, Fearnbach decided she'd pursue a career in marine biology—and she never looked back. A degree from the University of North Carolina at Wilmington was followed by a biology masters from Old Dominion University, then a zoology Ph.D. from the University of Aberdeen in Scotland.
Self-described as passionate, driven, and dedicated, Fearnbach is currently the marine mammal research director of the nonprofit SR3, SeaLife Response, Rehabilitation and Research in the Pacific Northwest. She and her team pioneered the use of drones to dive deep into the impact of changing marine environments on their inhabitants. The remotely operated machines collect aerial, high-res images of individuals, track migration patterns and feeding behaviors, even gather whale-blow samples, to assess the health of cetacean populations all over the globe. After more than a decade of informing conservation and management measures, Fearnbach is happy to report that the metrics gathered—particularly on endangered Southern Resident killer whales—are now spurring action, such as fisheries and vessel regulations, at an international scale.
We celebrate Fearnbach for her pioneering spirit, dedication to understanding the natural world, and her awesome contributions to cetacean conservation!
> We asked Dr. Holly Fearnbach:
Why do you explore?
There are always exciting things to see and learn. I never tire of new challenges and adventures!
What is your favorite Lindblad Expeditions destination and why?
Antarctica. The ice and wildlife are simply amazing.
What is the dream exploration you haven't done…yet?
Africa. It's been at the top of my list for years and years!
What's your advice for the next generation of women explorers?
Keep pursuing your dreams and never take no for an answer! Always stay true to yourself. Hard work and dedication will help you achieve your goals.
What's one (or more) thing people would be surprised to know about you?
I was an endurance athlete before life got too busy! I completed three full-distance Ironman triathlons, more than two dozen marathons, and a handful of ultramarathons.
What motivates you each day to do the work you do?
My greatest motivation is the hope that our research efforts will continue informing conservation and management measures to protect marine ecosystems around the world. Our planet needs all the help it can get right now, and it is our duty to help conserve delicate ecosystems like the Antarctic Peninsula.
Learn more about Holly's ongoing research on whale populations in Antarctica, which is supported by the Lindblad Expeditions-National Geographic Fund. Watch here.