Arrive early or stay and linger in Ecuador with these hotel and excursion options to add time in Quito or Guayaquil before or after your Galápagos expedition. Call an Expedition Specialist for details.
Guayaquil Hotels
Hotel del Parque, Guayaquil
National Geographic Islander Exclusive
One-night pre-expedition included. Additional nights from $195 per person
A serene tropical refuge, housed in a in a beautifully restored 19th-century building amidst the greenery and quiet cobbled streets of Guayaquil's Parque Histórico. Just four miles from the airport in the Samborondón neighborhood. Guayaquil's first boutique hotel has 44 rooms with two courtyards, an original chapel, bell tower with fitness center and spa, and a restaurant facing the river.
Hotel Oro Verde Guayaquil
Guests traveling on National Geographic Endeavour II
One-night pre-expedition included. Additional nights from $98 per person
The Hotel Oro Verde Guayaquil is a five-star hotel located in the heart of Guayaquil, convenient both to the airport and local attractions. Locally owned, the full-service hotel is known for its authentic Ecuadorian hospitality and features newly renovated rooms, multiple on-site restaurants, outdoor pool and garden, well-equipped fitness center.
Guayaquil Excursions
Hacienda La Danesa
(Full Day, Guayaquil)
From $290 per person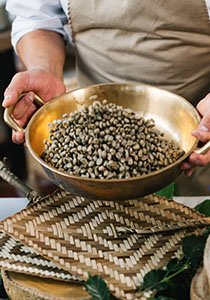 Spend the day in the tropical lowlands at a traditional working dairy, teak and cacao farm, founded in 1870. By special arrangement, we are welcomed into the home of the Olsen family, the third-generation owners of this historic estate. Lunch is al fresco and delicious, featuring traditional Ecuadorian dishes with international flair. The relaxing day at the hacienda—with bar-to-bean chocolate making and optional activities including horseback riding option (at additional cost), mountain biking and even tubing on a river—celebrates life in the countryside on the Ecuadorian coast.

Quito Hotels
Hotel Casa Gangotena Quito
From $225 per person
Set in the restored Gangotena family mansion on Plaza San Francisco in the heart of the UNESCO-designated colonial center, this boutique hotel with 31 rooms highlighting a mix of classic architecture, contemporary interior design, antiques, fine furnishings, and quintessential comforts.
Hotel Hilton Colón Quito
From $110 per person
In the Mariscal district on Avenida Amazonas in the heart of modern Quito, the five-star Hotel Hilton Colón is convenient to shops and restaurants with a fitness center, restaurants and a business center.
Wyndham Quito Airport
From $95 per person
This full-service hotel is steps from the airport, a convenient base for a short stay.
Quito Excursions
Quito, World Heritage City (Half Day)
From $110 per person
Tour the plazas, churches and cobbled streets of Quito's Centro Histórico, a living neighborhood at the heart of the city that showcases both the colonial legacy of Ecuador's capital city and thriving contemporary Andean culture. Learn about the revitalization of the colonial heart of the city at a tour of one of the original local markets. Founded in the 16th century on the foundations of an Inca city, Quito's historic center—largest and best preserved in Spanish America—was designated a UNESCO World Heritage site in 1978, second in the world after Galápagos.
Otavalo Cultural Experience (Full Day)
From $290 per person
Travel from Quito north across the Equator through the captivating highlands to Otavalo, one of South America's largest and most celebrated markets. With visits to the bustling market, local weavers and handicraft studios in a local village, lunch at a gracious nearby hacienda and a visit to a historic family-owned rose farm, built 300 years ago as a Jesuit monastery. Apart from the cultural attractions, this full day out of Quito showcases Andean scenery of patch-quilt fields, lakes and mountains. Surrounded by snow-capped volcanoes, Otavalo is set in a valley below Quito at a moderate 8,200-feet.;