Amazon–
the word conjures up adventurous thoughts of jaguars at the water's edge, anacondas slinking through the forest, colorful macaws against the sky, and monkeys jumping through the trees.

Traveling to the Napo Wildlife Center in Ecuador's Amazon basin is just that adventure. A trip downriver by motorboat on the Napo River, a major tributary of the legendary Amazon River, takes us to the entrance of Yasuni National Park. After a brief rest stop, we board dugout canoes, called cayucos, for a two-hour paddle through the rainforest to the Napo Ecolodge. The adventure begins. Get Inspired By Photos, Videos, Webinars, Stories, And Exclusive Offers. Sign Up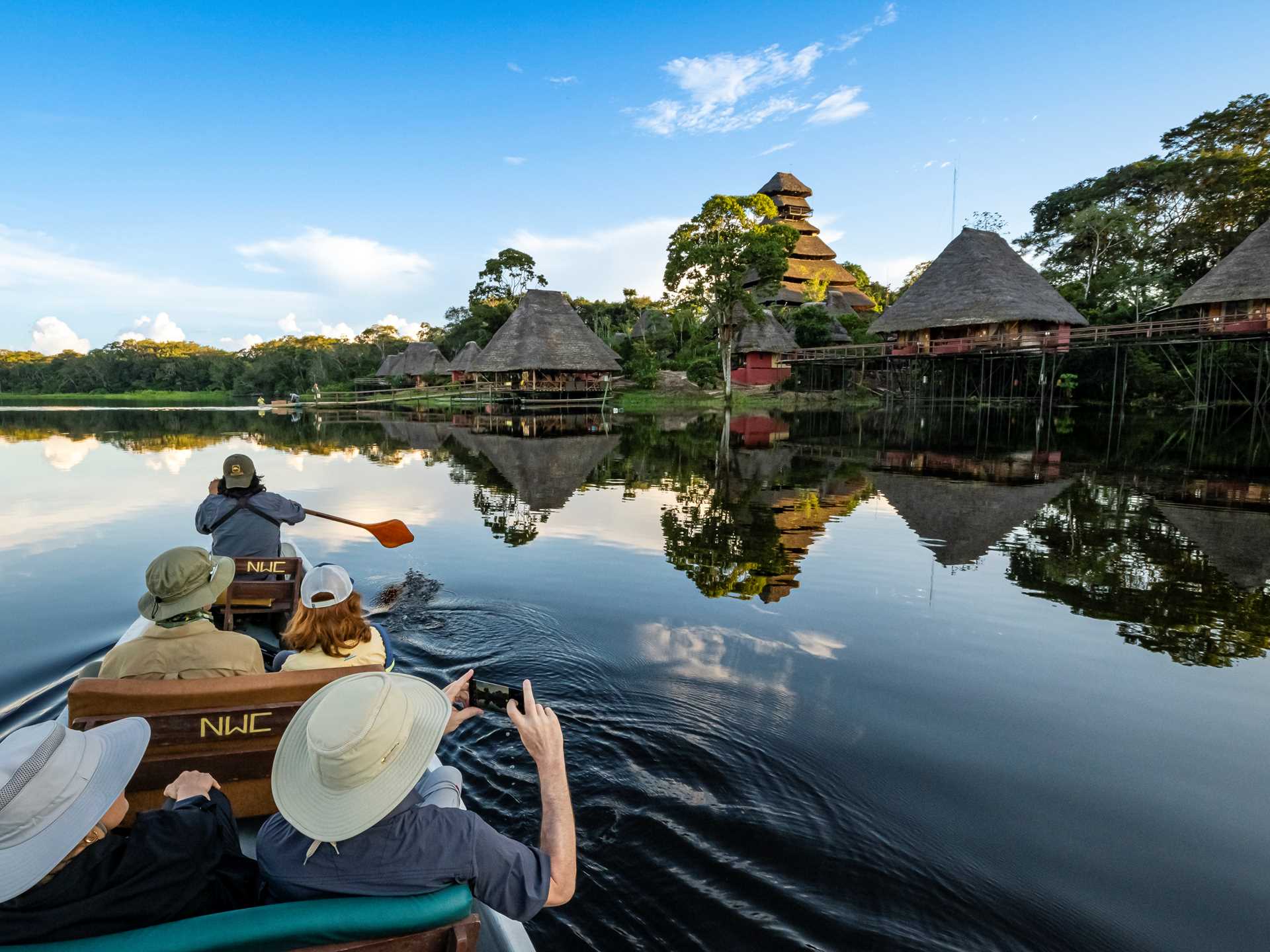 Light, Composition, Moment: The photographer's mantra. Approaching the Napo ecolodge on the shores of Lake Añangucocha in the warm light at sundown. The position of the paddle defines the moment, as a photographer snaps a picture in the foreground.

This is the inaugural Photo Expedition to the Upper Amazon, a pre-voyage adventure before heading to the National Geographic Endeavour II to continue the expedition in the Galápagos Islands. And being a Photo Expedition, our expedition leader Lucas Bustamante, informs us it's time now to prepare, and get our cameras out.
Cameras and binoculars at the ready, we set off into the mysterious blackwater tributary with overhanging tree limbs and blind corners. We hear only the sounds of the forest and the splash of the synchronous paddles through the water–it is surreal and meditative.
Yasuni National Park in the Ecuadorian Amazon

Yasuni National Park is a conservation success story. The wildlife-rich expanse of primary rainforest is the largest protected area on mainland Ecuador, and second only to the Galápagos. Founded and managed by the indigenous Añangu Kichwa Community, the Napo Wildlife Center boasts access to the highest biodiversity in the Amazon Basin. The variety and abundance of wildlife is a photographer's dream.
The lodge itself is an artistic open-air masterpiece and a model for ecotourism. Every piece was transported to the site by dugout. No motors, only paddles. Construction included a six-story viewing platform complete with elevator. Staff and guides are all local and express a true passion for working to protect the unique resources of Yasuni National Park.