At the headwaters of the mighty Amazon River, you'll find the seasonally flooded forest of the Pacaya-Samiria Natural Reserve. An intricate network of jungle waterways wind like tendrils through the cathedral of green here. Massive trees stretch towards the sky, giant lily pads float atop the inky water, and a host of creatures, from the forest floor to the top of the canopy, go about their daily lives. Naturalist and certified photo instructor Linda Burback shares what it's like to spend an exhilarating week inside this pristine natural wonder.


Amazon Natural Park & Yanayaquillo Creek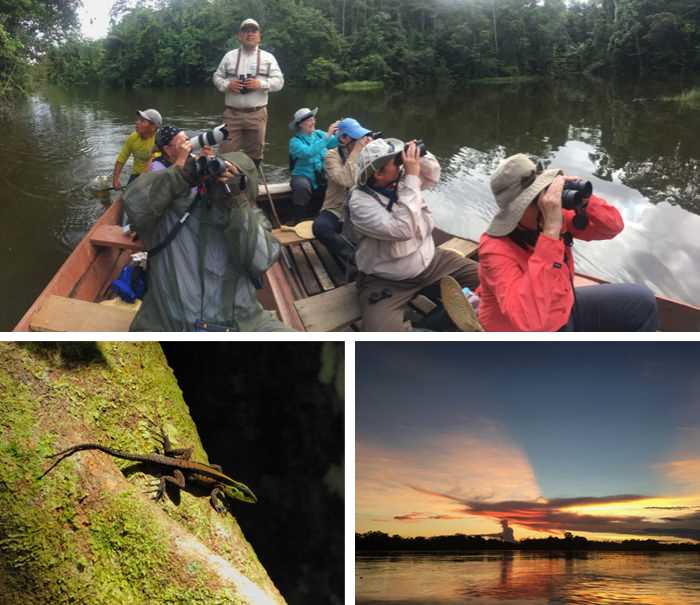 Our adventure started with a very early wake up call, just as the sky began to blush with light. We boarded three skiffs at 6 a.m. and headed slowly up river. We spotted many species of birds—notable among these were plumbeous kites, violaceous jays, and a black hawk. As we cruised into the mouth of a small black water tributary Pampas Cano, we were thrilled to see a couple of pink river dolphins!

Back aboard the beautiful Delfin II we had a bountiful breakfast, were fitted for rubber boots, and soon stepped back into the skiffs for a short ride to the Amazon Nature Park where our guides led us through the forest on a sometimes-slippery path. Along the way they pointed out various interesting trees, seeds, ants, lizards, and anything else they noticed. We were interested in all they could show, explain, and teach us!

A shaman from the Cucama tribe, Carola, showed us medicinal plants, discussed her eight years of training in the jungle and answered our questions. She performed a short ceremony for luck and health for all of us, and then for anyone who wanted, she individually read the color of their auras.

Later on the afternoon cooled off as the sun dipped lower into the sky, and we headed out again to see what we could find. And did we ever find the wildlife! Some of the highlights: a tree full of adult and juvenile snail kites, a brilliant turquoise plum-throated cotinga, more pink dolphins in the junction of the black water creeks, and tamarin and squirrel monkeys. As we returned to the main river, with smiles on our faces, the sun set in glowing bright oranges and pinks, with fabulous grey and white thunderheads backlit by golden rays. A fitting finale to an incredible first day!

Pahuachiro Creek & Casual Rainforest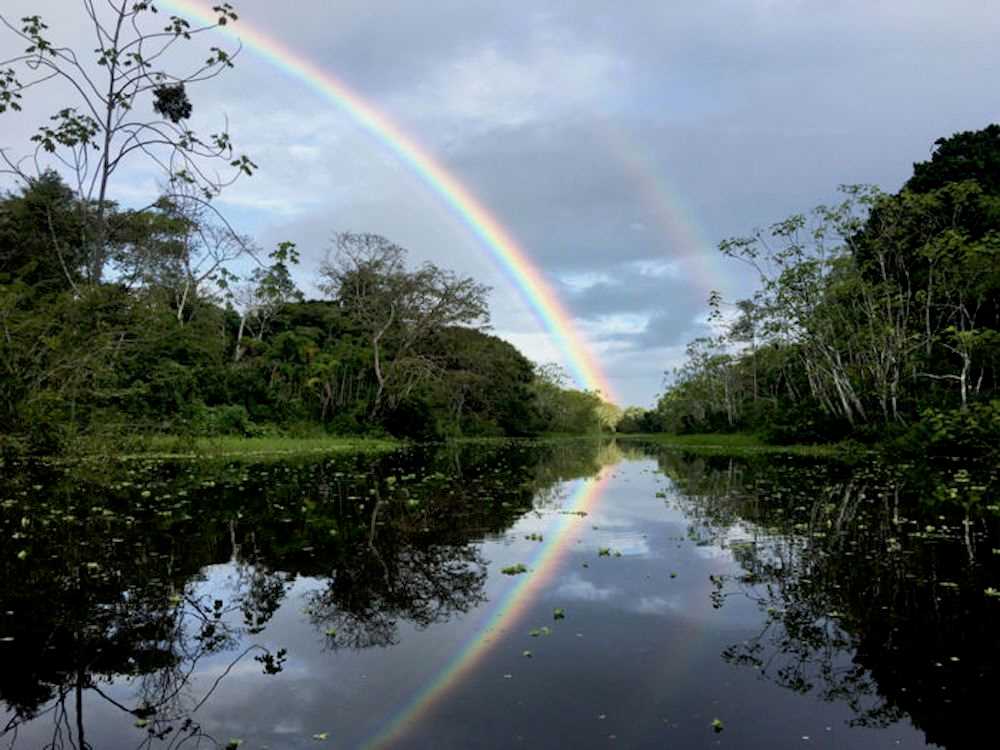 Again, we started our day with the birds and were in the skiffs by 6 a.m. This is the time the forest wakes up, and you should as well. On our pre-breakfast ride, we found a pair of cream-colored woodpeckers deep into their morning meal as they tore an ant nest apart. Our naturalist spotted a three-toed sloth high in the forest trees, a compact sloth-ball that was still too cold to start climbing around.


After breakfast, a walk along the trail at Casual was incredibly fruitful. Included in our sightings were: a green anaconda, red-tailed boa, pink-toed tarantula, and a lovely little female three-toed sloth practically at eye level.

The colors seen on our hike all came together in a rainbow as we navigated up the black water of Nauto Caño. The treasure under the rainbow? An amazing sighting of a great potoo and a hollow tree stuffed with noisy night monkeys. Another perfect day in the Amazon Basin.

San Jorge Village & Clavero Lake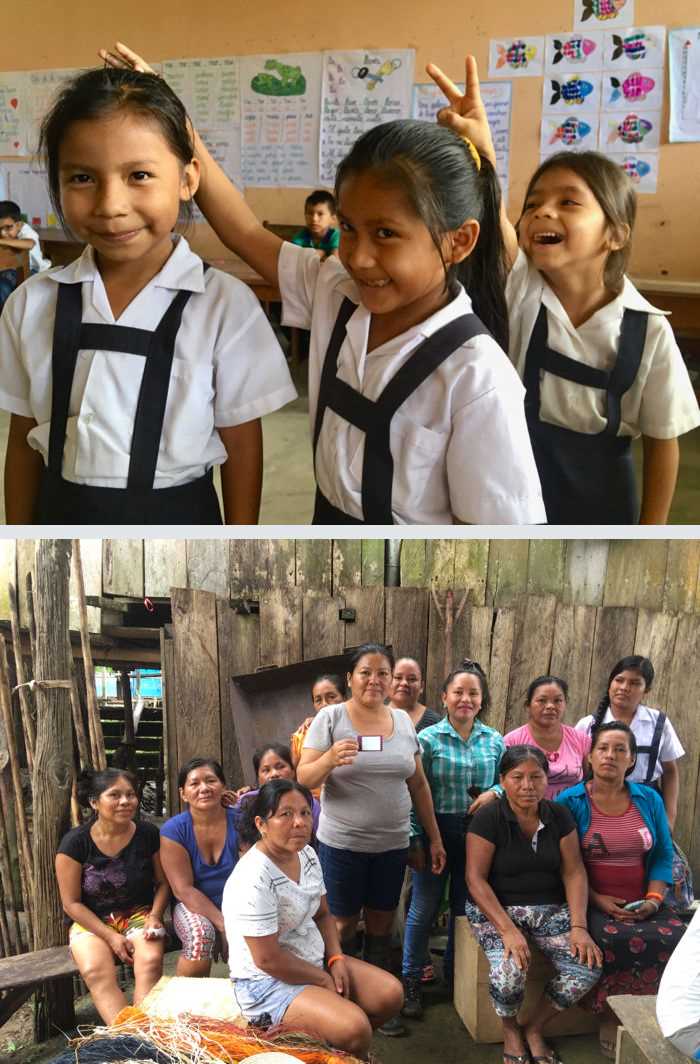 Today dawned bright and sunny. After a presentation in the lounge by Emira about the non-profit organization Minga Peru, we boarded skiffs and headed up river to visit San Jorge village. The guides led us up a steep cement stairway to the elementary school where we talked with the local students and teachers. The kids shyly told us what they dreamed of being when they finished their schooling, and we told them about our professions. Next, we enjoyed hearing short talks by several of the women community leaders about the various projects they are involved with. Before we left we had a chance for shopping and were delighted with all the lovely handicraft items made from naturally dyed palm fibers and wood.

Around noon we reached the confluence, where the mighty Amazon River is born, and toasted our arrival with pisco sours. Those who wanted to try their hand at steering the Delfin II did so, as we headed up the Ucayali River where we will spend the next few days exploring in the Pacaya–Samiria National Reserve. In the afternoon, some of us bravely dove into the still and refreshing black waters of Clavera Lake and floated with styrofoam noodles for support. We tried not to think of the caiman, piranhas and snakes that were swimming elsewhere in that same lake… and we had a great loud, laughing time!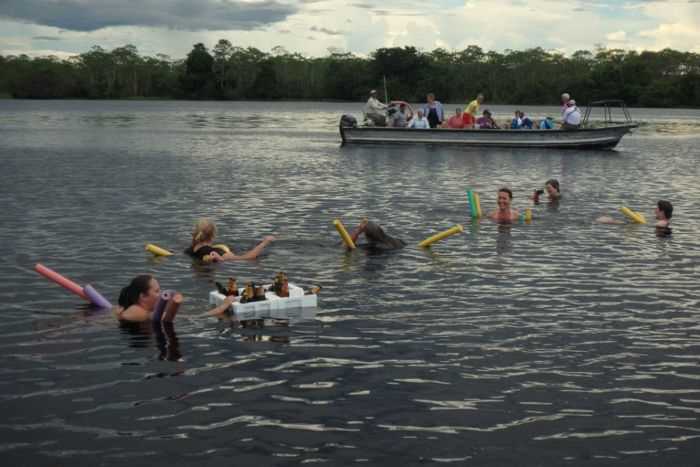 Around 4 p.m. we motored across Clavero Lake to enter a series of narrow vegetation choked creeks. As we explored, our sharp-eyed guides spotted several sloths, numerous hawks, bright paradise tanagers, squirrel monkeys, and a pygmy marmoset! We sped through the narrow creek as darkness fell, the bats came out, and we arrived back to the boat with the last light of day.

Belluda Creek & Dorado River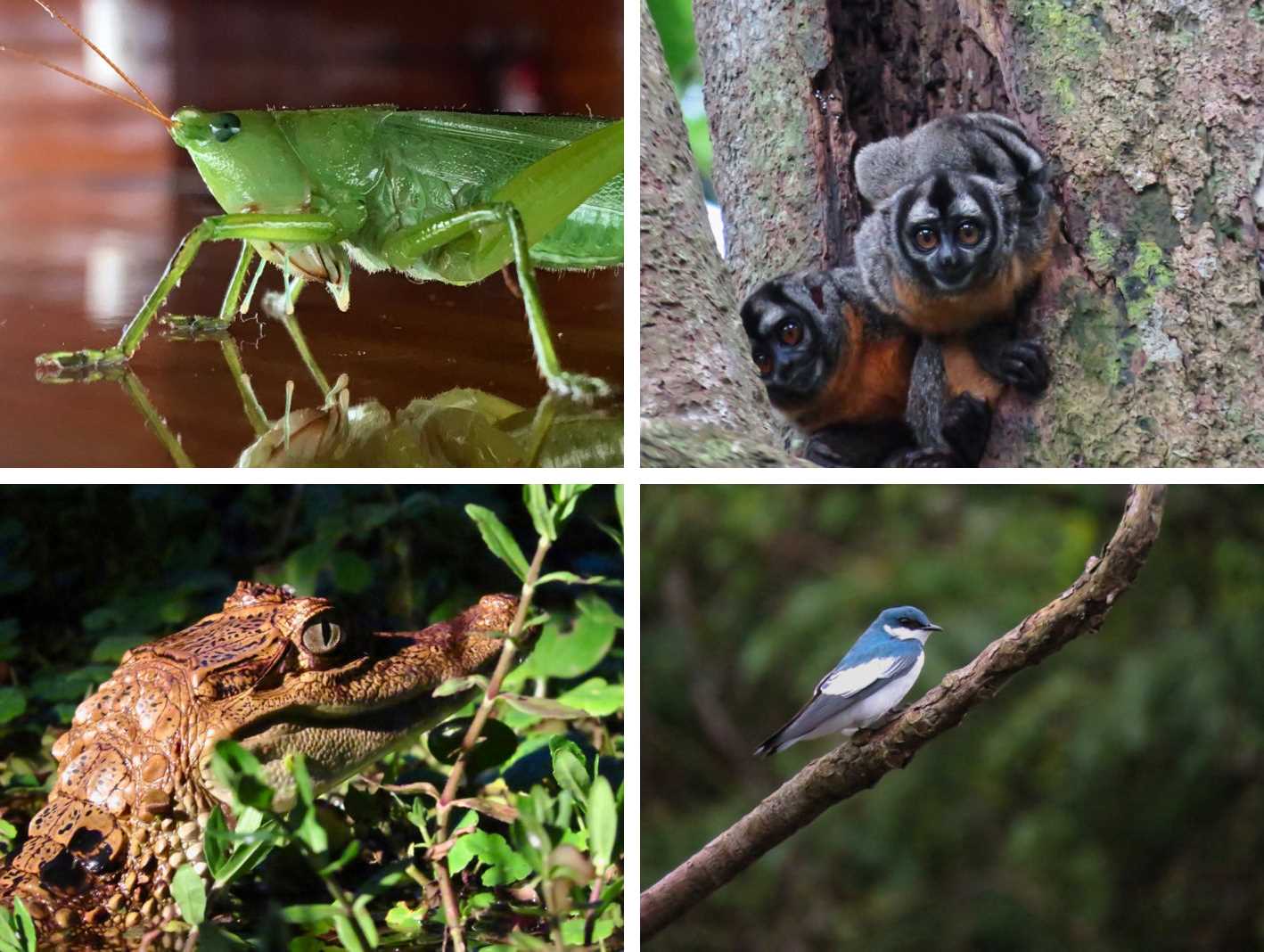 By now we know rising early has wonderful payoffs. This morning we stayed out just a little longer than usual, and 27 species of birds, 5 species of mammals, and a blue morpho butterfly later, we returned for breakfast. But it wasn't just the sightings of the morning that were special; it was the sounds as well. The chatter went from kingfishers, to undulated tinamous, to the high-pitched calls of the saddleback tamarins.

In the afternoon we stayed out late to look for caimans, but again, we found so much more. From a tropical screech owl to great potoo to two common potoos, one that let us get so close we could almost touch it. Oh yes, and both spectacle and black caiman were spotted. A great end to another awesome day exploring the Amazon Basin on board the Delfin II.

Pacaya River & Yanayacu Lake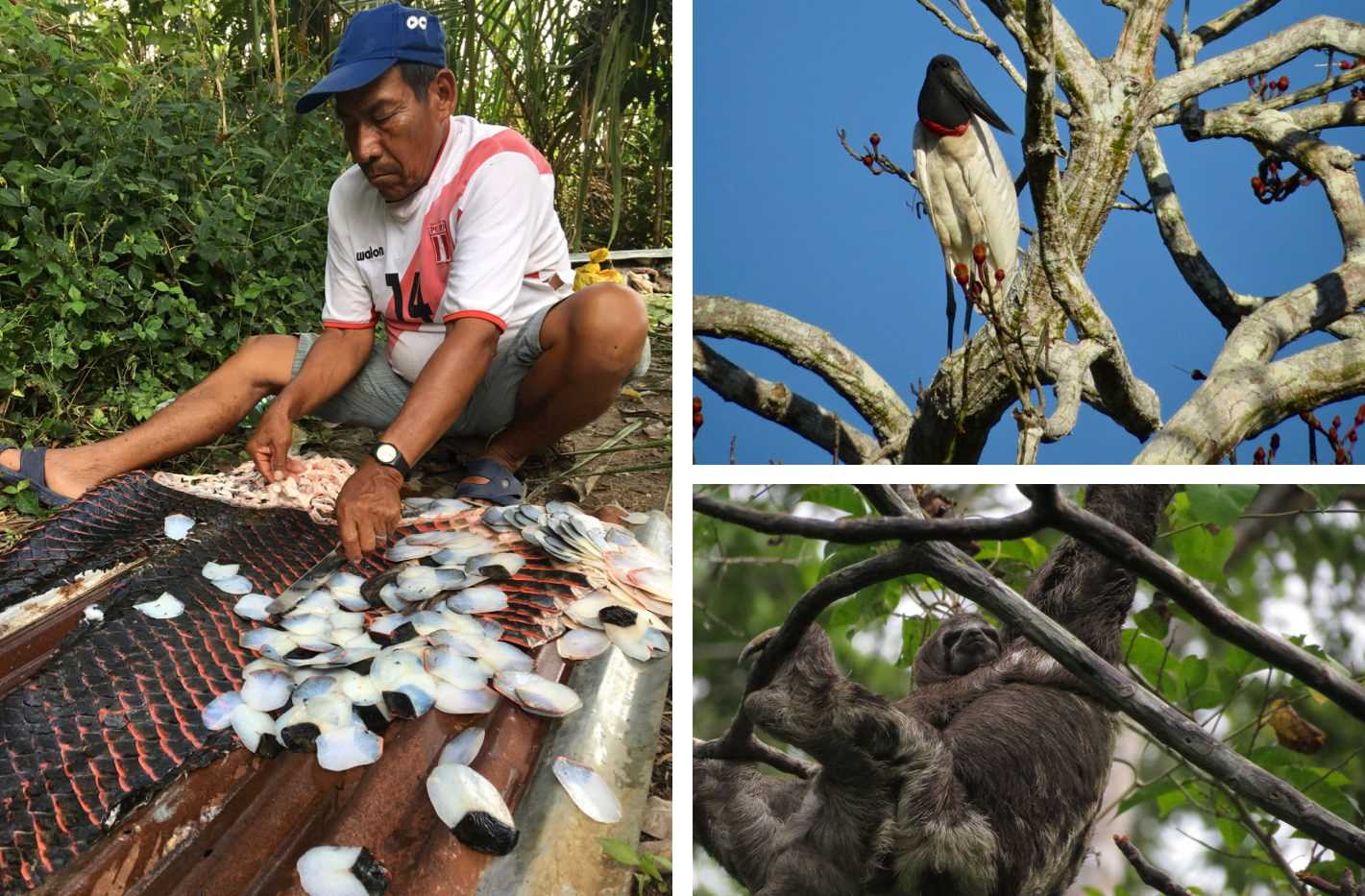 Today took us into the heart of the Pacaya-Samiria National Reserve where we visited a section of the river few tourists have ever seen. Our destination for a picnic lunch was the ranger station at Puesto de Vigilencia No. 2 or PV2. In the 1990s, Peruvian President Fujimori built a fish camp here to entertain important guests and fish for the largest of all freshwater species: the paiche. Paiche can reach 15 feet in length and may weigh over 400 lbs!

As we made our way up the Pacaya River, we hit the wildlife jackpot. We watched red howler monkeys leap through the treetops, monk sakis with their very puffy gray fur staring down at us, parrots and macaws flying in pairs across the river or perched high in the trees, five species of herons, huge jabiru storks, and several of the very strange looking hoatzins.

We had a lovely meal and soon afterwards began our trip back down-stream, stopping to see more sloths, blue-and-yellow macaws, hoatzins, and howler monkeys. Many of us swam in the warm black waters of Yanayacu Lake, with the pink dolphins, and a cool beer. We reached the Delfin II, waiting for us on the muddy Ucayali River tied to a strong tree, and took refreshing showers and downed some cooling drinks at the bar. Everyone agreed, it was a long day, and it was also an unusual and marvelous day!
Supay Caño, Iricahua Creek & Puerto Miguel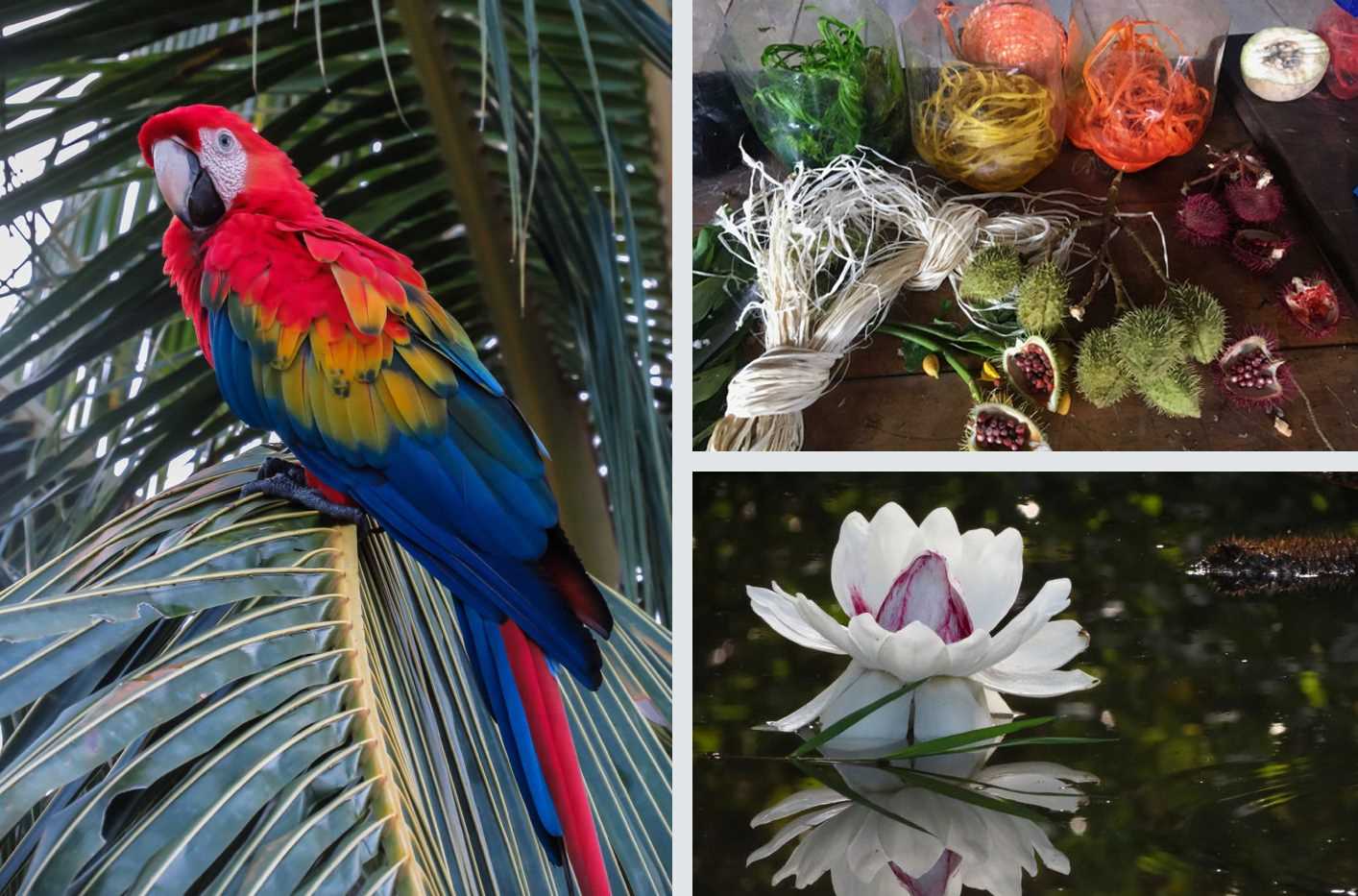 The week seems to have rushed by in swirl of colorful birds and leaping monkeys. We have become entranced by sloths carrying babies, squadron flights of macaws overhead, and shorelines filled with dozens of snowy and great egrets. The rivers, which cradle the Pacaya-Samiria Reserve, hold a wealth of life that most of us never could have imagined existed.

We have been privileged to get a glimpse of the birds, mammals, reptiles, and insects that flourish in this hot, wet, humid, beautiful landscape. Names that were foreign to us seven days ago now roll off our tongues like familiar friends, "Why yes, I did see the plum-throated cotinga, did you notice the bluish-fronted jacamar and the Muscovy duck flying overhead?"

The day and our week ended at Puerto Miguel with a perusal of local crafts, a scarlet macaw posing in a palm tree, an island with wooly monkeys, and a pond of magnificent giant water lilies. The diversity continued to our very last outing and the frosting on the cake was a magnificent sunset with gold tinged water and billowing storm clouds in the distance.