I recently saw myself described on the website as the "veteran" Expedition Leader of our annual Lord of the Glens season, and I am trying to take that as a compliment. It's certainly accurate. My first voyage aboard this stylish art deco vessel, modeled on Royal Yacht Britannia, was back in 2002 when Sven Lindblad asked Tom Ritchie (another company "veteran") and I to go aboard for a reconnaissance trip. Get Inspired By Photos, Videos, Webinars, Stories, And Exclusive Offers. Sign Up
I've participated in every season since then, fine-tuning the itinerary and embedding Lindblad Expeditions' signature experiences—from photography to kayaking, to bringing in local musicians and marine biologists. I have traveled the world with Lindblad, from the Arctic to the Antarctic, and for this to be the departure I most look forward to every year merits some explanation.
There are a select few destinations with which you connect at some deep, intangible level and the Highlands and Islands of Scotland does that for me. The quality of the light, the emotional power of the landscape, a courteous and deeply civilised people all combine to exert a potent magnetism which I have sorely missed during our times of Covid.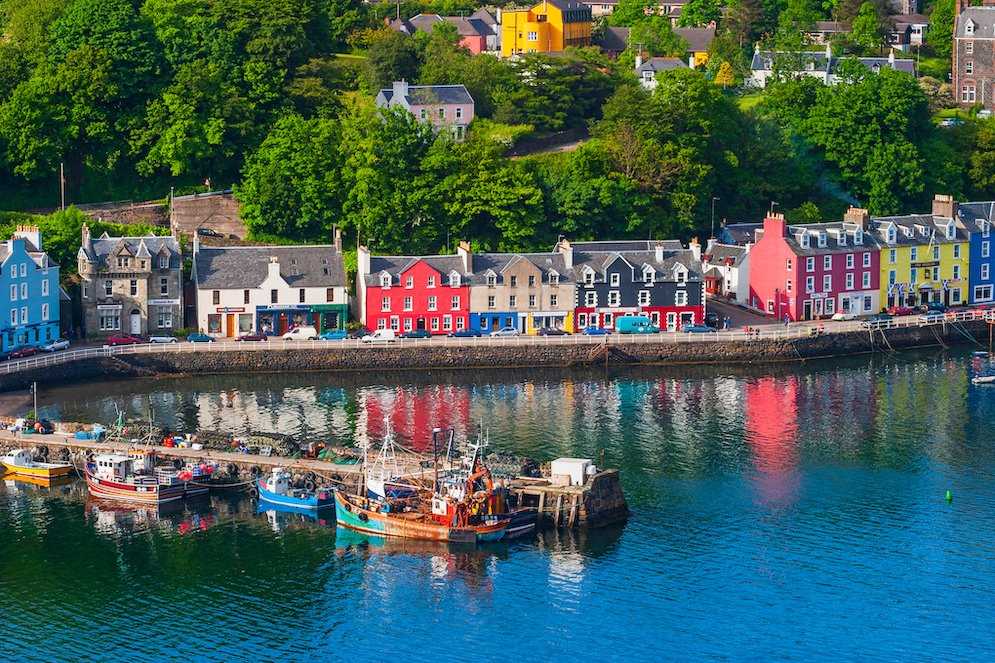 Brightly-colored houses and fishing boats in Tobermory.

Aboard Lord of the Glens we gain entry to that world. She's a small vessel, some fifty guests, and half that number of crew and staff, supremely comfortable and remarkably quiet. So small that we dock in delightfully tiny communities, like the colorful fishing village of Tobermory, "capital" of the Isle of Mull, or the village of Inverie, situated on the Scottish mainland but only linked to the outside world by water taxi. We stay alongside in the evenings and overnight so there is always time for leisurely personal exploration and local encounters ashore; at Inverie, that might be an after-dinner drink at the Old Forge Inn, listed in the Guinness Book of World Records as mainland U.K.'s most remote pub. In the high summer months of May and June, the hours of daylight extend well past bedtime. We sail in the latitudes of Labrador, but the effect of the North Atlantic Drift provides fuchsia hedges on frost-free Iona and the spectacular garden displays at Armadale on the Isle of Skye.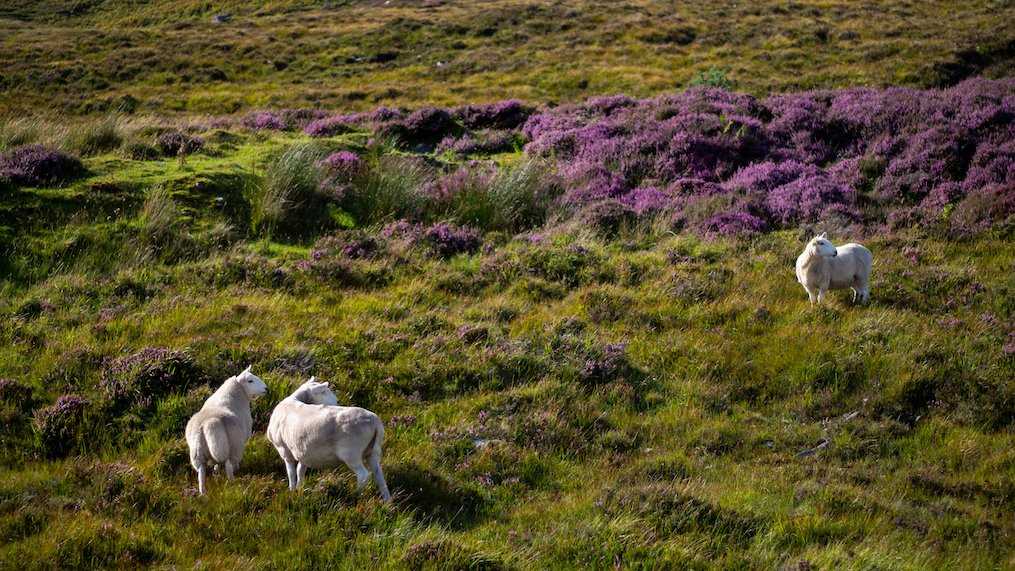 Sheep graze in a field of heather.

Compact and nimble, Lord of the Glens can hug the coast offering unrivalled views of the landscape as we sail in company of playful dolphins and look down on lurking basking sharks. There are golden and white-tailed eagles and nesting ospreys to look out for and native otters along the shoreline. These empty sheep-grazed mountains and moors once supported a large population of peasant farmers who were forcibly removed from the land and sent into exile by the infamous Highland Clearances that followed the defeat of the Gaels at Culloden in 1746. A century later, more Gaelic was spoken in Canada than in Scotland.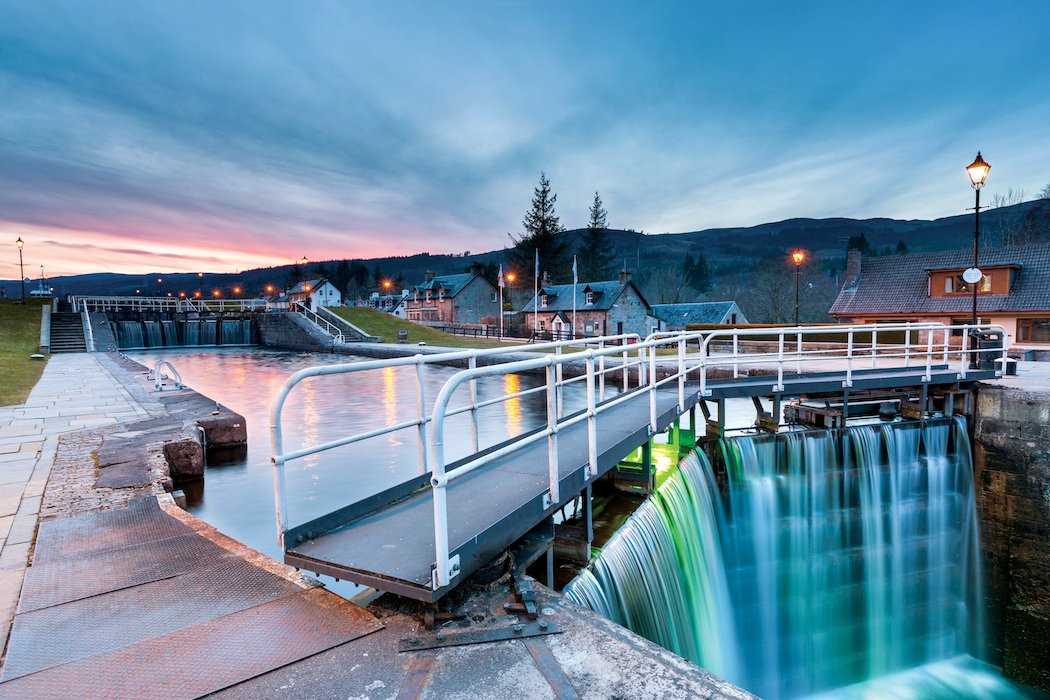 One of the eight locks that make up Neptune's Staircase.

Lord of the Glens was specially modified in 2000 to enable her to transit the 65-mile long Caledonian Canal, constructed by the great pioneer engineer Thomas Telford to link the North Sea and the Atlantic. She fits snuggly into the locks that raise and lower vessel over 100 feet during our two-day transit and is the largest vessel to operate on the canal. It requires skilful navigation throughout that adds a further dramatic dimension to a memorable voyage. Telford's design linked a series of natural lakes, or lochs as they called locally, enabling ships to pass through the natural geological fault of the Great Glen in a waterway. Crossing these lochs provides some of the most memorable landscape experiences of the voyage. Loch Ness, for example, is the largest body of fresh water in Britain, deeper than the North Sea. Halfway across we linger beside the spectacular Norman castle of Urquhart that guarded this natural routeway for centuries, a favored spot for Nessie sightings. Loch Oich, by contrast, is so shallow that we must follow a carefully marked channel. On the Atlantic side, a "flight" of eight locks, long known as "Neptune's Staircase", lowers the ship 64 feet beside the brooding massif of Ben Nevis, Britain's highest mountain, snow-capped throughout the year.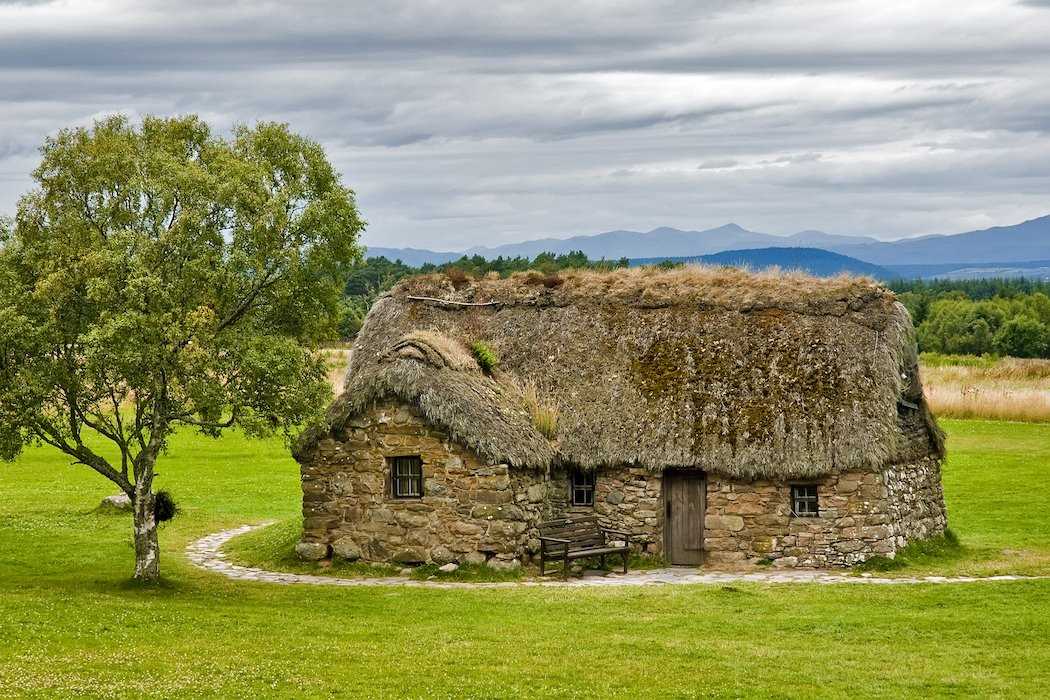 Old Leanach Cottage, a traditional thatched-roof house, stands on the Culloden battlefield.

Scotland is a world-renowned outdoor pursuits destination, its rugged landscape having open access under Scotland's "Right to Roam" legislation. On this expedition, there are always active options available, from gentle strolls to more strenuous guided hikes, with cycling and kayaking offered along the way, always in stunning locations. Our excursion program includes the award-winning Culloden Visitor Center, where we experience the powerful emotions of the Battle of Culloden in the center's 360-degree battle immersion theatre, before exploring the heather-clad battlefield with its poignant memorials. There is also a full day visit across the Isle of Mull, beloved of naturalists, and over to Iona, memorably described by the founder of the contemporary Iona Community as a "thin place," where another dimension of reality suddenly seems tantalizingly close.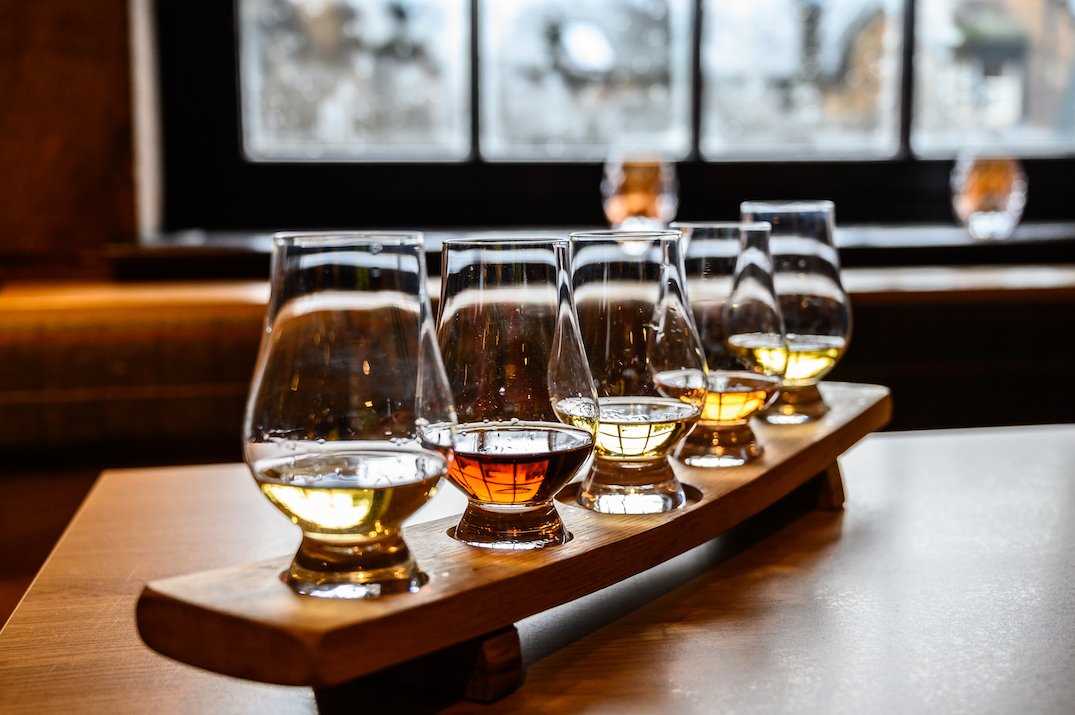 A flight of Scottish whiskey.

Our Highlands and Islands expedition provides an immersive experience of Scotland, past and present. A program of visits, augmented by onboard presentations from the expedition staff, visiting speakers and musicians explores the rich tapestry of Scottish culture in depth. The ship's galley enhances this experience by serving the best of Scottish fare, with celebrated local seafood. The galley takes on fresh provisions most days with fruits and vegetables, fresh local meat and game, and celebrated fresh Scottish seafood, not to mention freshly shot, low-flying haggis! For those partial to "a wee dram" there is an optional distillery tour in Oban. One of the oldest in Scotland, it is still in its original location just a short stroll from our berthing in this lively fishing-port beloved by Queen Victoria. The bar in the lounge carries a wide selection of single malts.


I'll conclude with a warning. This itinerary will bewitch and beguile you. The familiar Scottish farewell of "Haste ye back!" combines wish and prophecy. So be prepared, we've had many repeat guests on board over the years.



David Barnes has spent most of his professional life teaching history, and joined Lindblad Expeditions-National Geographic as a full-time expedition historian in 1998. He has traveled the world in that capacity, from the Arctic to the Antarctic (via Saudi Arabia) and from the Seychelles to Easter Island (via Namibia). He was elected a Fellow of the Royal Geographical Society in 1998 and a Fellow of the Royal Historical Society in 2003. Join him aboard Lord of the Glens.

Main image of Lord of the Glens: Ian Strachan