WorldView
4 Min Read
14 Mar 2019
Why the Galápagos Should be Your Next Family Vacation Destination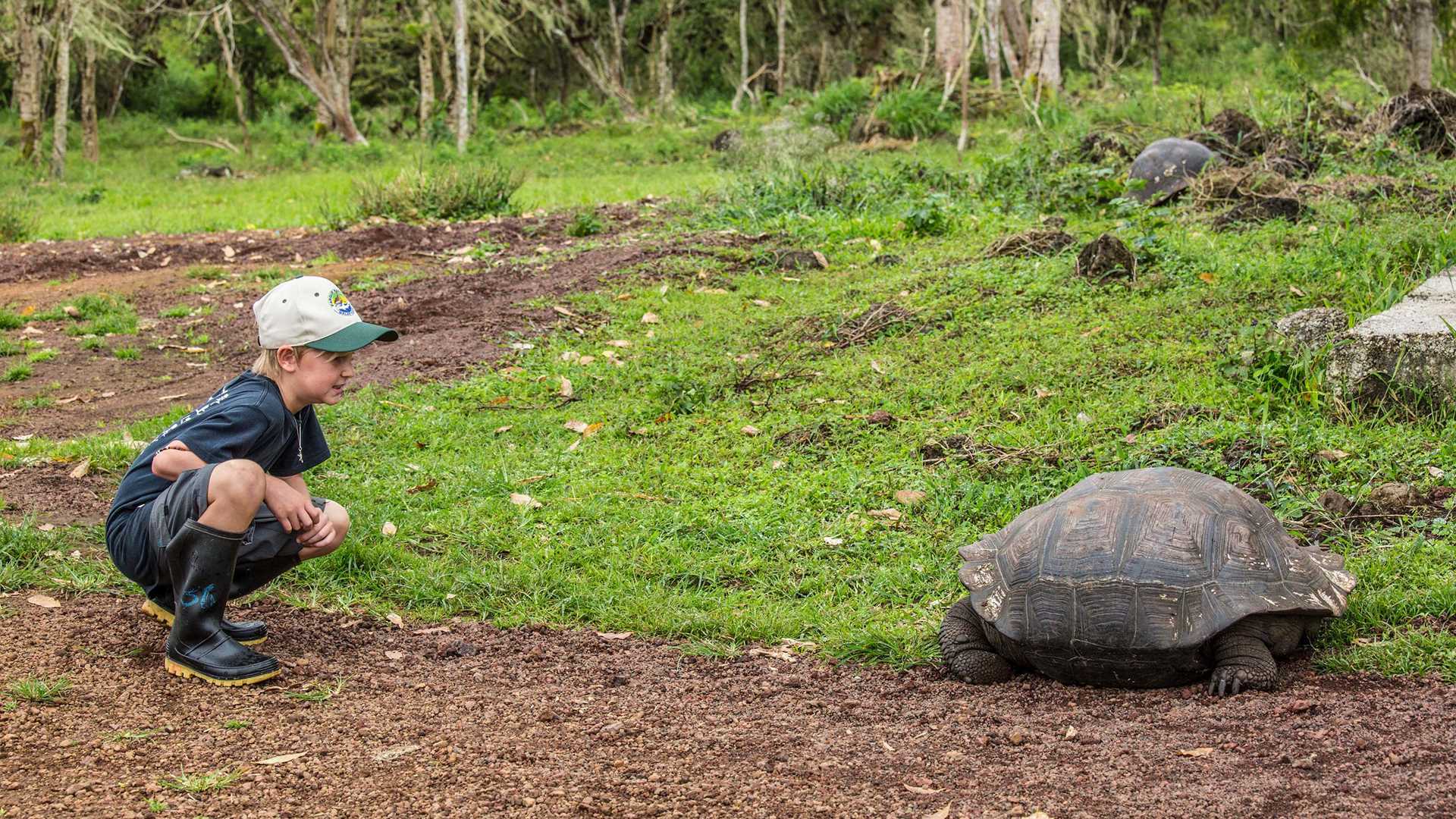 It's a thrill to see your favorite storybook animals spring to life at the farm or the zoo. Now consider what it's like to multiply that excitement by a thousand. Taking a trip to a one-of-a-kind wildlife destination like the Galápagos Islands is like watching the most incredible animal book, movie, or video game come alive. That sense of discovery can inspire kids of any age — and adults of every generation — to view the world around them differently, and to bring that awakened perspective back home. Get Inspired By Photos, Videos, Webinars, Stories, And Exclusive Offers. Sign Up
On Lindblad Expeditions' Galápagos Islands trips, children can witness extraordinary-looking birds, sea mammals, insects, and reptiles in their natural habitat. Teens gain confidence and skills as they explore the outdoors and take on exciting new challenges. For adults, a Galápagos tour with Lindblad is a chance to visit the islands of the archipelago with well-versed guides who bring a rare perspective and expertise: The company's founder Lars-Eric Lindblad was the first guide to take international visitors on a cruise to the Galápagos in 1967. For families traveling together, Lindblad's Galápagos expeditions — developed and honed over a half-century — are an exceptional way to take in the magic of the islands with children, grandchildren, and newfound friends. Here's why a Galápagos trip is a perfect adventure for families and explorers of all ages:
Magical Discoveries for Kids
Seeing animals like giant tortoises, blue-footed boobies, land iguanas, pink flamingos, and lava lizards in the wild is an eye-popping experience for kids, from toddlers to school-age children and beyond. On the National Geographic Global Explorers expeditions — a program developed by Lindblad in collaboration with National Geographic Education — kids will get to follow along with certified naturalists, aka National Geographic Field Explorers, in a quest to discover the abundant natural treasures of the islands.
Kids will have up-close experiences with wildlife, from snorkeling with sea lions to viewing the breeding grounds of giant tortoises like Lonesome George, whose monument is on display at Charles Darwin Research Station on Santa Cruz island. Every day, children will keep an eye out for a different creature or natural formation, and draw pictures or write about what they find in their special Field Notebooks. All that activity will definitely build up an appetite —and when it's time to eat, even the pickiest eaters will love the kid menus available at meals throughout Lindblad's 10-day expeditions.
Skill-Building Experiences for Teens
Capturing teens' attention on family trips is a notorious challenge for parents, but a Galápagos adventure takes the pressure off. How? Taking teens out of their familiar routines and putting them face to face with stunning natural landscapes they've never seen before is like hitting a giant reset button. Teenagers can go hiking, kayaking, scuba diving and swimming by day. By night, they can look for stars and constellations and earn their own "zodiac" driver's license. Throughout the trip, teens can take photos and make videos of their wild discoveries and skill conquests to show their friends back home. In reflective moments, they can fill their journals with thoughts about what they're noticing, feeling and wondering about as they travel around the islands, make new friends onboard and experience a wider world.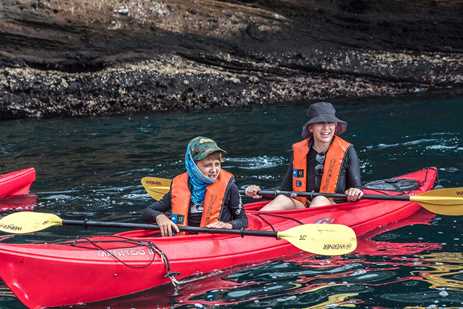 Inspiring Adventures for Adults
The Galápagos Islands are perfectly suited for outdoors-lovers of all types, so everyone from seasoned hikers to thrill-seeking scuba divers will find plenty of options. The mix of islands on the itinerary varies with each trip, but every part of the 19-island archipelago has its own allure — from the volcanic lava flows of Fernandina to the pristine sandy beaches of Espanola. Seasoned and amateur birdwatchers can look out for rare species like the waved albatross and Galápagos penguin, all while inspiring others on the trip to take up the hobby. Fans of Moby Dick author Herman Melville can retrace his footsteps as he wrote his Galápagos-based novella "The Encantadas, or Enchanted Isles." And since the Galápagos Islands are the site where Darwin did some of his most groundbreaking work, travelers with a strong interest in genetics and biology will be in their element.
Bonding Moments for Families
Some days, every member of the family will go off on a different exploration. But each trip offers plenty of daily opportunities to come together over meals and activities and share new discoveries made, challenges conquered or goals achieved. Movie nights are always a favorite: That's when families get together to eat pizza, watch kid-friendly films onboard and socialize with their fellow adventurers of all generations — searing in memories to share for a lifetime.