4th Guest Travels Free!
This year, book three full-paying guests and bring a fourth person free on select departures!
Book by June 30, 2022. Bookings of three full-paying guests may bring a fourth person for free on select departures. Offer applicable only on bookings of two double-occupancy cabins, and second cabin must be in same category or lower as first cabin. Valid for new bookings only, subject to availability, not applicable on airfare or extensions, and is not combinable with other offers. Call for details.
Explore Papua New Guinea and beyond
New Guinea is one of the least explored places on Earth. We'll explore all the parts of the eastern half of this island nation—Papua New Guinea and beyond to the Solomon Islands. You'll be seeing portions few outsiders have been privileged to visit. You may well have dreamed of coming to this special corner of the Earth, and this is an exceptional and unusual chance to discover in depth.
Cruise the seldom traveled Sepik River and discover the hidden communities and vibrant wildlife

Witness an impressive diversity of cultures, see traditional communities & some of the best places in the world to collect "tribal" or "primitive" art

Experience the vitality of the undersea life and the wide array of marine animals that call this region home

Discover remote islands such as Kennedy Island, site of JFK's PT-109 rescue

Step back in time as we learn about some of the fiercest battles of the Pacific Theater during World War II
Price
From $21,540 per person
(does not include flight)
Indonesia & Papua New Guinea, New and Noteworthy
Day By Day
Ready for the adventure of a lifetime?
View our brochure for more details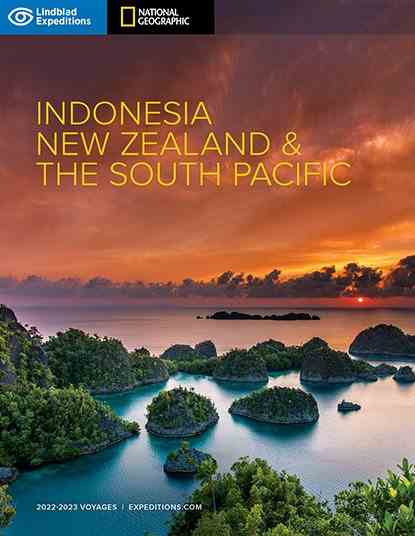 Indonesia & Papua New Guinea
Indonesia 2022-23
Indonesia, New Zealand & the South Pacific