Galápagos: Celebrating 50 Years
Galápagos Expedition Team
Share the adventure with knowledgeable, engaging companions
Over the nearly 50 years of our history in Galápagos, the quality of our veteran staff, and their companionship is the reason the Lindblad name is known and respected for top-quality expeditions. And now that we are aligned with National Geographic, there is no better Galápagos adventure travel team anywhere.
The team composition

Every expedition sails with a veteran expedition leader and a hand-picked team of naturalists. Each naturalist is deeply knowledgeable about Galápagos geography and history, and dedicated to sharing their passion for the islands with you. Other members of the team include an undersea specialist and a Lindblad-National Geographic certified photo instructor. Together they provide you with a greater understanding and appreciation for this exceptional place.
Extra staff when young explorers travel most
During the summer months—when kids are off school and families travel most—an additional naturalist joins our team in Galápagos. This naturalist leads special kids-only outings enabling smaller groups, more personal attention, and special activities like scavenger hunts, journaling, and smartphone photography instruction. You'll see young explorers discover hidden talents and gain confidence while having the adventure of their lives!
More specialties and personalities

Our excellent staff-to-guest ratio ensures a healthy diversity of naturalist specialties—marine biology, evolutionary biology, ornithology, and more—and personalities. You are never directed into groups or assigned. You're free to gravitate to the naturalists whose interests mirror your own. Select from the many activities available to make each day of your expedition uniquely yours, and deeply rewarding.
Featured Galápagos Team Members
Galápagos Itineraries
Special Offers
Bring A Special
Place Closer
NAT. GEO. ENDEAVOUR II
INAUGURAL SEASON
FREE AIRFARE
From Miami to Galápagos all departures Jan. 6-Mar. 31, and Aug. 25 – Nov. 17, 2017 with select additional dates on both ships.*
*New bookings only. Subject to availability.
Galapagos 2017 Brochure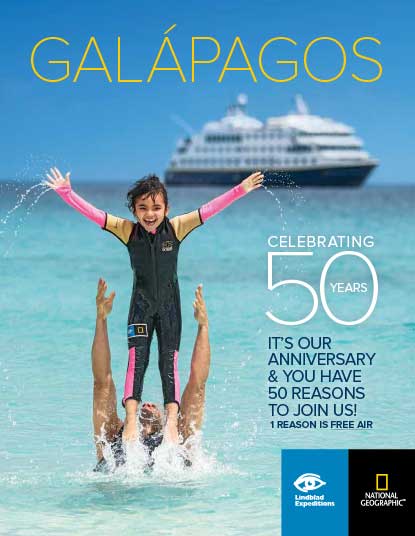 View online or have one mailed to you. It's free!
Brochures & DVDs
BBC In The News
Galápagos Weather
| | JAN-MAY | JUN-DEC |
| --- | --- | --- |
| LOW TEMP | 65-70°F | 65-70°F |
| HIGH TEMP | 85-90°F | 75-90°F |
| WATER TEMP | 75-82°F | 62-68°F |