Peru
Expedition Extras
There's more to Peru than meets the eye
Cusco: A tale of two cities
An Inca capital, a colonial power, and a cultural gem, Cusco is one of the Americas longest continuously occupied cities, and is forever reinventing itself. Experience all the facets: go on a curated tour of a much-heralded modern museum to see pre-Colombian history in artifacts from 1250 B.C. to 1532 A.D. Venture to the stone fortress of Sacsayhuaman, perched above the city, and walk along its massive walls, remnants of a structure dismantled by conquistadores to build Spanish Cusco. See the colonial history in the center of town at Plaza de Armas, flanked by Spanish churches and now lined with neoclassical style buildings and outdoor cafés.
Our accommodations here are in an exquisite 16th-century monastery steps from the city square. Take a stroll in its elegant arcaded courtyard and admire the 16th-century antiques and paintings decorating the halls prior to a special dinner in the vaulted dining room.
Culinary bounty of Peru
The cuisine of Peru is due, in part, to the bountiful landscape, strategically and continually cultivated for thousands of years. And thanks to Quechua roots, Spanish influence, and contributions from the Asians, Arabs, and Africans who settled here, Peru's fusion cuisine is globally recognized for it's sophistication and flavors. Our expedition curates the tastes of the region: feast on ceviche, tiradito, and papa rellena, among other delicacies. Dine on authentic cuisine in Cusco, and enjoy the tasting menu at a modern, celebrated farm-to-table restaurant in the Sacred Valley. And shop as the local chefs do in vibrant markets that sell spices, produce, meat, and bread.
The finest accommodations
Our lodgings while exploring Peru are luxurious and supremely convenient, with every aspect of travel tended to so you can concentrate on exploring. In Machu Picchu we stay at the excellent Belmond Sanctuary Lodge, formerly the Orient-Express, the only property adjacent to the Historic Sanctuary, enabling us to arrive on the site before sunrise, and enjoy the early morning and late afternoon hours in splendid solitude. Our private bungalows in the Sacred Valley are situated among the picturesque Andes, a luxurious respite after days exploring the Incan capital.
A sensational train ride to Machu Picchu
Board the Vistadome for a 1.5-hour trip from the Sacred Valley to Machu Picchu. Huge panoramic windows and skylights bring the vividness of the lush mountain landscapes inside as you make your way to the final stop within the shadow of Machu Picchu.
Evergreen Offers
ADD GALÁPAGOS AND/OR THE UPPER AMAZON FOR MORE SAVINGS
Combine your Amazon trip with Galápagos voyage and FLY FREE on select 2017-18 dates on all flights from Miami, including flights to Guayaquil or Quito, Galápagos, Lima and Iquitos (up to $2,100 value); ask about other U.S. gateways.
Upgrade to business class to Guayaquil for $500 on select dates. Book by July 31, 2017.
SAVE 10%
Combine Upper Amazon + Galápagos or Upper Amazon + Machu Picchu & Peru's Land of the Inca and save 10%.
*New bookings only. Subject to availability.
Machu Picchu and Peru 2017-2018 Brochure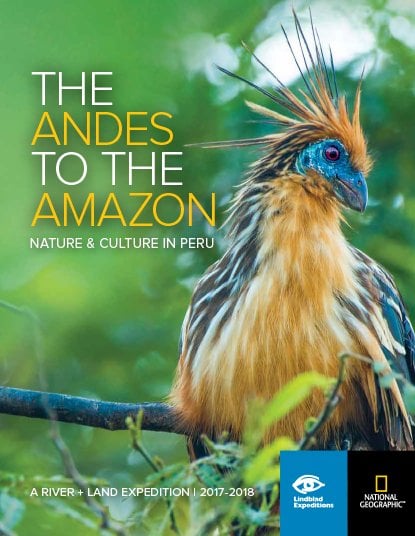 View online or have one mailed to you. It's free!
Brochures & DVDs