Greenland is having a moment. With a slow but steady increase in tourism, a coveted spot on Travel + Leisure's Best Places to Go in 2023 list, and three new airports on the way, the world's second largest permanent ice sheet is surprisingly hot right now. And though its glaciers are legendary, Greenland's allure extends far beyond the frost. Get Inspired By Photos, Videos, Webinars, Stories, And Exclusive Offers. Sign Up
Brightly colored coastal towns, moody fjords, and magnificent mountain peaks play an atmospheric sort of hide-and-seek with the rolling fog. Polar bears, snowy owls, and caribou roam wild. The surrounding seas lure as many as 16 cetacean species, from smaller narwhals, belugas, and minkes to gigantic fin, humpback, and blue whales. Even the skies are host to the spectacular natural phenomena of the northern lights and midnight sun.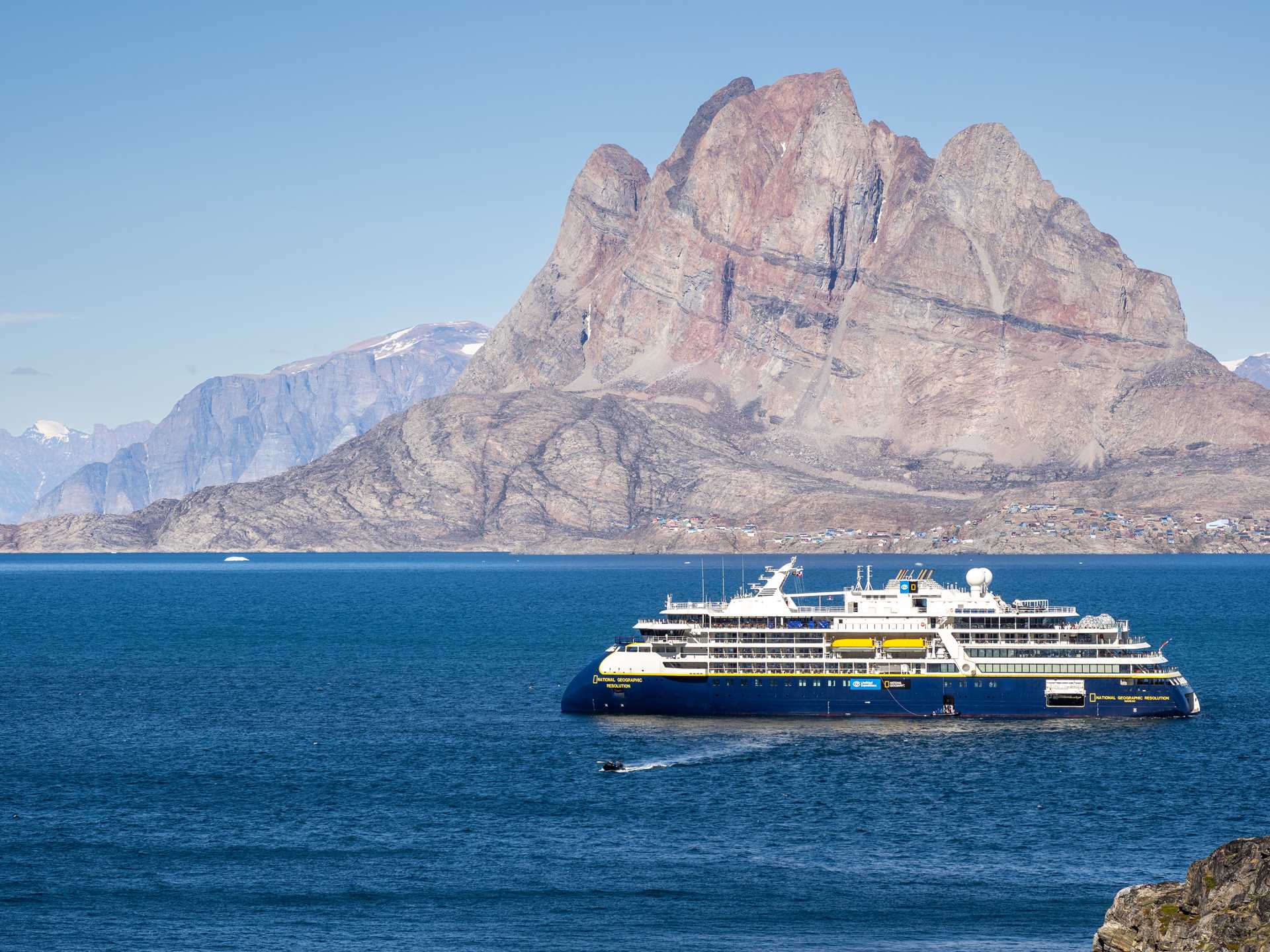 It's no coincidence, then, that the cultural landscape is incredibly rich as well. Despite being the least densely populated country on the planet, Greenland's remote but resilient communities have distinct character. Here, the day-to-day is steeped in Inuit tradition and Norse lore, fishing, dog sledding and kayaking serve as both sport and survival skill, and farmers continue to prove "green" is, in fact, not a misnomer.
So perhaps the decision is not whether to go, but where? On a journey to the world's largest non-continental island, such vast possibility can render itinerary decisions intimidating. Luckily, as part of a sustainability strategy, Greenland's tourism leadership is making efforts to regionalize northern, southern, eastern, and western parts of the country into distinct destinations, each with their own signature charms.
As you begin to follow your proverbial compass toward your region of choice, bear in mind that, at these latitudes, it's impossible to know for sure what exciting discoveries might await. Like the locals do, expect plans to be subject to immaqa—the weather. Even aboard the ice class polar ships in the Lindblad Expeditions-National Geographic fleet, every trip is charted in part by Mother Nature.
Sail the Path of Polar Explorers in the North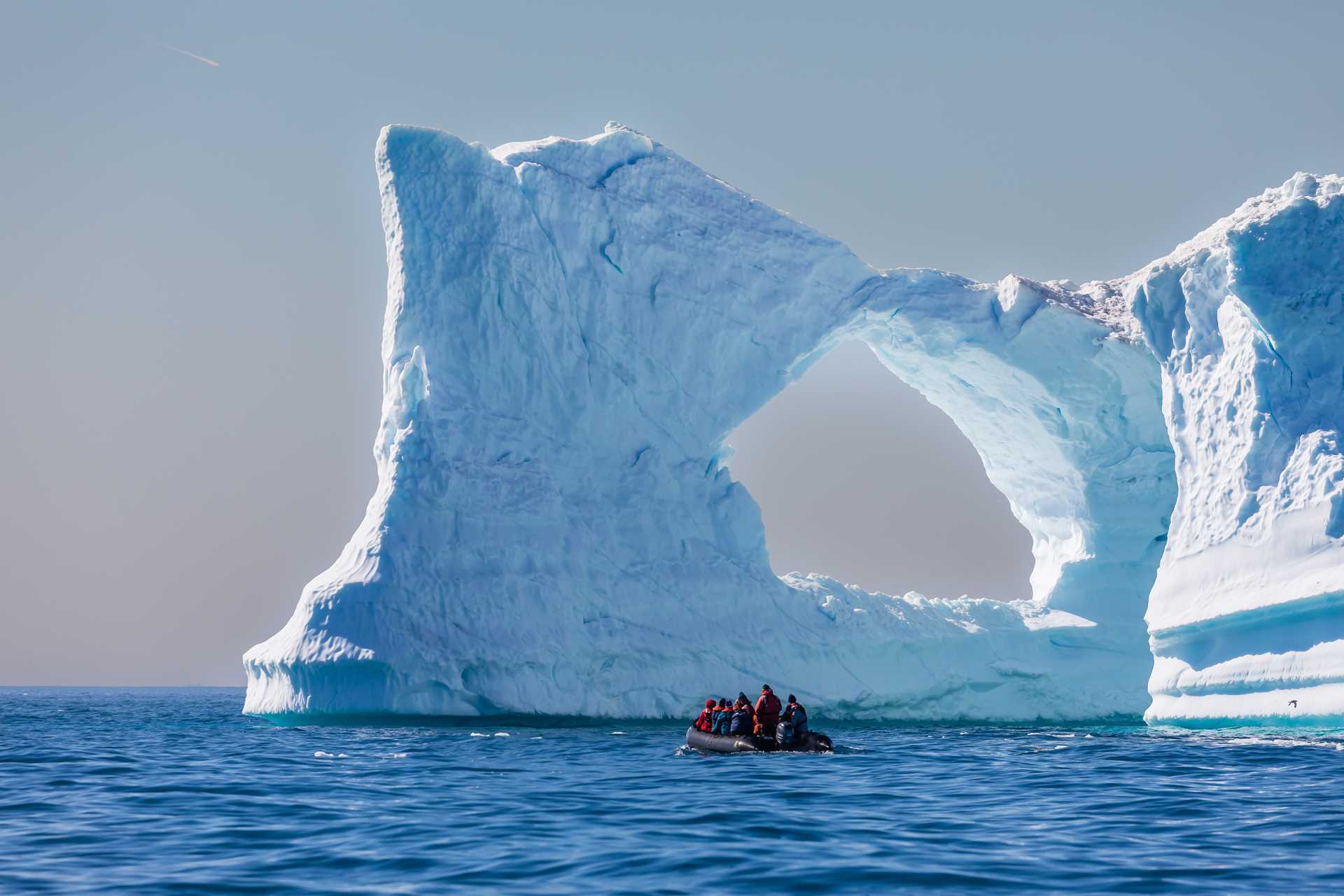 The Greenland ice sheet, which covers 80 percent of the country, dominates much of the north. The northwestern coast, however, has lent many an outpost to the early explorers of this frozen frontier, like Matthew Henson and Robert Edwin Peary. On their famed 1909 exhibition alongside Inuit hunters Ooqueah, Ootah, Egingwah, and Seegloo, they became the first to leave human footprints on what they considered to be the North Pole. Henson and Peary found three massive meteor fragments here, which they sold to the American Museum of Natural History in New York for enough money to fund the next 10 years of expeditions.
Baffin Bay is one of the best places to encounter the elusive narwhal; the strange and beautiful tusk-toothed whales are known to frequent these waters. Above 80º north, you're also in prime aurora borealis territory. When conditions are just right, one can lose all sense of time under the glow of the northern lights, watching their green and violet tendrils twirl through crisp, night air. As Lindblad Naturalist Carlos Garrandes put it, "it only takes a quick look up into the sky to realize why the belief in magic has endured in these latitudes."

Explore northern Greenland on:
Gateway to the Northwest Passage: Greenland and Canada
Head South to the "Garden of Greenland"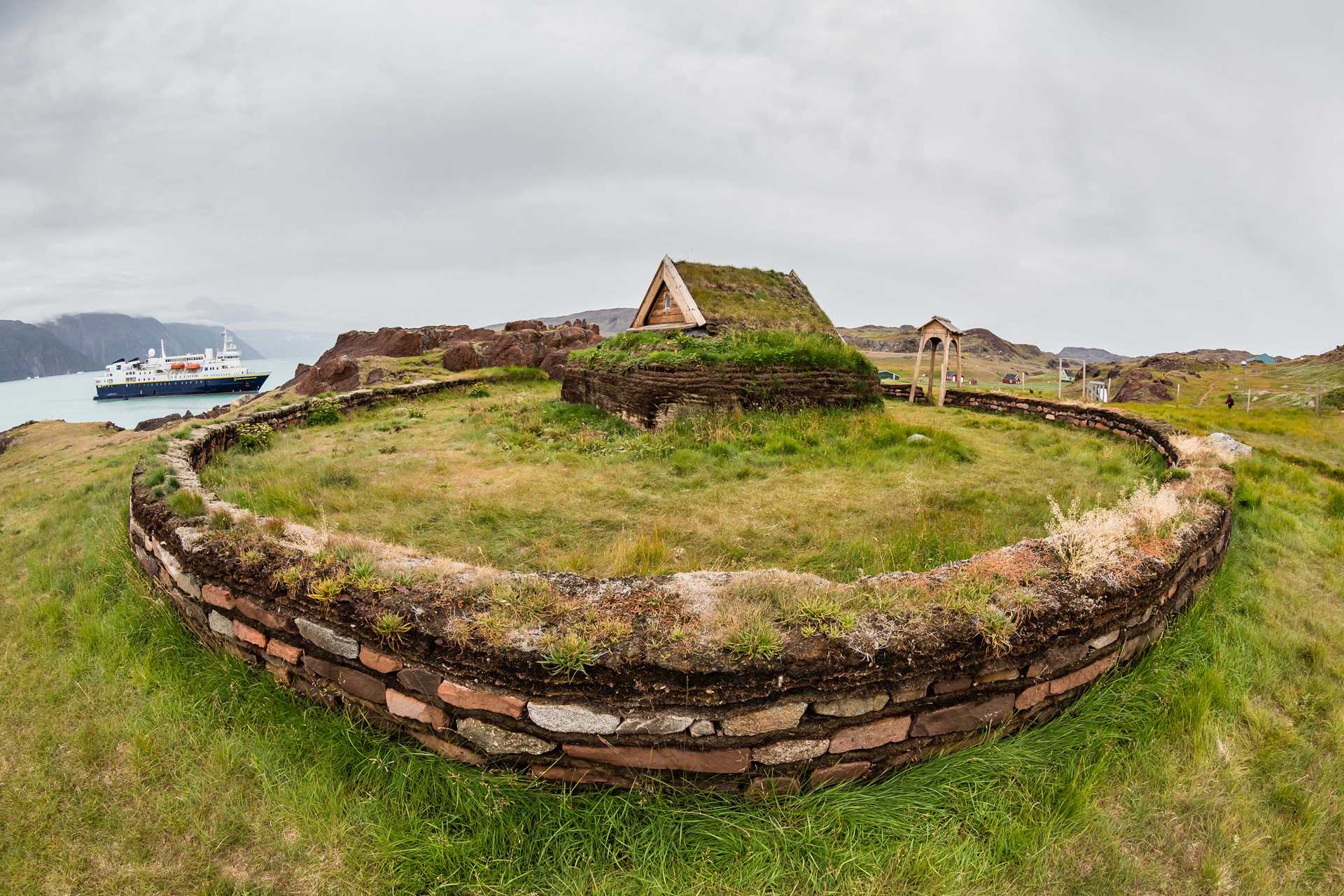 Imagine rolling green pastures and grazing sheep sharing a landscape with imposing icy fjords and mountain peaks. That's Greenland's Atlantic coast. At the southernmost fringes of the ice cap, these lush and fertile lands are home to a thousand-year legacy of Norse and Inuit farming and hunting culture. The Kujataa UNESCO World Heritage Site encompasses five sites of agricultural significance—including Brattahlíð, the 10th-century homestead of viking Erik the Red. Explore both the ruins and reproductions of a turf-topped longhouse and a chapel built and named for Erik the Red's wife, Tjoldhilde.
Don't be fooled by the bucolic surroundings—southern Greenland is certainly not without its own frozen features. The glassy turquoise lakes of Skjoldungen Sund, for instance, are a photographer's dream. Reflecting stunning icebergs and immense tidewater glaciers, these waterscapes make for what Lindblad Expedition Development Manager Laura Macfarlane calls an "I can't believe this place exists" kind of moment. She'll also never forget the transit through Ikerasussaq, also called Prins Christian Sund, a thrillingly narrow channel that is as much a shortcut through Greenland's southern tip as it is a scenic dive into the depths of a glacial valley.

Explore southern Greenland on:
South Greenland Exploration: Fjords, Waterfalls, and Fishing Villages

Take to the Tundra of the Wild, Wild East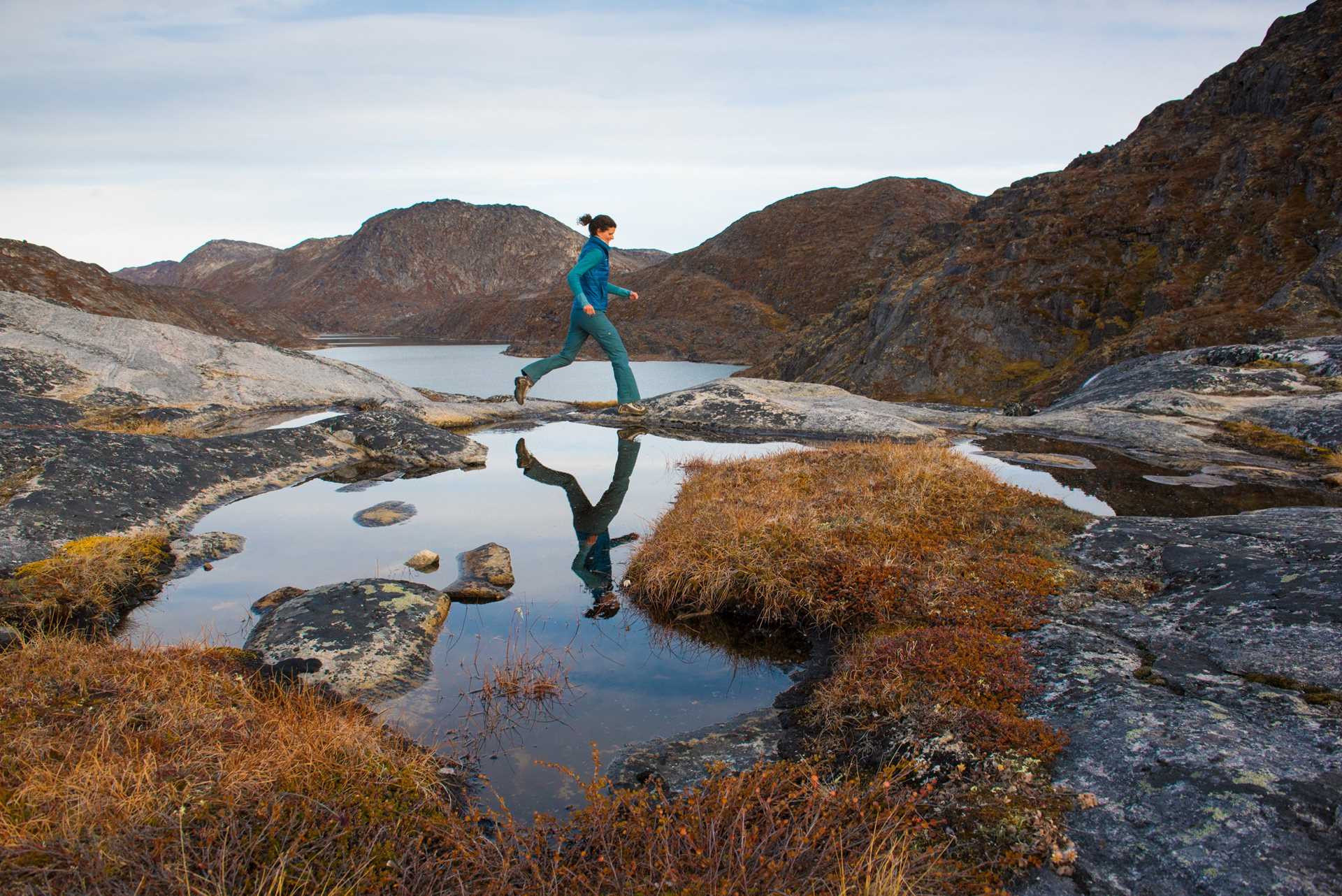 Northeast Greenland National Park is the world's largest; more than 100 Yellowstone National Parks could fit inside its borders. Its 375,000 square miles of pristine wilderness are home to the most iconic creatures of the High Arctic, like reindeer, muskoxen, and walruses. The luckiest visitors might spot the subtle movement of a polar bear or arctic fox on a distant ice floe. Keep an eye on the skies for ptarmigans and ravens—the only year-round residents—and migratory birds like barnacle geese, arctic terns, and several species of rare gulls. Back on board, watch out for ringed, bearded, harp, and hooded seals among the artfully shaped sea ice.
The park's closest settlement, Kangertittivaq (formerly known as Scoresbysund) is home to the largest and longest fjord system in the world. Its basin branches out into an icy, seldom-explored labyrinth that you have seemingly all to yourself. Back on land, make for the backcountry for a choose-your-own-adventure hike that just might lead to a natural hot spring. This is a taste of what it's like to reside in nearby Ittoqqortoormiit, one of the most remote towns on Earth. For most of the year, its 300-some inhabitants are cut off from the rest of the country by sea ice and survive by hunting and fishing.
Explore eastern Greenland on:
Svalbard, Iceland & Greenland's East Coast
Iceland's Wild West Coast to East Greenland
East Greenland: Wild Shores of the High Arctic
Nature & Culture Collide in West Greenland
Hoping for a little bit of everything? Head west, where epic ice meets the warm and welcoming heart of modern Greenland. Archaeology buffs will delight in Sisimiut's outstanding museum and the site outside of Uummannaq where the 15th-century Qilakitsoq mummies were unearthed in 1972. Nearby, Greenland's newest UNESCO World Heritage Site, Aasivissuit–Nipisat, is one of two on the west coast. Inscribed in 2018, it honors seven sites dating back as far as 2500 BC, borne of the need to hunt between ice and sea—with one settlement still in use today.
Ilulissat Icefjord, the second UNESCO site, sits at the mouth of Sermeq Kujalleq (or Jakobshavn glacier), one of the fastest flowing glaciers on Earth and a prolific calver. Sweeping panoramic views can be seen from a boardwalk and the gorgeous new Icefjord Centre designed by architect Dorte Mandrup. To get a close-up, head out on local boats into Qeqertarsuup Tunua (Disko Bay), often chock-full of white and tourmaline icebergs that seem to be illuminated from within. The layered basalt geology, too, is so mesmerizing that the only thing likely to distract your attention is a blow from a nearby whale.
Explore western Greenland on:
Iceland and Greenland: Edge of the Arctic