Antarctica
Top 10 Reasons
See why traveling to Antarctica with us should be on your must-do list
1. Experience matters. Lars-Eric Lindblad took the first group of "citizen" explorers to Antarctica in 1966. Since then, the Lindblad family has operated hundreds of Antarctic expeditions. This is a level of "institutional" experience that insures your safety and a rich encounter with the region.
2. Lindblad Cove. Named to honor Lars-Eric Lindblad, pioneer of polar expedition travelin 1995, Lindblad Cove is a testament to the Lindblad connection to Antarctica and to 50 years of safely navigating here. It's also a stunning spot that we often visit on our expeditions.
3. The world's ultimate expedition ships. The 148-guest National Geographic Explorer and the 102-guest National Geographic Orion are both state-of-the-art, fully stabilized ice-class vessels that feature unmatched tools for exploration. They are able to safely navigate polar passages, while providing exceptional comfort.
4. Tools for Exploration. Our onboard fleet of 13 Zodiacs and 36 double kayaks allow us to land in remote locations, and have up-close personal discoveries. The ship is also equipped with a remote-controlled crow's nest camera with real-time footage broadcast on video screens within each cabin; a video microscope to view Antarctica's invisible facets, and a hydrophone to listen in on whales.
5. Highly experienced ice masters & expedition leaders. With the many decades and hundreds of expeditions worth of experience, our ice masters and expedition leaders are able to deliver an unparalleled experience. Many staff members have written books about Antarctica. And our most veteran expedition leader, Tom Ritchie, helped create the original guidelines for guests visiting Antarctica, adopted verbatim by the Antarctic Treaty in 1991, and still in use today.
6. The undersea, illuminated. We are the only company in Antarctica with an undersea specialist aboard every voyage. Our specialist, suited for polar waters, dives to capture video footage in vivid HD. Shown on plasma screens in the ship's lounge, and accompanied by an engaging narrative, this video lets you explore the virtually unknown Antarctic undersea—warm, dry and with a cocktail in hand. Explorer and Orion are also each equipped with an ROV (Remotely Operated Vehicle) capable of exploring depths up to 1,000 feet, to film where no diver can go.
7. Mudmaps. The Antarctic is not a particularly well-charted place. Over the years, our captains have kept detailed soundings, which are routinely filed with the Royal Hydrographic Society to aid other mariners. This level of knowledge enables us to confidently and safely take you to the off-the-beaten-path landings for exclusive encounters with Antarctica's beauty and wildness.
8. Polar kayaking. Lindblad Expeditions pioneered polar kayaking. We also invented a unique mobile platform that enables us to safely deploy kayaks anywhere, within minutes of finding an anchorage. And the size of our kayak fleet enables everyone who wants to experience personal encounters with the ice and its creatures to do so—to get out on active adventures without waiting for others to return.
9. National Geographic photographer. A National Geographic photographer is on every departure aboardExplorer and Orion. These tops pros are at your side and at your service—providing advice, tips and slideshows. Access to photographers of this caliber will help you improve your skills and ensure you'll go home with incredible photos.
10. Exclusive Video Chronicle of your expedition. Being in the moment, immersed in the experience is the joy of being in Antarctica. So, a professional video chronicler (VC) is aboard to capture the expedition moments you'll want to remember for you. You can relax, and never worry that you've missed anything. Your VC will professionally edit and package the voyage chronicle, making it available for purchase before you disembark ship.
Antarctica 2017-19 Brochure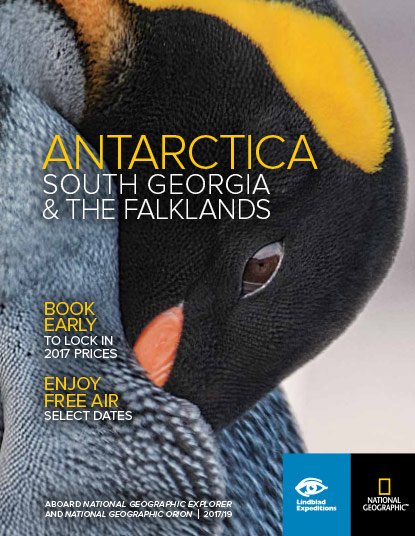 View online or have one mailed to you. It's free!
Brochures & DVDs
Antarctica Weather
NOV-FEB
LOW TEMP
20°F
HIGH TEMP
50°F
WATER TEMP
N/A