Antarctica
50 Years of Antarctic Exploration
In 1966 Lars-Eric Lindblad led the first-ever citizen explorer expedition
When Lars-Eric Lindblad, now considered the father of eco-tourism, led the first-ever citizen-explorer expedition to Antarctica 1966, he invented the category of expedition travel. Along with him were 57 pioneering individuals, intrepid travelers, ready to embrace the notion of going where only professional explorers or scientists had gone before.
We honor Lars-Eric's courage, vision, and the curiosity of our guests, then and now.
A piece of history—in progress
Commemorative 50th anniversary parka
Capture a once-in-a-lifetime commemorative: Our complimentary 50-year edition parka, combines vintage style with high-tech fabrication for maximum comfort; it's the ultimate souvenir of your adventure, a "badge of courage," so to speak, and a keepsake you'll be proud to own. Get a 'merit badge' too: Designed specifically for the 50th, this distinctive patch on your parka indicates that you were there during a special moment in Antarctica's history, and marks you as a polar explorer.
New edition of Passport To Anywhere
Originally published in 1983, Lars-Eric Lindblad's autobiography, Passport To Anywhere, is a portrait of a new, adventurous era in travel.
To commemorate the 50th Anniversary of Lindblad Expeditions, under the direction of Lars-Eric's son, CEO and Founder Sven Lindblad, we're publishing a digital version of Passport that's available for free download.
Reflecting on modern Antarctic exploration
Antarctica 2017-19 Brochure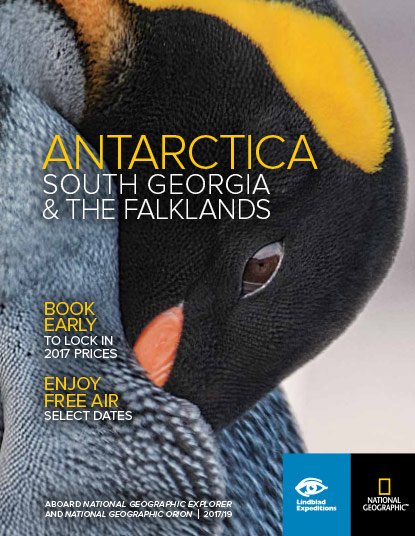 View online or have one mailed to you. It's free!
Brochures & DVDs