Antarctica
Pack Your Camera
Capture Antarctica and take the best photos of your life
With penguins blissfully indifferent to our presence among them, snow-capped peaks rising straight from the sea, and empires of ice in every imaginable shape and hue of blue, Antarctica is a photographer's paradise. Traveling with National Geographic photographers and Lindblad-National Geographic certified photo instructors—plus the benefits of our Expedition Photography program—ensures that you'll enjoy every opportunity to create some of the best photos of your life.
National Geographic photographer on every expedition

Some of the same pros who astound the world each month in the pages of National Geographic magazine are on every Antarctic expedition—giving you unprecedented access to the world's best shooters. Get their insights on the challenges and solutions to photographing in polar conditions so you're ready to create great images from the very beginning of your expedition. As integral members of our team, they join every facet of the expedition, happy to share ISOs, shutter speeds, and composition tips while working in the field or interesting tales of their worldly assignments over cocktails at Recap.
Close to incredible wildlife—with the insights for creating great photos
Join your National Geographic photographer or certified photo instructor on Zodiac cruises among icebergs and walks along penguin colonies. Guests are never assigned to specific groups, so you're welcome to explore alongside the staff photographer whose interests mirror your own and indulge your particular photographic tastes. You'll be able to get closer than you've ever imagined to polar animals—and create magical photos with insights from our veteran naturalists and photographers.
Onboard clinics and learning
Time spent sailing to and from Antarctica is thoughtfully passed with some photo-focused presentations. We engage in unique "share and learn" opportunities too, including one-to-one time with photographers in the ships lounge, on-board presentations and slideshows, plus "laptop gallery" events. Whether you think of yourself as a photographer, or just someone with a point-and-shoot, you'll go home a better more confident image-maker.
Photo tip from National Geographic's Chris Rainier
Antarctica 2017-19 Brochure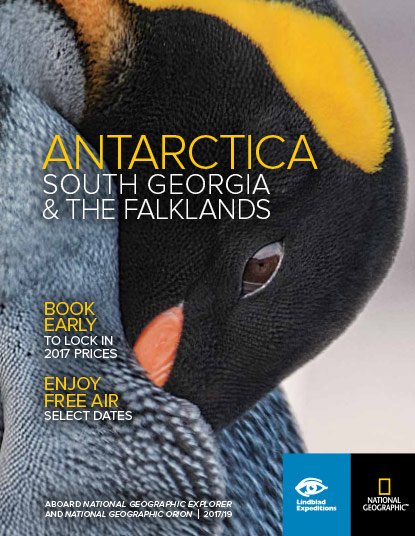 View online or have one mailed to you. It's free!
Brochures & DVDs
Antarctica Weather
| | NOV-FEB |
| --- | --- |
| LOW TEMP | 20°F |
| HIGH TEMP | 50°F |
| WATER TEMP | N/A |