Antarctica
What It's Like/What You'll Do
How you'll spend your time and reward your curiosity
A 50+ year heritage of Antarctic travel

On September 20, 1958, Lars-Eric Lindblad, considered by many to be the "father of ecotourism," opened the doors to his new company, Lindblad travel. in New York City. As his company grew, he looked for new places on the map. In 1966 he brought the first group of "citizen explorers" to Antarctica. He initially operated his pioneering voyages with chartered vessels. However, within two years he decided to build his own ship—to run expeditions the way he wanted, and to exercise the level of control and reliability he considered vital.
Over the subsequent 50+ years since, under the direction of his son, Sven Lindblad, our collective polar intelligence has grown exponentially through consecutive voyages. As a result, we know Antarctica to a greater degree than any other company voyaging there.
The perfect platform for Antarctica
The 148-guest National Geographic Explorer and 102-guest National Geographic Orion are purpose-built Antarctic expedition ships designed to safely explore Antarctica—the most remote, wild place on the planet. They are fully stabilized, ice-class vessels with ice-strengthened hulls strong enough to push through the Antarctic ice. Their construction and the caliber of their Icemaster Captains and veteran expedition teams are your assurances of safety. Plus, they are equipped with a roster of cool tools for exploration—enabling you to see, do, and experience more in Antarctica.
Actively explore every day
Zodiac cruise, kayak, hike, and walk daily: there's nothing passive about our expedition style. Our captains' dexterity and the logistical savvy of our expedition leaders allow us to get you out daily, often twice a day on forays. Head off in a Zodiac to view icebergs, or land on a beach studded with penguins. Kayak in the greatest silence on Earth. Take a long hike or a short walk on a shore lined with ghostly remnants of the whaling industry. Or linger with your Lindblad-National Geographic certified photo instructor to shoot penguin portraits or scenic panoramas.
Cross-country ski & snowshoe the seventh continent
Join your naturalist on a snowshoe hike or cross-country ski outing, across the frozen sea ice—or use them to blaze your own trail. Weather permitting, available only aboard National Geographic Explorer on November 2017 voyages. These tools for exploration let us venture further afield and offer a taste of what travel was like here for the earliest explorers.
Window on the wildness
And when you're back aboard: catch the day's Recap, read, write, organize photos on your laptop, or socialize over drinks or dinner––also highly gratifying activities. Our ships' acres of panoramic windows and balconies bring the ever-present, jaw-dropping scenery inside.
See the rare Antarctic undersea
We are the only expedition company in Antarctica with an undersea specialist, qualified to dive in polar waters, as part of the expedition team. The undersea specialist suits up and dives, or mans a ROV (Remotely Operated Vehicle) able to descend to 1,000 feet—and brings back footage of the life beneath the ship for you to enjoy in vivid high-definition on plasma screens in the Lounge. We guarantee you will be astonished by the fascinating life forms of the polar deep.
Share the adventure

Whether they're fellow guests, members of the expedition team, a National Geographic photographer, or a guest speaker, you're sure to find the company of the like-minded others on board interesting. You may even be accompanied by a scientist or two conducting research. Our alliance with National Geographic creates unparalleled opportunities. And you'll benefit from those who know: the on-board talks, slideshows and presentations will take you ever deeper into the richness and wonder of Antarctica.
Enjoy the daily ritual
Each evening at cocktail hour the entire expedition community gathers in the lounge for a ritual we call Recap. As you enjoy cocktails and hors d'oeuvres, various naturalists give talks, the undersea specialist may show video, and your expedition leader will outline the following day's schedule. Guests often tell us in comment cards that Recap remains one of the fondest memories of their expedition experience.
Savor time aboard ship
Wildlife, polar history and guest speaker talks will be offered at various times throughout the Antarctica cruise, as well. And when the ship is underway, it's a wonderful time to stand on the bow with a naturalist, National Geographic photographer or photo instructor. And visit the bridge, where you are always welcome to watch the calm, serious business of ice navigation unfold.
Overheard
The service throughout the ship was EXCELLENT. Overall, a wonderful trip! Many, many thanks to all.
Antarctica 2017-19 Brochure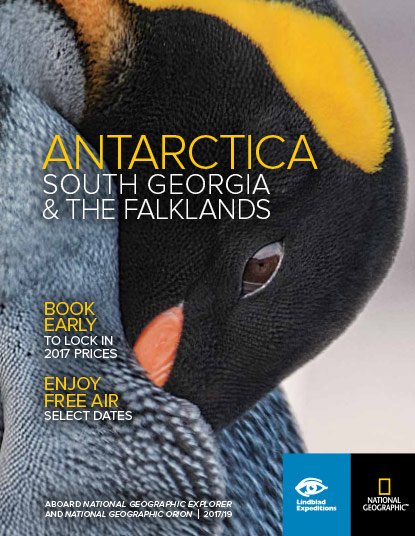 View online or have one mailed to you. It's free!
Brochures & DVDs
Virtuoso Life
See what well-known publications say about exploring with us
Read the article
Antarctica Weather
| | NOV-FEB |
| --- | --- |
| LOW TEMP | 20°F |
| HIGH TEMP | 50°F |
| WATER TEMP | N/A |
Guest comments
"Very much enjoyed the presentation by the killer whale researchers and your efforts to support their work are laudable. Photo guidance and inspiration were HELPFUL. I actually learned things I could apply to future trips! Finally, your efforts to locate and maneuver to find wildlife added immensely to the experience."
-Lisa P.
READ MORE