Jeopardy! & Us
The Galápagos Great Escape Sweepstakes
It's live! Enter the Galápagos Great Escape Sweepstakes
Enter now for your chance to win a Galápagos expedition with Alex Trebek and the Clue Crew! Watch Jeopardy! April 24-May 5, 2017 and enter each day for a chance to win.
Ten lucky winners and a guest will sail aboard the new National Geographic Endeavour II on one special expedition. Alex and the Clue Crew will join you and your fellow winners onboard the ship and off, exploring the islands and undersea side-by-side with our staff and guests. They will take part in daily activities, dining, and more, offering their unique perspectives along the way.
Ours is an alliance of shared values—a history of working together to bring the world's most interesting places to viewers and travelers
Lindblad Expeditions-National Geographic is the official expedition travel provider to Jeopardy! and the Clue Crew. We have a passion for understanding the world. Over the years, we've collaborated on enlightening, engaging, and exciting viewers and travelers—with more than 400 Jeopardy! video clues taped on Lindblad-National Geographic expeditions. The Clue Crew has visited some of the planet's wildest and most inspirational places including Antarctica, Baja, the high Arctic tundra, the Angkor temple complex in Cambodia, the wild fjords of Southeast Alaska, and much more.
Galapagos 2017-18 Brochure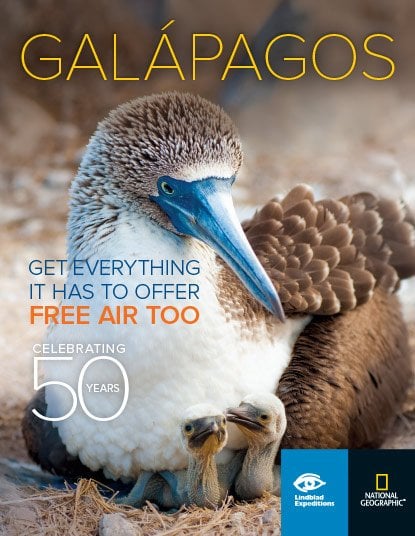 View online or have one mailed to you. It's free!
Brochures & DVDs